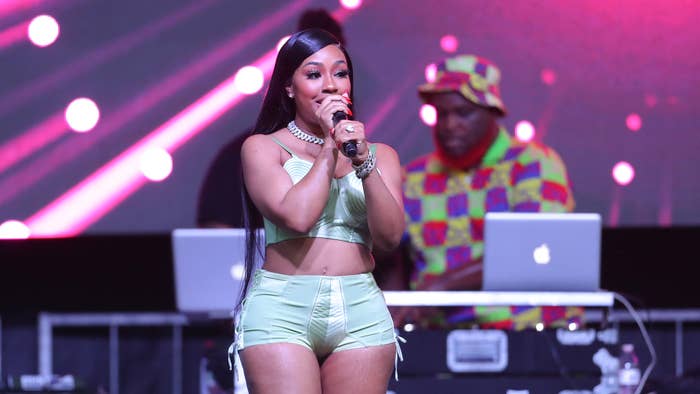 Following the success of her new podcast Caresha Please, Yung Miami has opened up about her relationship with Diddy and what it's like to co-parent with Southside.
In an interview with XXL magazine, Miami suggested she and Diddy are in an open relationship of sorts. "We are dating. We single, but we're dating," she said. "People don't know what dating means. He's single, I'm single, but we're dating. That's what I mean when I say we go together. When we're together, we're together. We're having the time of our lives, but we're still single."
The two have been connected since June 2021 at least, but they only really confirmed they were seeing each other when Diddy, 52, appeared on Caresha Please in June. "He see other people outside of me and I see people outside of him. I'm young. I'm dating. I'm, you know, having fun. I'm doing me," said 28-year-old Yung Miami. "He's doing the same thing. I can't speak for exactly what he doing or who he seeing, but we single and we dating. But we are dating each other, but we single. I think it just went over people's heads, you know? People just like to take whatever they wanna take from."
Asked about what she likes about the mogul that other people might not know, she added that he's "very funny" and has been supportive of her. "He brings out the better qualities of myself," she said. "That's one thing I love about him. He brings out more confidence in me."
Elsewhere in the interview, she touched upon co-parenting with her ex-boyfriend Southside, with whom she split in late 2020. The couple welcomed their daughter Summer Miami Luellen in October 2019.
"Yeah, that's my baby daddy. He's real cool," she said of the prolific producer. "I'm not gonna lie, at first, it was kind of rocky, but, you know, we had to put our differences to the side and just understand that we got kids together. We can't raise our kids in a bad environment because it really takes a toll on the kids."
The two publicly clashed shortly after their breakup, and Yung Miami even appeared to accuse Southside of being "a dead beat dad" in a tweet she shared and promptly deleted last year. It seems as though they were able to sort out their differences.
She also took a moment in the interview to confirm that she and JT have completed work on a new City Girls LP. "We do have an album. It was supposed to drop on July 29, but, you know, it's a lot putting out an album. You have to get records. You have to get sample clearance. You have to get features cleared. You have to do producers' agreements. So, it was a lot that set us back," she said. "We will be dropping an album before the year is out for sure."
Read the full interview with Miami here.