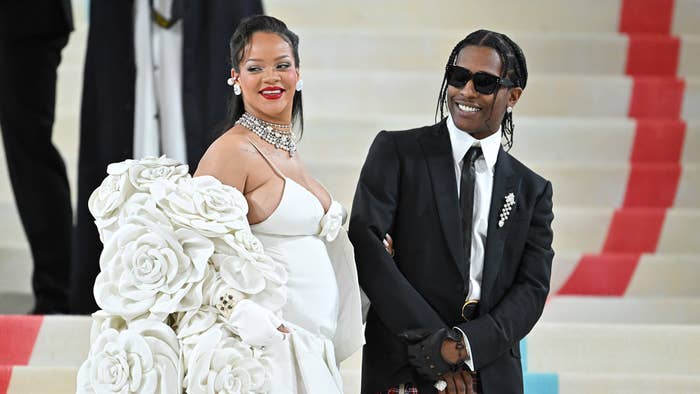 A recently surfaced video shows ASAP Rocky telling two men to stop fighting in a club while in the presence of Rihanna.
Recorded in what appears to be a VIP section of an unidentified club, Rocky addressed two men who got into an argument that turned physical. "Y'all n****s act like gentlemen right now, you heard?" Rocky says in the video below. "I got my lady in here. Y'all n***as calm that shit down, man. Don't be in the section doing all that shit. Calm that shit down, y'all act like gentlemen when y'all in our presence."
Rocky and Rihanna confirmed they were dating in 2021, and welcomed their first child last May. In recent interview, the rapper said the experience has made them closer. "We have to be on the same page, but we've always kind of had that in our relationship," he told British Vogue. "Everything changes when you have a baby but I wouldn't say it's done anything but made us closer."
During Rihanna's Super Bowl Halftime Show in February, the couple confirmed they have another child on the way. While they've elected to keep details regarding their son private so far, British tabloid the Daily Mail reported earlier this month that their son is allegedly named RZA Athelston Mayers, a nod to the legendary Wu-Tang Clan producer and rapper.