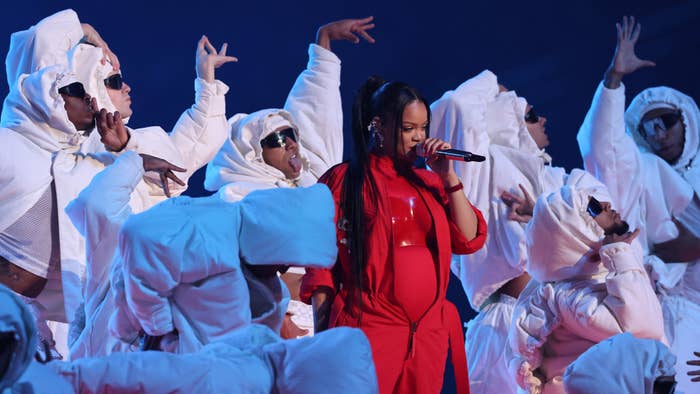 Rihanna more than delivered with her rightfully hyped-up Apple Music Super Bowl Halftime Show performance on Sunday.
During the performance, which saw her hitting the world's biggest stage to the sounds of her modern classic "Bitch Better Have My Money," Rihanna also initially spurred pregnancy speculation. Shortly after the performance, the pregnancy was made official.
The Hollywood Reporter, Rolling Stone, and People individually reported confirmations from a representative that she is pregnant.
Rihanna also showed off her baby bump, confirming the news.
In May of last year, Rihanna and ASAP Rocky welcomed their first child together, a baby boy. In a subsequent interview with Complex, Rocky credited new fatherhood with having helped him zero in on his priorities.
"It helps you prioritize, honestly," he explained. "I love it. Everything is just based around my newfound love for being a dad and a family man. It's lit right now. I can't even describe it. Yo, you see this smile!" 
More to come.