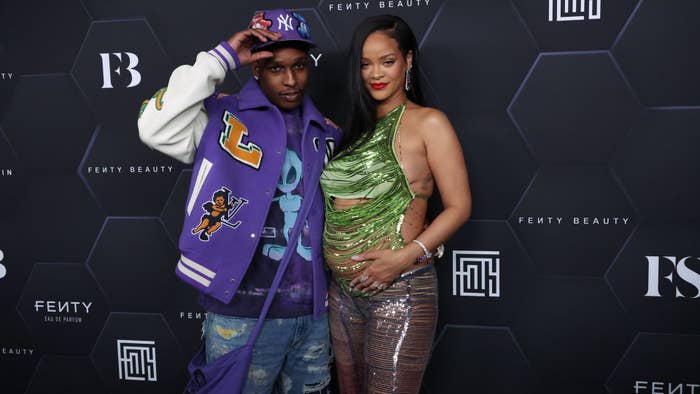 Rihanna and ASAP Rocky are officially parents. 
According to TMZ and People, Rihanna has given birth to her and Rocky's first child together nearly four months after first revealing to fans they were expecting via a now-iconic maternity shoot. Per the report, which cited the usual "sources with direct knowledge," the couple welcomed a baby boy on May 13 in the Los Angeles area. His name has not been publicly revealed.
People's unnamed source said, "Rihanna is doing well. They are very excited to be parents. Rihanna is already a wonderful mom," says the source."
Back in January, RiRi—as shown above—first displayed her baby bump while wearing a long pink jacket and distressed jeans in those New York-based shots, and has since been spotted everywhere from the Met Gala (as a statue) to Fenty events with their now-newborn on the way. Speaking with Entertainment Tonight in February, the superstar explained that the journey to motherhood was an "exciting" one. 
"I'm trying to enjoy it as much as I could," she said. "And fashion is one of my favorite things, so, you know, we're defying what it even means to be pregnant and maternal. … It can get uncomfortable at times and so you can dress the part and pretend."
Congrats to the new parents, who recently starred together in the video for Rocky's new song "D.M.B." The video, written and directed by Rocky, swiftly spurred speculation of the engagement variety. Such speculation, however, was later reported to have been quashed.
Among the many highlights of the public aspect of Rihanna and Rocky's coupledom was a 2021 viral clip seemingly showing a bouncer asking RiRi for her ID. During his appearance on Drink Champs this month, Rocky detailed the incident, which he says boiled down to a "fucking dweeb" giving them trouble at the door.
"First of all, me and my lady was walking around because that's what we do, like, we in New York, walking around, smoking, chilling," he said. "And I'm like, 'Yo, you wanna go to this spot?' And she's like, 'Yeah.' So we walked up to this arcade. Being that we had so much shit going on, the owner was just acting, like, he was being a fucking dweeb."
Fucking dweebery aside, Rocky urged fans not to go too hard on criticizing Barcade, as it's independently owned and operated. In the same interview, Rocky also said he was "proud" of his and Rihanna's first child together.
At the time of this writing, neither Rihanna nor Rocky had publicly commented on the latest reports surrounding the birth. In the meantime, take a look back at the couple's most stylish moments together here.