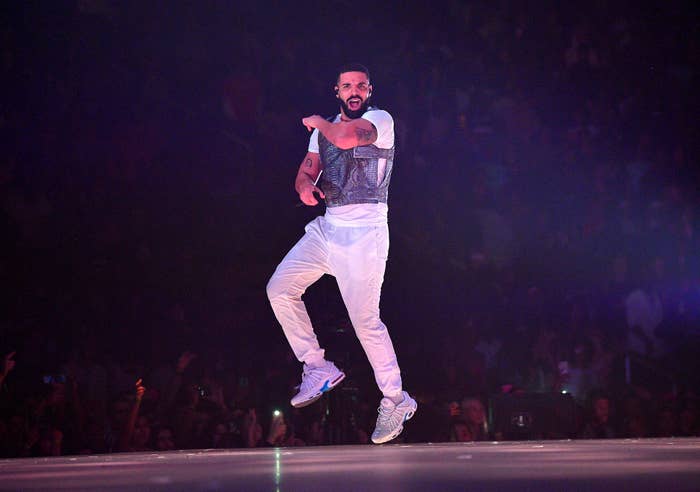 Drake is paying tribute to some of the architects of the Canadian sound this Thursday (July 28).
The rapper took to Instagram last night to reveal the performers for the first night of his October World Weekend festival, which is happening this week. Dubbed "All Canadian North Stars," the lineup for the kickoff show, which takes place at Drizzy's music venue History, features a bevy of Canadian artists he says "paved the way for all of us."
Reading like a CanCon equivalent of an NBA 2K All-Time roster, the list of performers includes pioneering Canuck rappers Maestro Fresh Wes, Choclair, Kardinall Offishall, '90s West Coast rap legends Rascalz, R&B queens Jully Black and Keshia Chanté, and early aughts singers Glenn Lewis and Shawn Desman. Detroit hip-hop group Frank-N-Dank have also made the cut, and while they're not Canadian, they spent plenty of time performing and recording in Toronto in the early 2000s after a shelved album on their label MCA left them in limbo. The poster for the event also promises "special guests."
Tickets for the All Canadian North Stars show go on sale today at noon via Ticketmaster. 
October World Weekend coincides with the 10-year anniversary of OVO Fest. The festival will carry on at Toronto's Budweiser Stage on Friday (July 29) with a show co-headlined by Lil Baby and Chris Brown, and will be capped off with a Young Money reunion on Monday (Aug. 1) featuring Lil Wayne and Nicki Minaj.
Drake announced via Instagram that he's currently working on taking OVO Fest global in 2023 for its 10th anniversary. 
Drake has long expressed love for Canada's early hip-hop and R&B artists, going as far as name-dropping Glenn Lewis and interpolating "Money (Part 1)" by Jelleestone (who is noticeably absent from the All Canadian North Stars lineup) in 2016's "Weston Road Flows."
"Throughout my childhood there's been a few key moments," the OVO boss said in a 2012 interview with George Stroumboulopoulos. "I mean, obviously, a lot of Kardinal's records were big, Choclair's Ice Cold album was big for me, Maestro's 416 / 905 was a big record, Glenn Lewis' "Back for More." I've got a lot of Canadian songs that meant the world to me."