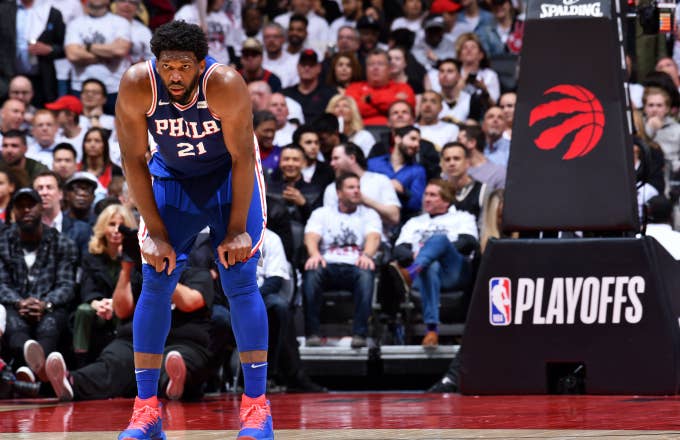 The Toronto Raptors took full advantage of their home court edge as they routed the 76ers on Tuesday night to take a 3-2 series lead. In midst of their blowout victory, Toronto superfan Drake decided to send shots at Joel Embiid by leading the crowd as they imitated his airplane celebration. While this was fun for fans, Embiid let it be known that he was unfazed by the trolling. 
"I didn't notice. I just saw them shake their bodies. I didn't pay attention about what the hell they were doing," Embiid said when asked if the jeering bothered him.
Although Embiid put together a dismal performance in Game 5, the center was red hot during Philadelphia's Game 3 victory. After throwing down a spectacular windmill dunk, Joel broke out an airplane celebration to further reinforce he has hops. Judging by Tuesday's reaction, this didn't sit well with the Toronto fans.
But as one of the NBA's biggest trolls, Embiid assured both his supporters and critics that he will continue to have fun whether people like it or not. 
"Like I said before," Embiid continued. "I don't care if it offends anybody about what I do. It's all about having fun, so I don't care. I'm going to do that because I know I'm going to dominate."
Despite his confidence, Embiid has been plagued by a respiratory infection that caused him to only put up 13 points in their Game 5 loss. Now with the series heading back to Philadelphia, the Sixers need Embiid to regain his health and put together another monster game to save them from elimination.