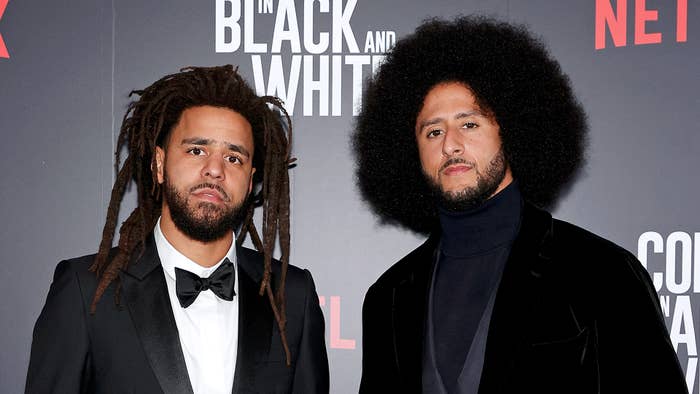 In a post on his Instagram, J. Cole showered Colin Kaepernick with praise and expressed his desire to see him play for a team in the NFL in the future.
The former San Francisco 49ers player, who is set to be the subject of a Spike Lee documentary, famously kneeled during the U.S. national anthem in 2016 as a protest against racial injustice and police brutality. He was released by the team a year later and has remained a free agent ever since. Kaepernick hasn't played in an NFL game in years, but Cole hopes to see that change.
"'Y'all musta forgot' in my @royjonesjrofficial voice," wrote Cole alongside a photo of Kaepernick kneeling during the anthem. "Imagine 5 straight years spent waking up every day to train at 5am, staying ready in hopes that some team would reach out with an opportunity, no matter how impossible that sounded most days. He probably finishing up today's workout as I type this right now. I see you bro, and I know God is with you. I pray the day soon comes when you get to play the game you love at the highest level again. I believe. And I haven't forgot. RESPECT."
Throughout the controversy surrounding Kaepernick's protests, J. Cole has always supported him. 
Colin shared Cole's post on his IG Stories, replying, "Respect to the legend, and one of the greatest to ever do it! I appreciate you having my back brother!"
This month it was reported that Spike Lee is set to direct a multi-part ESPN Films documentary focused on Colin Kaepernick's life and career. Prior to the confirmation of the doc, Lee was spotted sat next to Kaep at a New York Knicks and Memphis Grizzlies game. 
Cole, meanwhile, recently declared himself the greatest rapper walking the earth on Benny the Butcher's single "Johnny P's Caddy," spitting, "On god, the best rapper alive/Headshot, now go and ask the best rappers that died/They tell you he never lied."