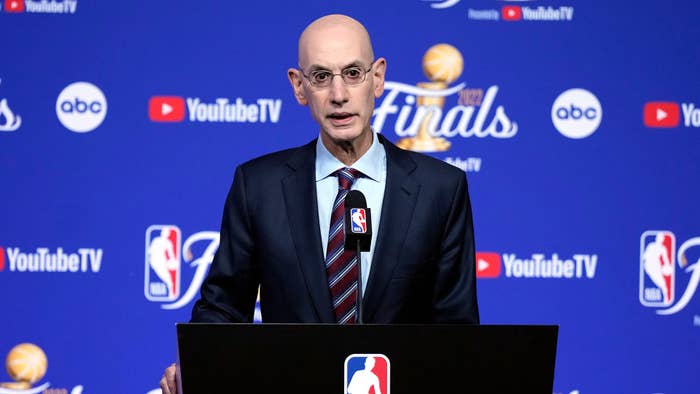 During an appearance on The Dan Patrick Show on Thursday, NBA Commissioner Adam Silver cracked a joke about Ja Morant's ongoing gun controversy.
Near the end of the interview, as seen below, Patrick suggested that he could get big-time NBA fan Adam Sandler to do an anti-carrying PSA for the league. "I'm gonna get Sandler to do a PSA for the NBA, on an anti-carrying program," said Patrick. "It could have a double meaning, by the way," replied Silver. "Yeah, the Ja Morant anti-carrying [policy]... absolutely, I got it commissioner," added Patrick as Silver nodded along with a smile.
Last week, Silver revealed that he will not announce a potential punishment for the Memphis Grizzlies star until after the NBA Finals. Before Game 1 between the Denver Nuggets and Miami Heat," he said that the league had "uncovered a fair amount of additional information" and "probably could have brought it to a head now." However, out of respect for the competition, the league decided to wait until the end of the season.
Ja Morant was suspended by the Grizzlies last month after he seemingly flashed a gun during an Instagram Live stream, just two months after he received an eight-game suspension for brandishing a firearm in a Denver strip club. In an apology, Morant said that he was taking "full accountability" for the incidents. "I know I've disappointed a lot of people who have supported me," he said. "This is a journey and I recognize there is more work to do. My words may not mean much right now, but I take full accountability for my actions. I'm committed to continuing to work on myself."