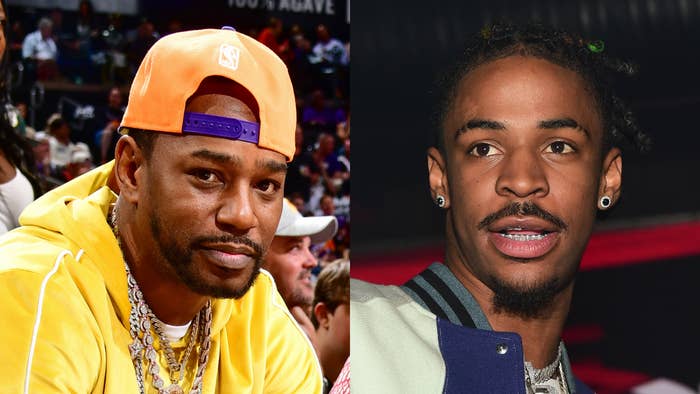 Cam'ron has come to the defense of NBA All-Star Ja Morant who's been dragged by the strippers from the club he first flashed his gun at.
During a segment of the It Is What It Is podcast, Killa Cam said it's no secret that people bring firearms into strip clubs. According to the Harlemite, strippers would get excited if artists like Pooh Shiesty, Lil Durk, and others walked into the strip club with their guns.
"Y'all bitches bugging," Cam'ron said. "Listen if Pooh Shiesty was in there with the pistol and stuck it all in your face you'll be hype and all type of shit. If Durk came in there and smacked you with the pistol and you fall on the floor doing muthafucking backflip it's lit as long as he throwing money at you."
Cam continued: "A n**ga got a pistol in the strip club every fucking night it's a n**ga in there with a pistol that will turn you bitches on y'all get excited when you see the pistol."
This whole situation started when one of the strippers at the venue Ja first flashed his gun demanded an apology.
"I don't foresee an apology [anytime] soon. He's a boy," one of the dancers told the New York Post. Another employee of the club added: "He's clearly begging for attention and trying to be a baller. He should be banned from all clubs and get his NBA career taken away given our country's current circumstances on gun violence."
The club's owner, Deborah Dunafon, however, spoke highly of Morant, saying that he's "exceptionally respectful, and sweet."
After the incident, Ja Morant issued an apology.
"I know I've disappointed a lot of people who have supported me," he said. "This is a journey and I recognize there is more work to do. My words may not mean much right now, but I take full accountability for my actions. I'm committed to continuing to work on myself."