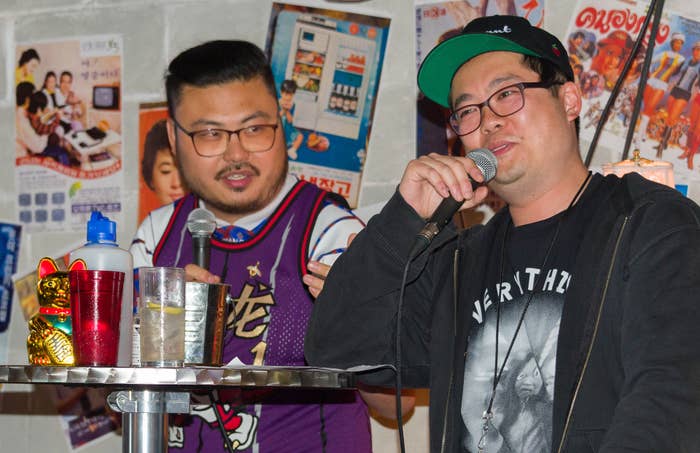 "One of the things I've always wanted to do with my writing is, tell stories that other people don't see as meaningful but are meaningful to me." 
When Alex Wong, a former certified public accountant-turned-freelance writer and radio producer, was looking for inspiration for his second book, he found himself coming back to the premise of a feature he wrote for ESPN's The Undefeated in 2017. 
"It was the five-year anniversary of Jeremy Lin being on back-to-back Sports Illustrated covers," Wong recalls. "Linsanity was just such a huge moment I think for Asian Canadians, Asian Americans, and I had the chance to talk to people in Sports Illustrated, talk to Pablo Torre and people around Jeremy." What struck Wong was how much substance a behind-the-scenes perspective carried. It's what Cover Story is based on.
Cover Story digs up anecdotes and explainers that reveal a number of magazine cover origin stories, and showcase iconic basketball imagery while also illustrating some of the problems, and progress, in the way basketball and its stars are covered.
"I found that writing these books has become the most rewarding part for me." 
While he now packs an unapologetic attitude, that didn't always come naturally. Wong and his parents, Joan and Tony, immigrated to Canada from Hong Kong in 1992 and while he didn't feel alienated—his school's student body was predominantly Chinese—there was still a desire to belong. "In a way, I never felt like I was moving to a new country, especially the school experiences. I was able to make friends right away," says Wong. "But then there was also a side of me that just really wanted to fit in with the rest of the kids. You know, the white kids and Black kids. I wanted to learn the same things as them and that's how I picked up hobbies." 
"Hey, you might see me as this model of success, but I just want you to know that all the shit that you're dealing with, I'm still dealing with, on a day-to-day basis."
After what Wong calls his "innocent years," the disillusionment about society and its shortfalls were right there waiting for him, from high school to his corporate 9-5.
"Growing up, people will tell you all this stuff about, 'You work hard, blah, blah, blah, and you'll get what you deserve'… and then you realize that's just not the reality of the world, and just the way that you look is going to affect what you're able to do."
That unchecked prejudice left Wong feeling some bitterness and resentment, and rightfully so. Blatant racism and stereotypes are intrinsically built into Western society—we see examples of it every day. So when he jumped into the sports media pool and found it was the same temperature as corporate, he was done trying to fit in. "If you guys aren't gonna let me be part of your club," says Wong, "I'm just gonna build my own." 
Wong's approach and IDGAF attitude, which at times can cosplay as arrogance, turns out to be shrouding a deeper purpose, creating a soft landing place for other emerging, marginalized journalists.
"I'm sure some of these younger writers, maybe with less experience, look up to me in a way," Wong says. "It's important to just let them know that like, 'Hey, you might see me as this model of success, but I just want you to know that all the shit that you're dealing with, I'm still dealing with, on a day-to-day basis. When it comes to that, we're actually equal on that level."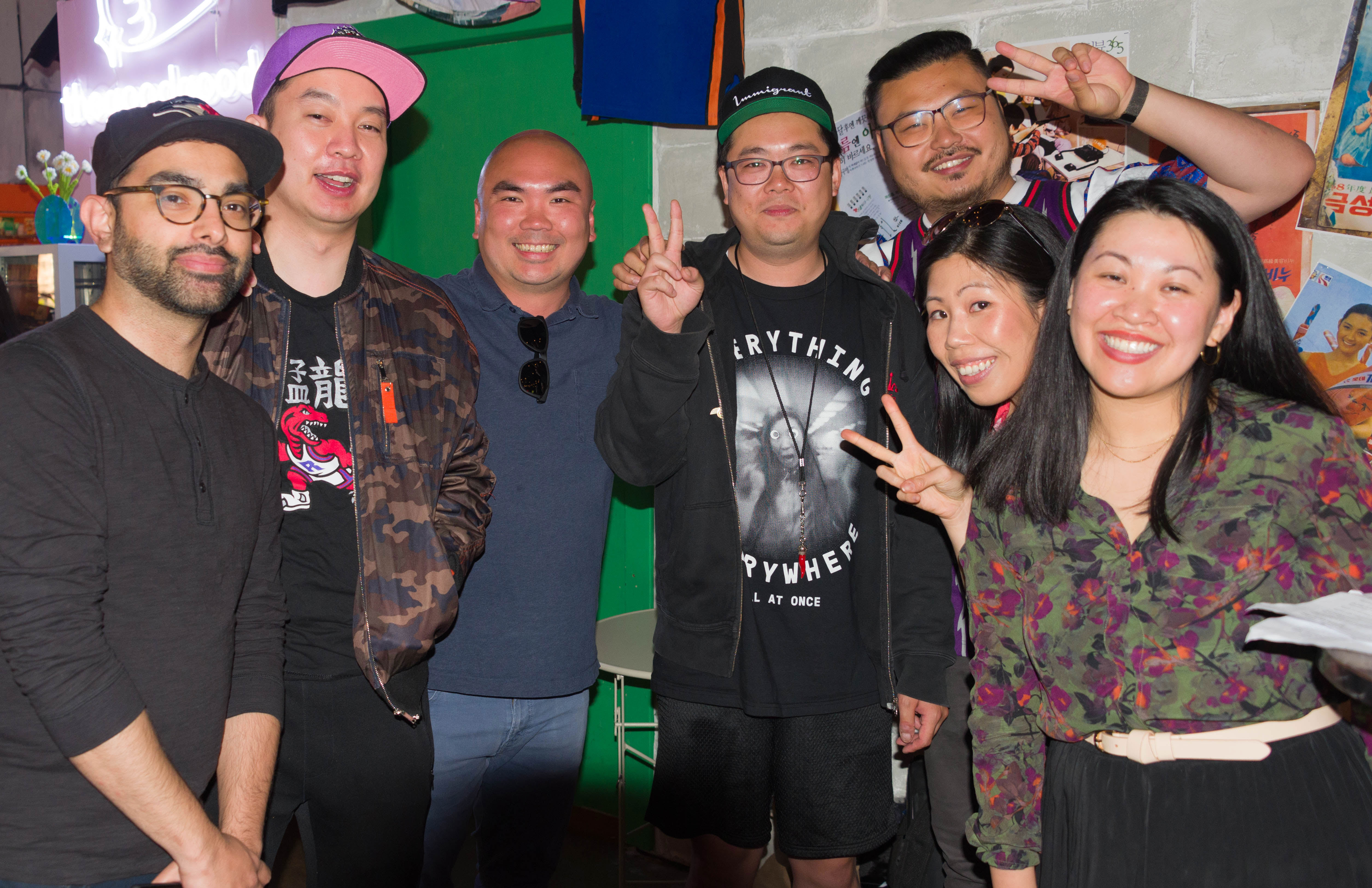 Enter, William Lou, Wong's counterpart and co-host on The Raptors Show With Will Lou. 
"Professionally," Lou begins, "I'll always seek his advice because he has gone through a lot of experiences and you know, he's old, and he's done a lot of shit." 
Lou's not new to this either. Wong refers to him as "the centre of the Raptors universe" and he's not far off. The Raptors Show is built on Lou's fanatical love of the Toronto Raptors.  
"There was a tournament, a Euro basket tournament," said Lou when talking about his industry start. "JV (Jonas Valanciunas) was playing for Lithuania (and) I would write every single recap of just how JV did with Lithuania—they were like 500-600 words, which thinking back I was like, 'What am I doing?'"
"There's probably someone driving a truck through Alberta and they're tuning in to hear about the Blue Jays' backup pitcher and are like, 'Why the hell are these guys talking about dim sum items?'"
The call for diverse content options in Canada continues and as the only two Asian men to co-host a radio show on a major network in the country, they stand out. But their stranglehold on the local NBA faithful isn't because of that; it's because they simply do good work.
"I think that's important to me," Wong says. "For people that are out there listening to us and seeing us know that we're not just representing as two Asian faces, we're representing as two people who are trying to change the standard or even set the standard of what a basketball show can be like in the city."
"We always joke about having clout. For Alex, that means he's gonna get some free sweaters, shoes, and shit like that," Lou teases. "And I'm like, 'That's cool, man but you already have sweaters and shoes.' I think we (can) use this public standing that we have to try to bring attention to a cause."
The first step was billed as "the Asian Heritage Month Event of the Century" at Asian night market Superfresh last month. It was a fundraiser with proceeds going to Asian Gold Ribbon, a campaign urging individuals and organizations to show solidarity against anti-Asian racism and recognize its psychological impacts.
They congregated with an organically cultivated group of 150 friends for a night of awkward small talk (by design, as Lou is admittedly awful at it), giveaways, and a moment of unexpected candour that brought reflection to everyone in the room. 
Lou took a moment to speak earnestly about the seismic increase in hate crimes targeting Asian communities, in large part due to xenophobic rhetoric following the COVID-19 outbreak. 
"It was so confusing and frustrating. I would stay up until 2 a.m. researching what was happening. It was bringing me to a place of hate, but what's most important is don't give in to the fear, don't give in to the darkness." 
In a cruel and calculating way, life is always testing you. How you respond to the negativity and cope after you've been let down time and again isn't linear or easy, but those feelings can be easier to navigate when you have a community to support you.
"It's been like, so humbling to see people show out like that," Wong reflects a few days after the event. "People that really connect with us. To be able to look out to the crowd and see people that look like me, or see people that I know, it reflects the demographic of our show." It reflects the demographic diversity you see in the crowds at Raptors games too.
So while the pair believe in their path, the fact that they are creating something on their own terms can give momentary pause.
"Sometimes I still have a nagging fear in the back of my mind, like, what are we doing? There's probably someone driving a truck through Alberta and they're tuning in to hear about the Blue Jays' backup pitcher and are like, 'Why the hell are these guys talking about dim sum items?" says Lou.
He then reasons: "But that's OK. Maybe that Alberta trucker likes them."