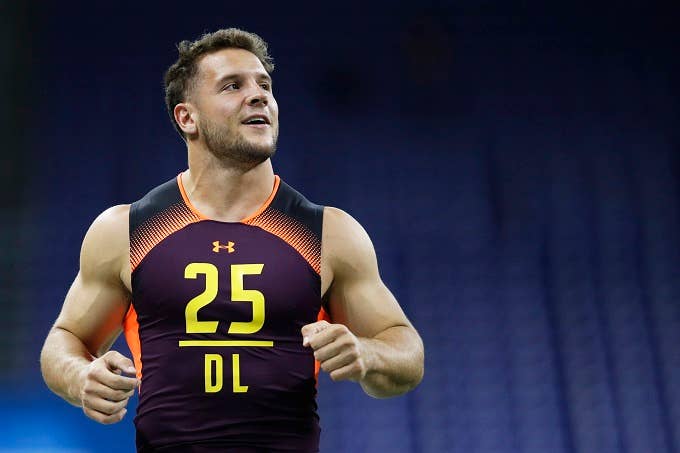 UPDATED 04/26/19 6:32 p.m. ET: Nick Bosa, after being selected by the San Francisco 49ers with the second overall pick of the 2019 NFL Draft, has opened up about his old tweets. Bosa particularly discussed a tweet in which he called Colin Kaepernick a "clown" and apologized. 
See original story below.
"Shut up and play" is always a terrible stance, but that doesn't mean it doesn't have power. Look no further than NFL prospect Nick Bosa who admitted to scrubbing some of his political takes from the internet for fear of hurting his career prospects. Bosa, who previously went on record in support of Donald Trump and spoke negatively of Colin Kaepernick, said he felt the need to depoliticize his posting. 
Bosa deleted tweets that criticized Beyoncé and called Kaepernick a "clown" just in case he ends up somewhere where those opinions were frowned upon. 
"I had to," Bosa explained in an interview with ESPN. "There is a chance I might end up in San Francisco."
Of course, Kaepernick is no longer in San Francisco because he decided to stand by his beliefs. You have to wonder if Bosa will go back to posts that praise Trump and Reagan while poking progressive activists after the ink dries on his first NFL contract. The Ohio State defensive end is expected to be selected in the first round of the upcoming NFL draft. While Bosa told ESPN he wasn't concerned about his draft position, his actions and some of his words in the piece put the lie to that claim. 
"It feels like my entire life has kind of been building up to this moment," he said of the draft, noting that the Arizona Cardinals would be making a "big mistake" if they failed to take him with the first pick on April 25.