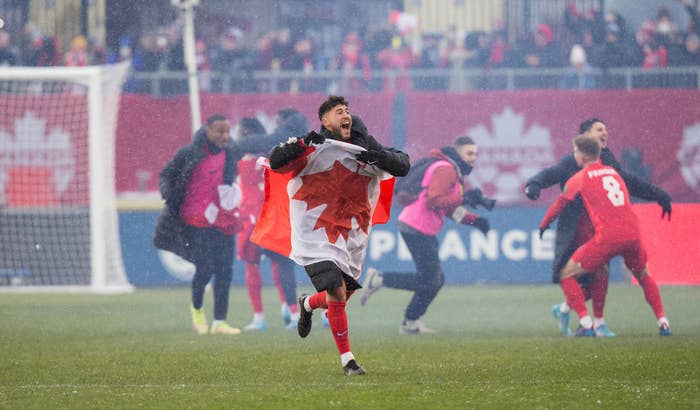 In the mercenary world of professional sports, it's rare to see a local kid rock his hometown's uniform. Rarer still if that sport is soccer and that hometown is the Greater Toronto Area, which hasn't really been known for its footy scene. Until now, that is.
At 30, Jonathan Osorio has a career that sounds like every GTA soccer fanatic's fever dream: He grew up in Brampton, Ontario, plays professional soccer a stone's throw away for Toronto's team, and is set to play a pivotal role for Canada at the World Cup in Qatar later this year—the first time the country's qualified for the tournament in 36 years.
The midfielder currently holds the record for most appearances with Toronto FC—over 300—and may well play in yet another World Cup, this time at home, when Canada co-hosts the 2026 tournament with the United States and Mexico. Toronto and Vancouver are among the host cities. As far as hometown hero arcs go, this one's storybook-perfect enough to make LeBron jealous.
These days, Osorio relishes the opportunity to weave himself in the fabric of the community that's helped shape him into the fleet-footed threat he is today. When he's not pouring his blood and sweat onto the pitch, he's linking up with local rappers like fellow Brampton man—and TFC fan—TOBi.
We caught up with Osorio at a pop-up event in Toronto for Mario Strikers: Battle League on Nintendo Switch—which is fitting, given his video game-esque career trajectory—to chat about his mindset heading into the World Cup, what sets Bramptonians apart, and why Canada has a chance to become a bona fide soccer country.
I saw you playing an intense game of footy on the Switch earlier. Have you always been a big gamer?
Yeah, yeah. Growing up, I always played games on the Nintendo 64. I have a Nintendo Switch now. So, yeah, I'm always trying to game here. But I grew up on GoldenEye 007. Um, what else? Me and my brothers used to play Pokémon Stadium, the mini games. That was fun.
Were you a FIFA kid at all?
Of course! I'm still a FIFA guy. FIFA is my go-to but now, actually, I've been playing a lot of Mario Strikers Battle League because it's different, you know? It's fun. It has the Super Mario aspect to it, so, it's cool.
What made you first fall in love with soccer?
I think for sure it's because my dad. He used to play in the Toronto area, and I would go to his games as a kid. At half time I'd be kicking the ball around with the other kids, so, I think that's where my love really, really began.
You grew up in Brampton. Did Brampton have a soccer scene or what?
Oh, it was huge. Yeah. When I went to Brampton, there was a big soccer scene for my age group. Brampton had the best team and then I ended up joining them. For some reason, there's so much talent, especially in soccer, in Brampton. It's crazy. Like, on Canada's national team, there's six or seven guys from Brampton alone. It's actually unbelievable.
How do you explain it?
I don't know. It must be something in the water that we drink over there or something. [Laughs.] I think it's just the competitive nature of that city. I think to the people that grow there, sports is such a big thing.  You see it in other sports, like Tristan Thompson, who's also from Brampton and is in the NBA. So, it's just a really competitive nature in the city. I think that's the big thing.
"We use our diversity to our advantage. I think for that reason, Canada could be a real, real footballing nation going forward."
Where do you think Brampton's competitiveness comes from?
It's a really diverse city and the competitiveness probably comes from the our cultures that we all come from. And then there's that kind of really urban street aspect to us and that gives us an edge. I think everybody has an edge there. You always want to be one up on the other guy. 
Are you into the Brampton music scene at all?
Yeah, yeah, for sure. I actually had dinner the other day with TOBi. I went to school with him. We caught up and he's doing his thing. Tory Lanez used to come to my school and battle rap against TOBi. It's actually crazy to see how well they're both doing now. 
That's dope! I know about those rap battles between TOBi and Tory! So, you actually got to witness those?
I witnessed those! Yeah, yeah man! I was there, I was there watching them. That was classic, man. It was just crazy because, for us, it was sick, you know? But we didn't know what big talents those two actually were at the time. So, it was really easy to take it for granted just because that was what was in our neighborhood. But they both ended up following their dreams and making it, so it's pretty cool. 
Just like you!
Just like me, yeah.
Something in the water, man.
Yeah, yeah! [Laughs.]
I imagine you grew up watching the World Cup tournaments as a kid. Are there any World Cup moments that stand out to you?
I'll always remember in '98 when Zidane scored two goals in the final and then I also remember in 2006, when he, um, headbutted Materazzi and got the red card and Italy won the World Cup. I remember the streets of Toronto were so crazy. Those two really stick out for me.
I remember the headbutt! It was surreal to see that.
Yeah. I was sad because I'm a big Zizou fan. When I saw him do what he did in '98, that was inspiring. And then, now to his last game as a professional, it was sad, but he was class the whole tournament, so, it was pretty crazy. 
I also remember how wild the streets of Toronto got when Italy won that year.
Yeah, it was crazy! St. Clair was packed, packed, packed. A sea of people. That was an amazing thing to see. And I hope one day we can see the streets packed like that for Canada. That's the dream. That's what we're going for now. 
It would be unreal. So, yeah, from growing up watching it to now getting ready to compete in your first World Cup, how does it feel?
Oh, amazing. It's a dream come true. There's no other way to go to describe it. I mean, all of us have been been dreaming about this before it was cool to, or before it was even imaginable. And now that it's happening, it's incredible.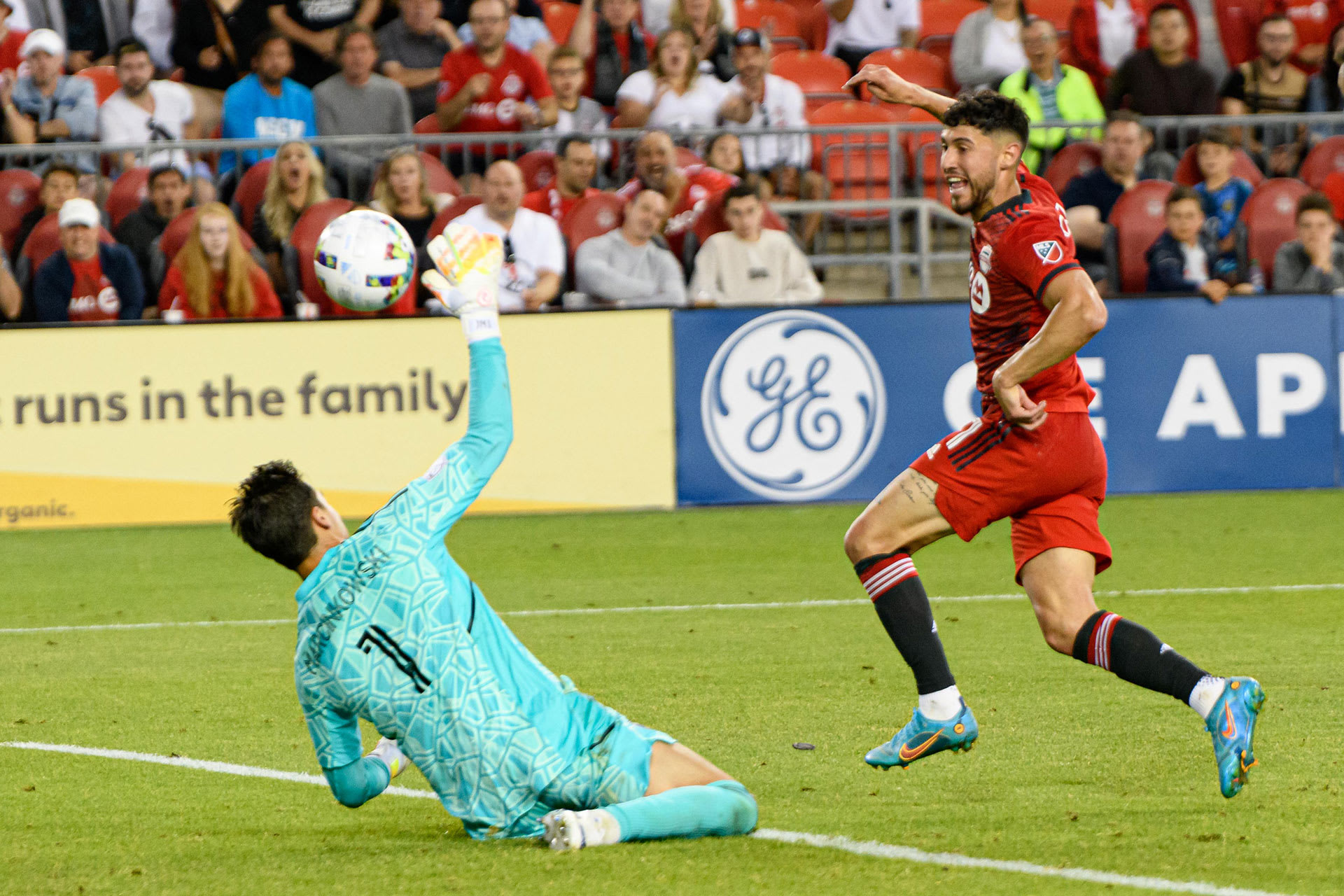 Did you think it was even in the realm of possibility while growing up in Brampton?
Yeah. Just because we had a wild imagination as kids in Brampton, you know? That's what gets us far, I think. We imagine beyond what we think we can. And I think that's what's led us to to make it and be able to be so successful. You gotta dream big and strive and reach for the stars. And then, you know, depending on how hard you work, it will get it you close to what you dream of or even past it. You never know. So as long as you set your goals high, nothing is impossible.
How did it feel to find out that the World Cup is coming to Canada in four years?
Incredible. I mean, I was at the announcement in New York—the unveiling of the cities. And to see that Toronto was one of the cities, that's when it really hit me. It really hit me that the World Cup is coming to Toronto and to Canada. And that's amazing. I mean, I'm focused on Qatar right now, but once once that tournament goes, the World Cup is really coming home and I'm excited for what it's going to do for this sport in this country.
Yeah, totally. Let's talk bout that, because we've seen basketball blow up in this country the last few years. What do you think the potential is for Canada to actually become a soccer country?
Oh, huge. Huge. We have the advantage that we're so diverse. You know, many of the people that come and immigrate here are from countries that love football. And so they breed that onto their kids, as as did my parents. So, we have an advantage, actually. We don't have one style of player. We have different styles of players with different strengths, and we're showing that on our national team now. Like, we're so diverse and we come together as a team. We use our diversity to our advantage. I think for that reason, Canada could be a real, real footballing nation going forward. 
"We had a wild imagination as kids in Brampton, you know? That's what gets us far, I think. We imagine beyond what we think we can."
I'm surprised that hasn't happen sooner, because, like you said, we're so diverse. Like, whenever the World Cup happens, you see it in the streets. The city goes crazy.
Yeah. I think it's just because Canada is still really young when it comes to the football world. You know, everything was really hockey before. And as more immigrants have come, now football has started to become the more popular sport. So we're still young. I think here in this country we're learning how to develop the players still, and learning structure and what the best way to grow the sport is. So, all those things are kind of new, but it's growing at a rapid pace. I see soccer, in the very near future, being maybe the top sport here. 
Also, it's just more affordable to get into soccer. Hockey is so expensive, with all the equipment you have to buy and registration fees. Even with basketball, the costs are starting to rise. But with soccer, all you need is a ball.
All you need is a ball! All you need is a ball. And it's so true; there's a saying around the world that "football is for the poor." And so, that's why I think it's a worldwide sport and anybody can play, really. It's what makes it the beautiful game. 
Speaking of the diversity on Canadian immigrants, talk about your Colombian heritage. What impact has it had on you? 
I mean, it's definitely influenced my career path and who I am as a person. Both my parents are Colombian, both immigrants. And my father loved football. He loved football and my grandfather also loved football. So, it was really easy for me to fall in love with the sport. That's all I would hear about and see on TV in the house. I'm really grateful for that heritage and to be able to celebrate both being of Colombian descent and, of course, being Canadian. 
Did your dad want you to play for the Colombian national team instead?
No, no, I'm happy playing for Canada, to be honest. I'm glad I chose to play for Canada. I mean, it's where I was born, it's where I grew up. And so, if anything, I have a lot more to give back to Canada than Colombia, even though Colombia is a big part of my life and my family's life. So but I'm happy. I feel like I'm part of the beginning of a really good history of soccer in Canada. 
Growing up playing around other parts of the GTA, did you notice that passion for the sport here?
Yeah, yeah. No, the passion is everywhere. The passion is everywhere in the GTA. I mean, in Woodbridge you have a lot of Italians, for example. In North York, in Toronto, there's a lot of Portuguese people. A lot of everything. And so, all these countries love football. Football is everywhere in Canada. And the sport is growing so fast. You can see it in the young talent. The young talent coming up are better than the young talent from before. It's normal. And that's how it goes. So, it's exciting. 
How crazy you think the streets in Canada will get this upcoming World Cup, now that we're actually going to be in it.
So, yeah, unfortunately, the streets—they could still be crazy—but it will be in November. It'll be cold. It's not a normal World Cup like in the summer.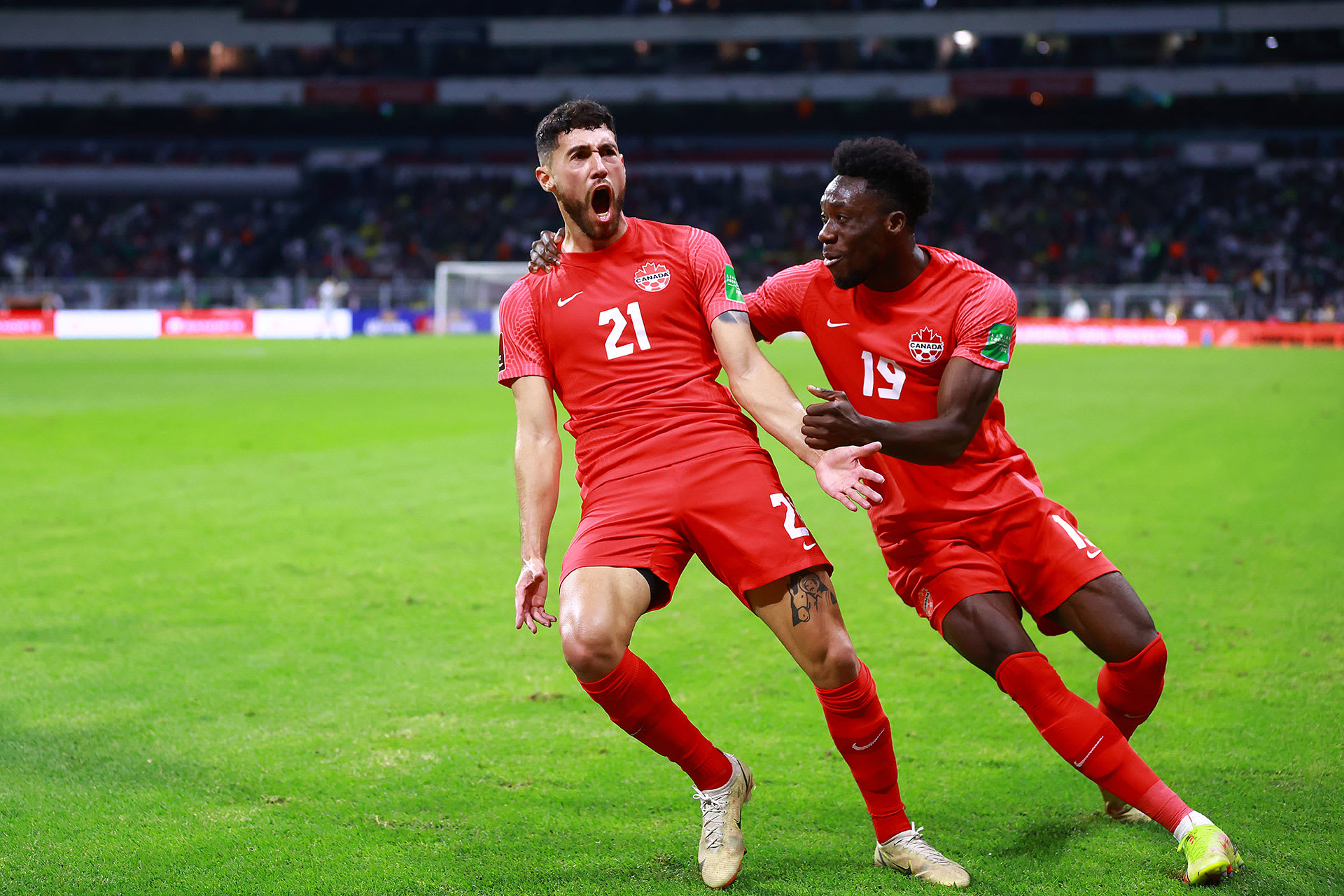 Oh, yeah, true. [Laughs.]
If it was in the summer, the streets would be packed with red jerseys, that's for sure. It's going to be interesting, the dynamic this year, just because it's in the winter, but I know the whole country is going to get behind us. It's going to be incredible. 
You've spent basically your whole professional career playing for Toronto. Was that always the goal as a kid?
No, no, definitely not as a kid. No. Before TFC, the idea was always to go away somewhere or find an opportunity. And even that was tough. I did find the opportunity to go away for a bit to Uruguay when I was 17, but when I was down there, I got really good training and then I saw how TFC was doing here and MLS and how that was going, and I wanted to be a part of that. So, I came back and luckily it worked out for me and I've been here ever since. It's honestly a huge blessing. 
I read that the stakes were really high for you when you trying out for TFC in 2013. It was kind of a make-or-break moment.
It was. At that point in my life, I had just turned 20. And for me, you know, I always envisioned myself playing professional at 18. So I was already two years late on my vision. But I never gave up on my dream and so that trial for me was like, "I make this team or I go find something else to do with my life." And I think it was destiny that I was supposed to try out that day for TFC and make it. It's what got me here today. 
And now you're playing for the national team. You've come a long way. Things worked out nicely.
I think it's shaped me to be able to believe in myself, especially in those hard moments and in the low moments, which are inevitable in football. Every player goes through it in his career. And knowing that I could be in a do-or-die moment, at the very lowest, and get out of it, now any time that that happens, I'm able to believe in myself, knowing that I can get out of any low-confidence situation. The lows make you stronger and keep you going, and they honestly make the highs more valuable. 
How are you getting into the headspace for Qatar? Are you tweaking anything in your game or your training?
Nah, I'm just sticking to what got me there. That's my main focus, of course, and knowing that my performance with TFC is going to help me going into that tournament. That's really how I'm focusing on it. 
What music have you been bumping to help you get in the zone?
Right now I've been listening to a lot of Burna Boy. The new Burna Boy that came out. And the new Drizzy, of course, that just came out. Been listening to that. Bad Bunny is my favorite. I've been listening to his new album a lot. I really like his song "Me Porto Bonito." That, for me, is a song that just gets me going. And I'm always listening to TOBi, of course. That's my guy. So I've been bumping his tracks as well. 
Gotta rep Brampton, man!
Of course! Yes sir! You have to, absolutely have to.