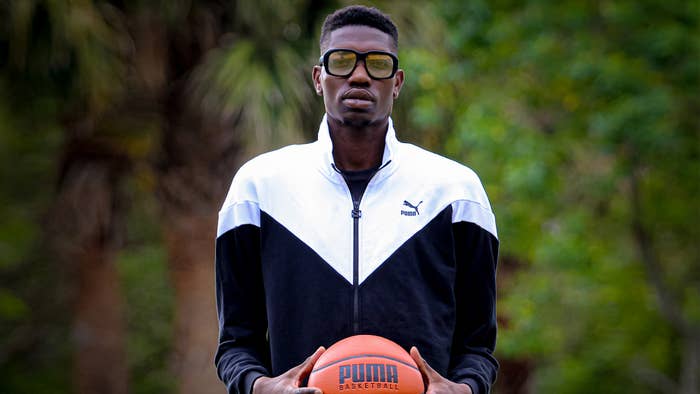 Chris Boucher's story was already the stuff of against-the-odds sports dramas—from homeless Montreal teen to NBA champion. Well, cue the shimmering score, because his tale just got a lot more inspirational: the Toronto Raptors center is PUMA Basketball's newest ambassador. The endorsement deal was announced this morning via the 28-year-old's Instagram page.
"I'm not somebody who thought that one day I would be signing with a shoe company," Boucher tells Complex Canada. "Just realizing how far I've come and the opportunity that I got to be sponsored by PUMA, it's just an amazing accomplishment for me."
Boucher's been having a breakout season, putting up career-highs of 14.1 points, 6.3 rebounds, and 1.9 swats—all while averaging just 23 minutes per game. He's worked himself into the conversation for the NBA's Sixth Man of the Year award.
It's been a long fight for the St. Lucia-born, Montreal-bred player. Dropping out of high school at 16, he drifted from home to home while working as a part-time cook and dishwasher at a St-Hubert restaurant. Basketball offered him a glimmer of light—after being discovered at a local tournament, he was groomed by coach Ibrahim Appiah to play at Alma Academy, a school designed to help inner-city teens. He'd eventually find his way to the NCAA, but a torn ACL would cause him to go undrafted. Still, the grind was relentless: he'd rise up through the Raptors 905 and go on to earn both MVP and Defensive Player of the Year in the G League's 2018-19 season.
Boucher, who's been rocking the PUMA RS-Dreamer—J. Cole's signature shoe—on the court recently, is the latest signee to the brand's growing basketball roster, which also includes young standouts LaMelo Ball, Kyle Kuzma, and Deandre Ayton. He'll be working closely with PUMA to support grassroots basketball initiatives in Toronto and Montreal, including with own AAU program, CB Elite. Because what's a motivational yarn without a big-hearted protagonist?
We hopped on a call with Boucher for an exclusive chat about inking the PUMA deal, his unfathomable rise, his love for Canada, and why he identifies with WWE superstar Edge.
Congrats on signing with PUMA, man! What was your initial reaction when you got the offer? Who'd you call first?
Well before this, I was like, Man, I hope it happens. You know, I've seen a lot of people get the chance to sign with Nike and adidas, and I was like, If one day it's me, I'd be super excited. But I wasn't really expecting it. And then when it happened, I talked to Ib (coach Ibrahim Appiah), because my mom is not really about shoes and stuff. She was definitely happy for me to have my chance to wear PUMA, but me and Ib were just happy because we've got the chance to have a different style. PUMA, I feel like it's a different style.
Were you a fan of the brand before this?
Yeah. Before I played basketball, I was playing soccer and PUMA, that's where their main sales were. I remember some of the shoes—just the curve of the shoe was made for when you kick the ball differently. So I was really about that most of the time. I definitely felt good about having the chance to wear PUMA and wear the tracksuit. I've seen Nipsey Hussle, a tall guy, wearing the tracksuit. Sometimes it's hard for us tall guys to get a tracksuit that could look good on us. So that definitely was interesting for me. 
Speaking of Nipsey, I know you're a hip-hop head. You've been wearing the RS-Dreamer, J. Cole's shoe. Tell me what you've been listening to.
Anytime I listen to J. Cole, he's tough! So for me, as soon as they told me I would have to wear the Dreamers that J. Cole did, I wore them immediately. I was wearing it for like three games in a row. Even though they're high cuts, I still wanted to wear them because for me, it's special. Those are just little things that you don't really realize, but not everybody gets to do that. Not everybody gets to have that pair of shoes before anyone wears it on the court. I think I was one of the first guys to do that. Those are things that I never thought that I would've gotten. 
If you could only listen to one J. Cole song for the rest of your life, what would it be?
"No Role Modelz," for sure. There's so much truth about it, if you really listen to it. To me, everything about the song—the way he talks, the way he's thinking about the situation—I feel like, it's just life, you know? I feel like there's a lot of people that deal with those types of situations. When he's like, "Don't save her, she don't wanna be saved, don't save her"—I feel like there's a certain point where, like, you gotta do what's best for you. And if somebody don't wanna cooperate with it or don't wanna be part of it, then you gotta do your own thing.
"I started from having no shoes, and then all the grind gave me a sneaker deal."
Absolutely. That's kind of your story, right? Forging your own path. Would you describe yourself as a dreamer?
Yeah, for sure. I mean, if you read my story and you know where I came from to get here, all the stuff that came up in my life, I've always dreamed big, you know? And I'm still trying to dream as big as I can right now, because I feel like it's just the beginning. I started late and look where I am. So I want to dream big. I want to see my career keep flourishing. And me being able to help people—like I said, this shoe deal is amazing, because I have a camp, so now I get to help them through that. 

Talk about that. I know you'll be working with PUMA to support basketball programs in Canada, including your own one in Quebec. Why is it important to you to give back to where you came from?
Well, it's just because I remember the days when I was starting out playing and there wasn't as much help as there is now. I just want to be an outlet. You know, I feel like there's a lot of talent back home and if I can just help them by giving them brand new shoes or the opportunity of having something new, that's something that I want to help offer the kids. Because I remember when I was playing; just having a pair of shoes, you know, you might have to play with that pair of shoes for a whole year. But if I'm able to give them new jerseys, new shorts, schoolbags, those are all things that maybe would have helped me, when I was a kid, to get there faster. 
Back when you were a teenager, if someone told you that one day you'd be an NBA player with a sneaker deal, what would you have said to them?
Oh, I mean, there's no chance! I would've told them they were crazy. During that time, I couldn't even afford a pair of Jordans or a pair of PUMAs. There's no way I would've had one of these! If I had one pair of shoes, that's what I had, and you'd see that pair of shoes every day. So you're telling me that I would be in the NBA and I would have a sneaker deal and all that? I'd be like, "Nah, man. I don't think you're right. I think you're dreaming."
Like you mentioned, you've overcome so many obstacles to get here, from dropping out of high school to living on the streets of Montreal to going undrafted. You've just had a really grueling come up. Looking back at it, what do you think motivated you to keep on pushing? 
I've always tried to see it as like, OK, if I'm in a situation right now, it's for a reason and maybe there's something I have to learn about it. I feel like that literally helped me to get to this point, because when I started playing basketball, life got a lot easier. You know, I started going to school and all that, so it helped me out. I was still far from knowing that I was going to be in the NBA, but it definitely helped me to always get better and see things in a different perspective. During that time, I didn't have much going on, so basketball was the only thing I was doing something positive in. It was easy for me to just keep on going with that and try getting to the highest level I could. I don't know where I would've been if I didn't play basketball, that's for sure. Especially when you think of where it got me out from? Like, who knows what would've happened to me. 
Your IG bio currently says, "Grind Now Shine Later." What does that phrase mean to you?
I took that from Ibrahim. He and his cousin were working on a motto and it was "Grind Now Shine Later." Basically, when I was in prep school, I was always saying, you know, "I want to shine." Like, I want to have everything. But one thing we realized is that if you want everything, you gotta grind. So we started saying, "Grind now and you'll shine later." That's pretty much the motto of my life now. It's just like, you play hard during the season and then you can shine during the summer—you get to do what you want. I think it works on every level. You know, I started from having no shoes, and then all the grind gave me a sneaker deal.
What about the second part of your IG bio: "The Rated-R Superstar"?
Oh, yeah. I'm a huge WWE fan. I always felt that Edge was a guy that I kind of resembled a little bit, just because he is literally a great superstar, you know what I'm saying? And people would talk more about The Rock and Stone Cold and The Undertaker, all these guys. I love all of them, but I feel like Edge did his part too, you know? He had the tag team championship, all those ladder matches with Jeff and Matty Hardy and all that stuff. He's really like a rated-R superstar. So I kind of took to that because I feel like I've been through a lot, and I'm not like the Joel Embids or the Kevin Durants, but I still have my own personality and did a lot to get where I'm at. 
Dude, those TLC matches were legendary. 
Yeah, that's what I'm saying! And he won a lot of belts too. Like, he's been the world champion and all that. So there's a lot of credit that he doesn't get, I feel.
He came back from a big injury, just like you.
Yeah, he had his neck injury. That hurt me! That really hurt me. That's why when he came back for WrestleMania, that really gave me the chills when I watched it. That gave me the chills. I was like damn, that's crazy. Nine years later? Like, phew! 
"You gotta respect your fellow Canadians. Different sports, different scores, it doesn't matter. We gotta stay together on that. It's already hard for us to show what we're capable of doing, so when we excel, we gotta make sure we support each other."
That was so huge. He's a Canadian legend, man. 
Yeah, that's what I'm saying. You gotta respect your fellow Canadians. Different sports, different scores, it doesn't matter. We gotta stay together on that. It's already hard for us to show what we're capable of doing, so when we excel, we gotta make sure we support each other. 
Speaking of that, you know, you're showing up big for Canada in the NBA. You're the only Canadian player to win a championship with the NBA's only Canadian team. What's it like to rep your home and native land with the Raptors? 
Oh, it feels good. I mean, you can't really ask for more. A lot of guys, they wish they could play for their home team so they could be at home and have their lives that they had before. But for me, except for this year, I was at home. I was in Canada. I was getting the support of my family. I was getting support from the fans because I'm one of them. It was my country. It felt good to be at home. So obviously, that's one thing but you end up realizing: the U.S. and Canada are really different. You know, it's more different than you think. And I really love my country. It feels good to play for my country. 
What's it been like playing in Tampa this season? Do you miss Canada?
I do miss Canada a lot. And I miss my family and all that, but the weather's nice. We're enjoying the sun. But it's definitely not home, you know? I feel like when we were playing in Toronto, the fans were like the sixth player. It was just more electrifying. It helped the momentum. But now, it's like, you've got to create your own energy almost. And before, when you went on the road, when you came back you actually felt like you came back home. Right now, you kinda feel like you're going to another away game, basically. But, you know, with the pandemic and all that I don't want to be the one to complain, because people are going through a lot worse than what I'm going through right now.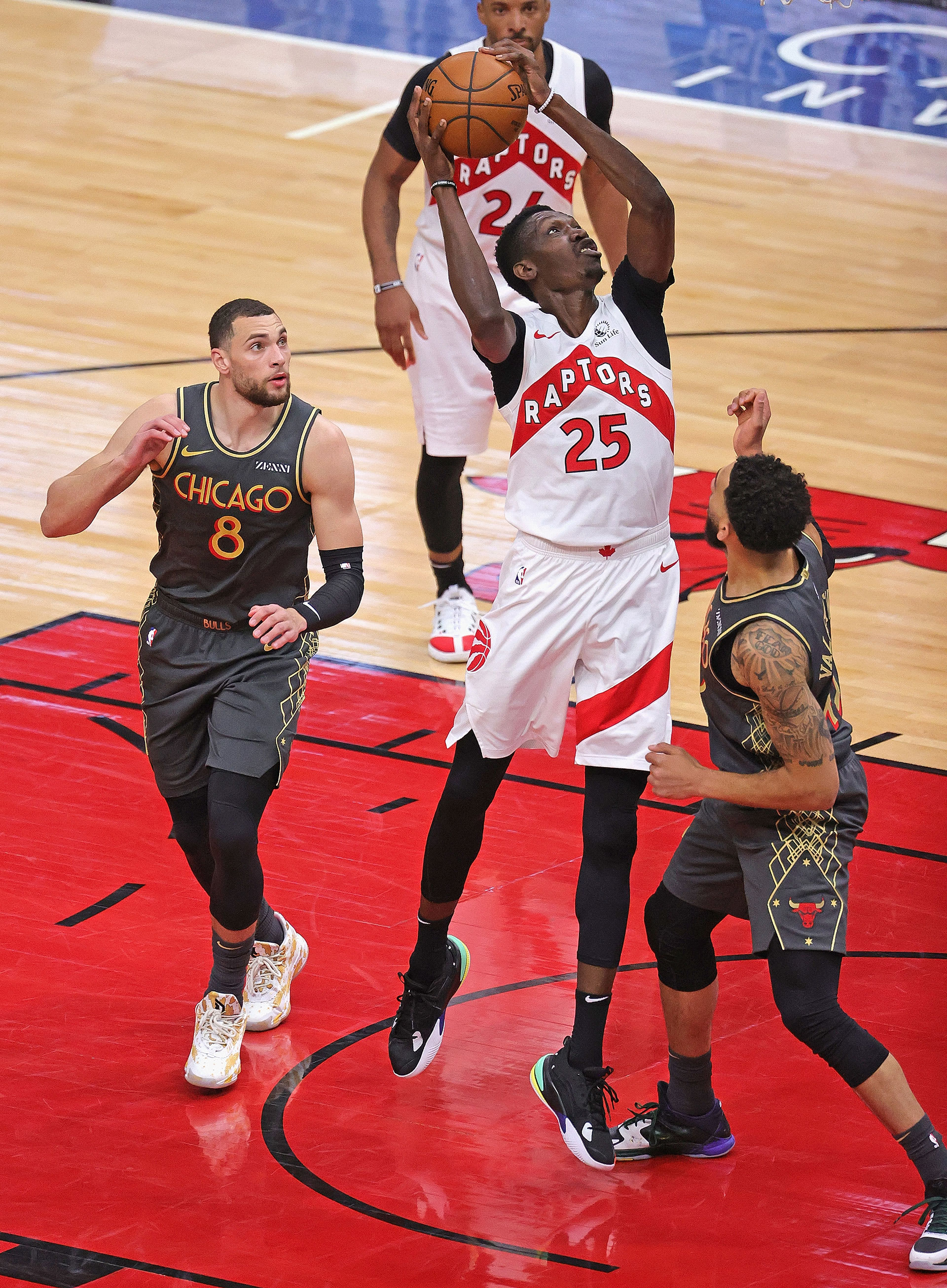 Why do people call you Slim Duck?
It came from college. I was on the Oregon Ducks and I was really skinny at that time. One day, we all wanted to change our names and put something in front of the word 'duck,' like Speedy Duck or Bully Duck. I didn't really know what I wanted to say, so I ended up putting Slim Duck because I knew I was skinny. And I just kept it to that. Till now, it's still there. 
Well, people have been calling you Swole Duck lately, because you've bulked up. Have you seen that?
Yeah. [Laughs.] But I still got a lot of work to do before I change my name to that on Instagram. 
Either way, you've had a crazy season, putting up career-best numbers. You're really taking it to the next level out there. How do you explain the way you've been able to elevate?
Well, I think it's the opportunity, obviously. I think that's definitely something I'm pretty good at: seizing the opportunity. But there is a lot of hard work behind it. I feel like if I was still playing the same way I was playing last year, I wouldn't be ready for this moment. So there's a lot of work that I've done during the summer to get my game better and be able to help this team. I still have a long way to go, but I feel like I'm still getting better. And that's what's most important: I like the fact that even though I'm doing all those good things, I still know that I have a lot of stuff I've got to get better at. That's usually what gets you to the next level. So right now, it looks good with the stats and all that, but I still feel like I could do a lot more. When I get to that point I'll be where I really want to be. 
What advice would you give to someone now who's in a similar position to you back when you were a teenager?
Before I would've said you got to be confident and all. But right now, the more I grow up, I realize the one thing you really need is you can't let anybody get your peace. You've got to be able to handle your own peace and let the negative stay away from you, because that affects a lot. A lot of people come and go into your life; a lot of people come for good, a lot of people come for bad. And if you let them change the way of your life, it could go the wrong way. It's not always a good way. A lot of people come in your life and you probably don't need to be following them because they're taking a different route. But if you let them affect your life, then you get in a position where you're just like them. And that's not really what you want. You gotta stay in your lane and realize also that it's not always greener on the other side. 
If PUMA were to give you your own signature shoe, what would you want it to look like? 
I mean, there would definitely be some mid cuts. I feel like it would be light, but I don't know. I think with the colours and the designs, I would try to make it something where, like, when you see it, you know it's me. Like Kyrie's shoes. You look at his shoes and automatically know they're his. 
Would you put a duck logo on there? 
For sure. If it's not the duck completely, I'll at least put in the wings. Or like, the nose of the duck.