Looks Like Drake Called Draymond Green 'Trash' Following Raptors Game 1 Win
The final score was 109-118.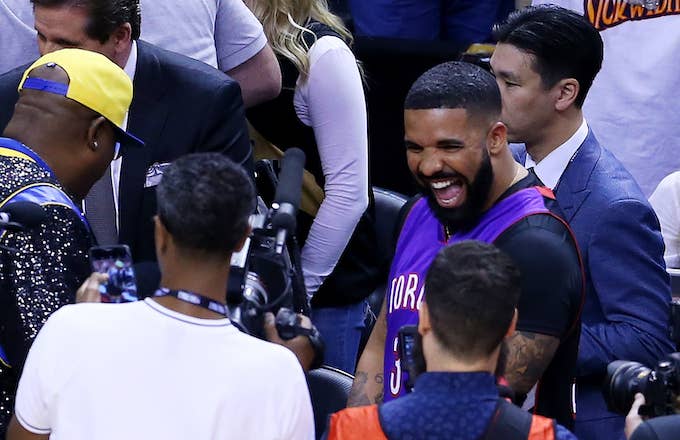 Getty
TORONTO, ONTARIO - MAY 30: Rapper Drake is seen wearing a Dell Curry jersey before Game One of the 2019 NBA Finals between the Golden State Warriors and the Toronto Raptors at Scotiabank Arena on May 30, 2019 in Toronto, Canada. (Photo by Vaughn Ridley/Getty Images)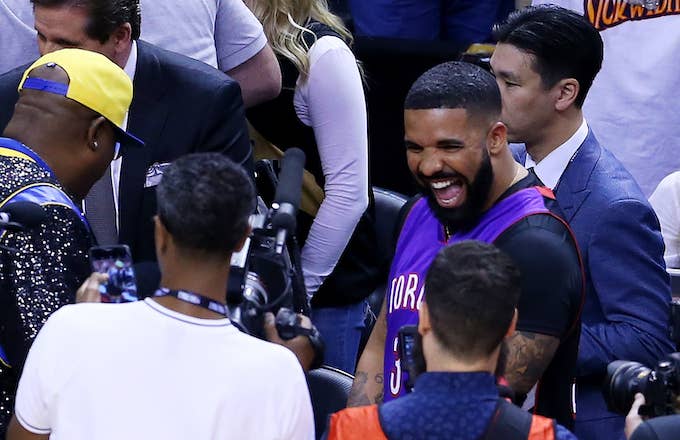 It sure looks like Drake yelled out the word "trash."
Take a look at the exchange below.
Green previously talked about the possibility of having to deal with Drake's courtside antics. "Drake can't shoot," he said. "Nor can he pass. You ever seen Drake play basketball?"
Draymond on how he'll handle Drake if Warriors play Raptors:

"Drake can't shoot. Nor can he pass. You ever seen Drake play basketball?"

Has Draymond?

"I saw a couple highlights. They wasn't so high. So I really don't care."
Following the scuffle exchange, Draymond spoke to reporters about what went down. 
Earlier in the game, Drake was seen picking some lint from Steph Curry's head. Drizzy later took to IG to say that he was putting the lint up for sale and informed potential buyers that his eBay username is "DraymondShouldntWear23."
Considering all the trash talking he probably knew he was going to be doing, Drake made sure to cover up his tattoos of Steph and Kevin Durant.
Drake also found some time to do some light dancing at the expense of Klay Thompson. 
Drake was doing the Hotline Bling dance as Klay got a tech 😂.

Klay said this week that he's skipping Hotline Bling on his playlist.

pic.twitter.com/kWiB3aACSz
The final score of the game was 109-118. Game 2 of the 2019 NBA Finals will go down this Sunday, June 2.