Being an '80s baby that covers movies and television in 2018 can feel like all deja vu everything. Just this week alone, we've seen a trailer for the upcoming remake of The Lion King and got word on Netflix putting their touch onto Matilda and Charlie and the Chocolate Factory. That's not to mention everything from Dumbo to Aladdin to Child's Play to Hellboy currently being rebooted for the big screen.
The argument has been back and forth for these reboots. For at least the last decade, Hollywood has been hitting the reset button on properties that aren't even that old. Godzilla, King Kong, and The Mummy recently got reboots, while many of their previous iterations barely passed the decade mark. We're on the third iteration of Sony's Spider-Man franchise. It can be tiring and be seen as an easy cop-out for creatives who aren't coming up with new ideas. On the flipside, the reception that Disney got for their Lion King remake trailer was massive, cripplingInfinity War's one-day streaming record on YouTube. Still and all, the original is a certified classic—even if Donald Glover, Beyoncé, and James Earl Jones are a part of it, is it really necessary? Or would those funds be better spent on exciting new ideas?
Enter Jordan Peele. It's been rumored for months that Jordan Peele would be at the helm behind a Candyman remake. This week, it was announced that MGM and Peele's Monkeypaw Productions company would, in fact, be bringing forth a Candyman sequel (to be directed by Nia DeCosta) in 2020. Peele would be on as both writer and producer, which is a boon for those who loved Get Out, are excited for Us, and are just appreciative that it's Peele being the one to bring this franchise back. The 1992 film is an actual classic and one of the first times we got to see a legit badass black villain go ham in a horror film.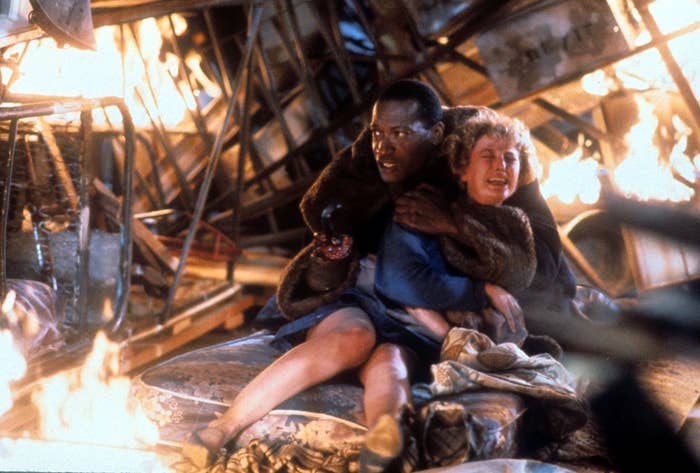 Fans of horror's current renaissance (or, at the very least, mainstream acceptance) are excited for Peele's involvement, which is surprising for a public who has been vocally against reboot culture in many facets. One easy way to escape that hate is Peele's plan: to produce a "spiritual sequel" to Candyman. Varietydescribed this new vision as returning "to the neighborhood where the legend began: the now-gentrified section of Chicago where the Cabrini-Green housing projects once stood." There's no word on if Tony Todd will be a part of this film in any capacity, but it sounds like it's totally eschewing the first two sequels to the 1992 horror film, 1995's Candyman: Farewell to the Flesh and 1999's direct-to-video Candyman 3: Day of the Dead. Sound familiar? It should, because we just got a similar situation back in October.
The 2018 horror hitHalloween totally disregarded everything that happened in the nine films that were released after the iconic 1978 slasher. Doing so allowed them to avoid a lot of the fuckery that went down in the four decades between their releases, and allowed for a better story to be told between Michael Myers and Laurie Strode. This new Candyman film doesn't have that kind of readymade story in it, but that might not be the point. Instead of trying to add onto the missteps of the second and third films, or trying to totally recreate the original, this would just take that lore and place it in a modern era. It's brilliant, and a much smarter way to cultivate these newer reboot/remakes.
Maybe reboot sequels, instead of full-on rebooting originals, will save Hollywood from the pain of reboot culture. In a way, it's the purest path to cheap commerce. Instead of fattening up an already-certified original property with unnecessary plot points and diversions, you're able to access pre-existing love for a property, restoring that feeling while guiding it in a different path.
It's similar to how the Rocky franchise begat Michael B. Jordan's Creed series. It's an impressive feat, spinning off a franchise that was already six films deep. The baton's been passed to a character with cache, allowing new and old fans alike the opportunity to share in the nostalgia of the former while making way for new tales and chapters in this storied series. If Peele can nail what Ryan Coogler (and now Steven Caple Jr.) have done with the Creed films, it'll be another knockout at the box office, a new notch in Peele's belt, and maybe a solidified plan of attack for Hollywood to successfully cash in on our nostalgia while giving us fresh spins in the process. Win-win-win.