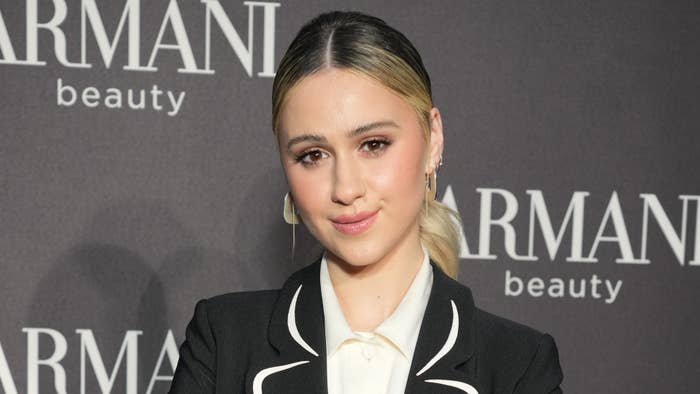 Deadline has learned Borat Subsequent Moviefilm breakout star Maria Bakalova is part of the star-studded cast of Guardians Of The Galaxy Vol. 3. James Gunn, director of the Guardians trilogy, confirmed her attachment to the final installment via Twitter.  
Gunn shared a photo exactly one month ago announcing that filming on Guardians Of The Galaxy Vol. 3 wrapped up. 
Gunn got in front of any speculation into the absence of Zoe Saldana, who plays Gamora, adding, "And yes Zoe was with us but the only picture I have with her has an unannounced actor with us." Saldana is pictured below with Gunn's girlfriend and Peacemaker series star Jennifer Holland. 
Vol. 3 features the usual returning cast of Saldana, Chris Pratt, Karen Gillan, Pom Klementieff, and Dave Bautista, with voice work from Vin Diesel and Bradley Cooper. Sylvester Stallone and Elizabeth Debicki are said to be reprising their roles as Stakar Ogord and Ayesha, respectively. Will Poulter will play Adam Warlock, while Daniela Melchior, from the Gunn-directed 2021 DC film The Suicide Squad, will star in an unspecified role. 
Gunn previously stated in 2020 that he has "no plans" to do a fourth Guardians film, and solely envisioned this franchise being a trilogy, in the event of the first one working out. Two years later, it doesn't appear he had a change of heart. In an appearance on the Hero Nation podcast, Gunn said, "This is the end for us, the last time people will see this team of Guardians." 
"It's big; it's so, so big and dark, and different from what people might be expecting it to be," Gunn said, adding, "I just want to be true to the characters, the story and give people the wrap-up that they deserve for the story. That's always a little bit scary; I'm doing my best." 
Guardians Of The Galaxy Vol. 3 is scheduled for a May 5, 2023 theatrical release.