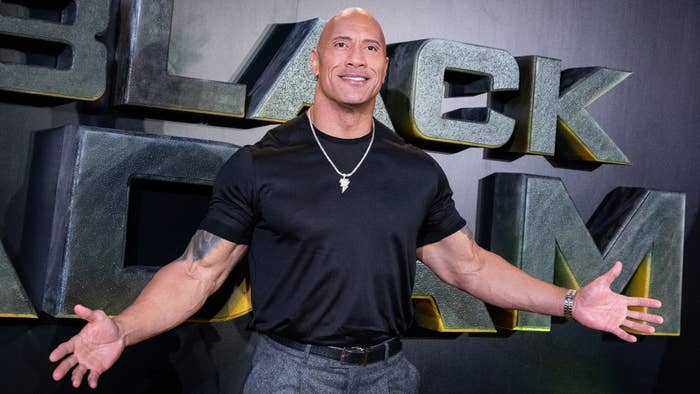 Dwayne Johnson reportedly bypassed former DC Films president Walter Hamada and pitched a multi-year plan to Warner Bros. Discovery CEO David Zaslav, centering around his Black Adam character and Henry Cavill reprising his role as Superman. 
According to Variety, Johnson delivered the proposal to Zaslav shortly after the WBD merger closed, a move that wasn't well-received. "Dwayne went around everyone, which didn't sit well," an insider said.
The blueprint allegedly led to a "Superman-versus-Black Adam showdown," the magazine writes.
The article comes months after the Hollywood Reporter alleged Johnson took a similar approach in order to get the green light for Cavill's mid-credits cameo in Black Adam.
THR wrote that Hamada turned down Johnson's idea for the Superman cameo, so the Rock approached Michael De Luca and Pamela Abdy with the same plan in July, soon after the two assumed their roles as co-chairperson and CEO of Warner Bros. Film Group. Johnson was seemingly so determined to get the Superman cameo in Black Adam that the production team shot the scene without showing the Man of Steel's face. Cavill finalized his deal and filmed his part one month before the movie was released. 
Johnson's relationship with Warner Bros. reportedly took a turn for the worse in light of conflicting news over the profitability of Black Adam. Variety said the studio would lose somewhere between $50 to $100 million following the theatrical run, but WB came to the movie's defense, saying it would break even at $400 million. Johnson disputed Variety's report with a claim that Black Adam would actually profit between $52 to $72 million.
The Black Adam profitability dispute added more fire to an already simmering feud between Johnson and Warner Bros. Variety reports Johnson sought a producer credit for DC League of Super-Pets, even though he "did little to promote it." The Rock also allegedly pushed for a tequila bar featuring his Teremana tequila brand at the New York premiere of Black Adam. The problem with serving alcohol at the event was that the film is rated PG-13. 
"His demands increased and the returns just weren't there," a source told the outlet. 
Johnson confirmed last month that Black Adam will not be included in the "first chapter of storytelling" for the connected DC Universe being crafted by the newly-appointed DC Studios co-heads James Gunn and Peter Safran.