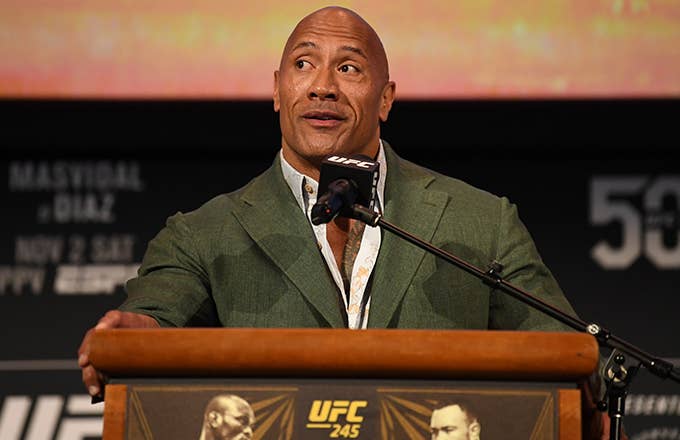 As Thanksgiving came to a close on Thursday, Twitter users started to debate who would make wrestling's Mount Rushmore. In response to Bleacher Report's tweet asking for everyone's wrestling all-timers, The Rock himself chimed in.
"I made an edit after thinking about the wrestling star's impact and drawing power during their respective runs," Dwayne Johnson wrote with a retweet. "Thanks for the carve out and always a cool debate," he added, referencing how his face appears on Mount Rushmore in the original tweet. "I'd go with Hulk Hogan, Ric Flair, Gorgeous George/Bruno Sammartino, and Steven Austin."
Needless to say, Johnson came through with the strong picks. 
When one of his followers pointed out that André the Giant was getting "no love," Johnson said that both him and the Undertaker are "rare air you can't quantify or compare."
In the lead-up to the release of the Johnson-starring and produced Jumanji sequel, he and his co-star, Danny DeVito, took a break from promoting the film to crash a Mexican wedding. The two were on a press run in Cabo San Lucas, Mexico, when they realized the same hotel was hosting a wedding, prompting them to surprise the newlyweds with a song. Johnson later blamed the situation on "the Teremana tequila and DeVito's mischievous ways."