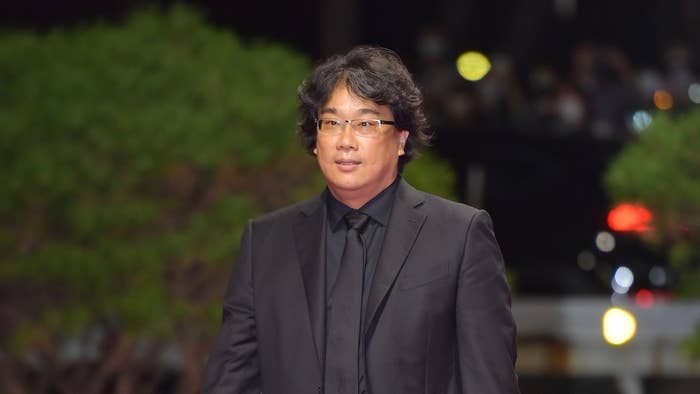 Bong Joon Ho's upcoming film keeps growing in star power.
According to an exclusive Deadline report, Academy Award nominees Mark Ruffalo and Toni Collette have joined the project along with The Rise of Skywalker actress Naomi Ackie. It was previously reported that Robert Pattinson had been cast in the film, which will mark Bong's first feature since 2019's Oscar-winner Parasite.
It's unclear which roles Pattinson, Ruffalo, Collette, and Ackie will play.
The untitled picture will be based on Edward Ashton's Mickey7, a newly released sci-fi novel that's described as a cross between Andy Weir's The Martian and Blake Crouch's Dark Matter.
Mickey7 is an Expendable: a disposable employee on a human expedition sent to colonize the ice world Niflheim. Whenever there's a mission that's too dangerous—even suicidal—the crew turns to Mickey. After one iteration dies, a new body is regenerated with most of his memories intact. After six deaths, Mickey7 understands the terms of his deal…and why it was the only colonial position unfilled when he took it.
During a recent interview with the Nerdist, Ashton confirmed he had spoke to Bong about Mickey7's film adaptation, which will stray from the original storyline.
"I've had people ask me 'are you nervous?'" the author said. "Literally, director Bong is going to change a lot about the book. When I spoke with him, he made it pretty clear. 'You've got a 350 page book. I'm gonna have a 120 page script. There's a lot that's gonna go.' So my answer is no, I'm not concerned about that at all. In my view, the man's a genius. I don't believe he's ever made a bad film. And I sincerely hope that this isn't going to be his first."
Bong will direct, write, and produce the sci-fi project under his Offscreen banner. Dooho Choi of Kate Street Picture Company will co-produce alongside Plan B's Dede Gardner and Jeremy Kleiner.
The film is expected to start production in the UK sometime in August. Warner Bros. has yet to announce the film's release date.