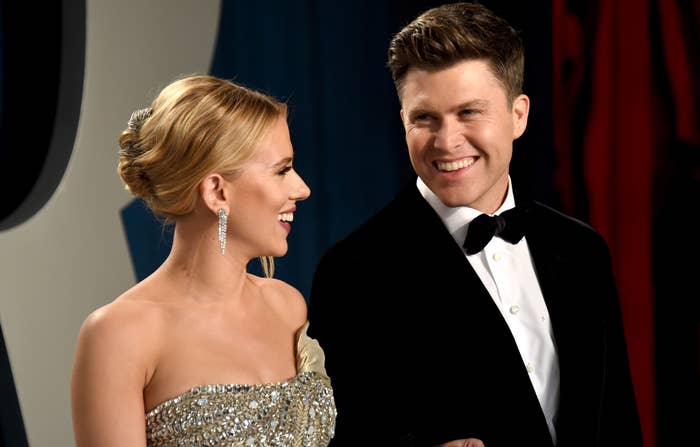 Scarlett Johansson is reportedly pregnant with her first child with husband Colin Jost.
Page Six reports the 36-year-old actress is expecting her second baby. It will be the first for the 39-year-old SNL head writer. 
One source told the outlet, "Scarlett is actually due soon, I know she and Colin are thrilled." Another insider added that the Marvel superstar has been keeping things very quiet, attempting to stay out of the public eye in recent months.
The news arrives just a month after Johansson sparked pregnancy rumors after skipping out on several Black Widow events.
"She hasn't been doing many interviews or events to promote Black Widow, which is surprising since it is a huge Marvel/Disney release and she is both the star and an executive producer," a source explained to Page Six.
Johansson has appeared for promotional appearances virtually in recent weeks, including her June 21 appearance on Jimmy Fallon's Tonight Show, in which she was shown from the shoulders up via Zoom. 
She was also noticeably missing from several Black Widow-related events in recent weeks, including a world premiere fan event attended by co-star David Harbour in New York City last week. Johansson was even absent from a screening in the Hamptons on Friday, even though she and Jost own a summer home in Montauk. 
A Hamptons source told Page Six, "Scarlett usually spends a lot of the summer out in Amagansett and Montauk, and you'd often see her walking her dogs on the beach or getting coffee. But this summer it seems like she is deliberately trying to keep a low profile."
Johansson and Jost were first linked in the spring of 2017 after she hosted SNL. He proposed in May 2019, and the couple tied the knot last October with an understated ceremony.