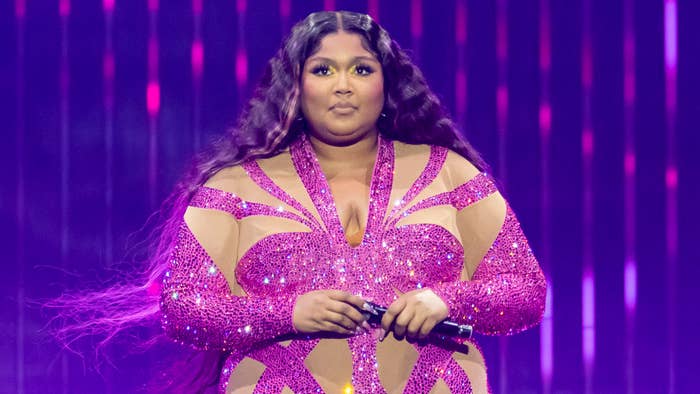 Lizzo appears to have responded, albeit without naming names, to recent comments made about her by the artist formerly known as Kanye West.
At a recent show in Toronto, as spotted by TMZ and others over the weekend, Lizzo asked the crowd for help securing her dual citizenship while noting that "everybody in America" has her name in their mouth.
"I feel like everybody in America got my motherfuckin' name in they motherfuckin' mouth for no motherfuckin' reason," Lizzo told fans at the show. "I'm minding my fat, Black, beautiful business. Can I stay here? Who can I marry for that dual citizenship?"
As previously reported, Ye—during a recent interview with Tucker Carlson, a Fox News talking head who's been roundly criticized as a nationalist—mentioned Lizzo.
"When Lizzo loses 10 pounds and announces it, the bots—that's a term for people, like, it's like telemarketer callers on Instagram—they attack her for losing weight," Ye said. "Because the media wants to put out a perception that being overweight is the new goal when it's actually unhealthy. … It's actually clinically unhealthy and for people to promote that, it's demonic."
On Monday, Ye—who last week featured a "white lives matter" design in the YZY SZN 9 presentation and made public comments criticized as antisemitic—released a 30-minute short to YouTube titled Last Week.
In it, Ye previews what sounds like a new track, as well as excerpts some seemingly still-in-progress (and previously released as Stem Player exclusives) Donda 2 songs. In the previously unheard track, which is previewed starting around the 3:33 mark in the video above, Ye mentions a number of fellow artists including Drake, Lil Baby, Future, and more:
"You a fake bitch
You don't really love Ye
Go listen to Drake, bitch
You don't have no idea what it take, bitch
Go listen to Lil Baby
Go listen to Future, bitch
Too past you don't think about your future, bitch"
Viewers are also given a look at a fabrics-focused meeting about a potential hoodies material being made in Los Angeles, which then spurs a discussion on elastics. Later, Ye is seen listening to a presentation about Alegría food systems. 
A certain-to-receive-attention moment from the mini-doc revolves around what appears to be a meeting between Ye and Adidas execs. A rep is heard speaking on Ye's behalf, arguing that his issues with the company are equitable with the "children of his mind" being kidnapped and utilized for "Yeezy-inspired derivatives." During the meeting, Ye is seen playing a clip from a porn video and seemingly remarking how one exec's voice sounds like an actor featured in the adult film production.
Deeper into the video, Ye is heard telling an undisclosed party "it's time for me to shut the fuck up" while reflecting on possible strategy.
"I know this might sound like the wildest thing to you but I'm literally in a place where I believe that my product and relevancy and all these things can work without me having to be the center of the news," Ye said at one point in the short.
Last Week was shared to Ye's YouTube late Monday into early Sunday and opens with a previously reported Yeezy Gap Engineered by Balenciaga visual inspired by Yakuza and Grand Theft Auto. See the full video, which also includes an appearance by Kim Kardashian, below.
In recent days, both Instagram and Twitter took action in response to content Ye shared that was called out as antisemitic. While Instagram moved to restrict Ye's account, Twitter removed a tweet for violating its site rules.
As for the inclusion of Adidas-related footage in the new short, it wasn't immediately clear whether said footage was captured before or after word that the company was placing its Yeezy partnership under review.