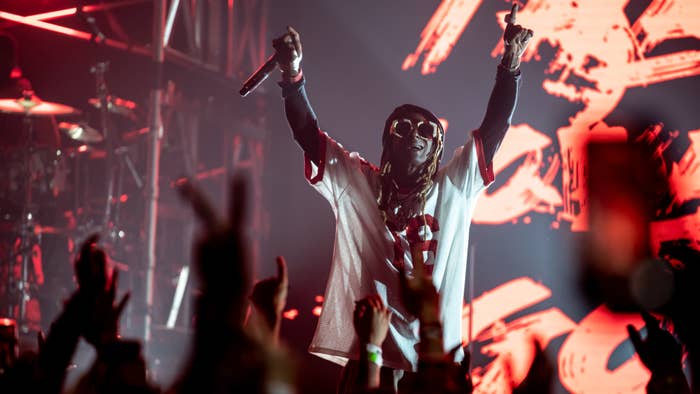 Lil Wayne says the only viable opponent he could face in a hypothetical Verzuz showdown is himself.
In an interview with Rolling Stone, available here, Weezy was asked to share his thoughts on possibly agreeing to such a battle in the future. Weezy's preferred pairing, and one that's sure to excite longtime fans, would see him dividing his own discography into two distinct competitors.
"I was interested in Mixtape Weezy going against Lil Wayne," he told writer Andre Gee. "That would have been crazy."
Asked to clarify whether this meant he would indeed be alone on the stage, Weezy playfully confirmed exactly that.
"What other artists you think?" he said. "There ain't no other artist that can stand on the stage next to me, bro. I'm sorry."
Weezy has spoken about a possible Verzuz in the past. Last November, for example, he told Marcellus Wiley on the More To It podcast that an onstage battle between his Young Money roster and an assortment of Roc-A-Fella alumni would be "the best competition" from a group standpoint.
Meanwhile, fans and fellow artists alike have pondered other possibilities—including a Verzuz with Lil Wayne and 50 Cent. Quite controversially, Ebro Darden argued back in March that 50 would "wash" Weezy in this scenario. Young Guru disagreed, later chiming in via an Instagram Stories update in which he countered with the opposite.
"Wayne would wash 50," he said at the time. "Period."
Verzuz co-founder Swizz Beatz, however, doesn't appear to have much interest in a 50 and Weezy showdown.
Wayne's latest Verzuz remarks arrive surrounding the release of a new Complex piece chronicling the story behind a beloved (and now almost impossible to find) Weezy documentary from 2008. Read the full thing here.