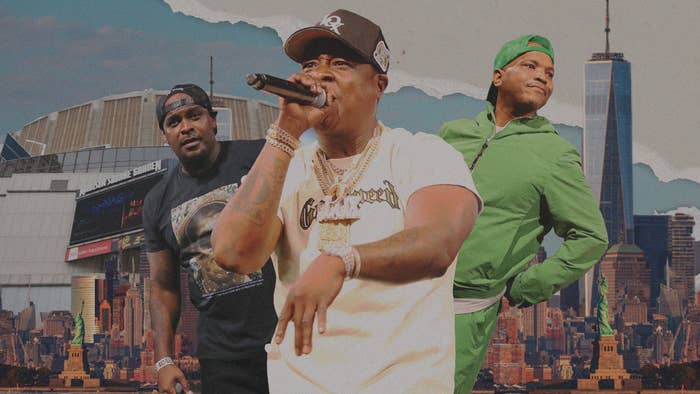 Last year's Verzuz match between The Lox and Dipset is fondly remembered as a wild, boisterous clash of rap giants, but the night could be defined by the calm before the battle. 
"There was a moment where everyone was talking shit before it actually started," recalls Technician the DJ, who expertly served as the DJ for The Lox that night. "Kiss was just standing there with a look on his face like, 'I'm going to eat these guys' food.' Everyone was going back and forth on the mic. Kiss was just standing there like, 'As soon as this bell ring, I'm destroying everybody.'"
While Dipset was trading shots with Styles P and Sheek Louch before the battle officially started, Kiss was standing stoically on The Lox's side of the stage, hands behind his back, ready for the games to begin. It's always the quiet one. 
"More artists should prep for Verzuz, and take it serious," Kiss tells Complex now. "It's a celebration. It's somewhat of a battle. And you've got to take it serious. You show your craftsmanship, as well as display your catalog." He did all of that in incomparable fashion that night. 
One year ago today, on August 3, 2021, the world was mesmerized by an iconic Verzuz battle at Madison Square Garden, as two of New York City's stalwart groups turned the world's most famous arena into a warzone, throwing volleys at each other from their classic catalogs. The Lox came away as nearly unanimous victors from the night. That's not to say that Dipset didn't do their thing, but the disorganization of their setlist sunk their ship, especially compared to the craftsmanship of The Lox, which was a result of rehearsals and strategic discussions before the match. 
As Joe Budden said in his recap of the night, "When killers just rap, it's always gonna work." Nas later told Ebro that The Lox "represented the artform [excellently]," and said the night was a "booster shot for hip-hop." 
The image of a steely, slightly disgusted Jadakiss transfixed in "Adderall war mode" is the indelible symbol of that night. The Lox and DJ the Technician won the battle as a team, but Jadakiss was the MVP of the match. He subverted the hit-for-hit expectation of Verzuz with deep cuts like his "Who Shot Ya" freestyle, where his "he's a dick, you pussy, y'all neighbors" diss worked perfectly within the live format. When Juelz Santana joked, "I don't think [The Lox] like girls," Kiss narrated the crew's 6-song run of radio hits by boasting "We got Grammys!" as spectators reveled in the onslaught. And when Cam'ron challenged, "You ain't got no New York record bigger than ["Welcome To New York City"]," Kiss countered with Ja Rule's "New York" after delivering a legendary preamble: "This is Kiss, I'm outside!"
It's only right that when Complex spoke with Jadakiss on a Zoom call, one year after the battle, he actually was outside, waving and dapping passersby like a local hero while reflecting on the legendary night. 



"My numbers went up for hostings and walkthroughs, for shows, and TV cameos. It also showed Def Jam that they got to do the right thing [and] restructure my contract." – Jadakiss
Fat Joe had one of the most memorable lines about the battle when he surmised, "yesterday's price is not today's price" for Kiss. And Jadakiss verifies that the post-Verzuz buzz has helped his pockets. The Lox benefitted from a 215 percent surge in streams after the battle, and Kiss has felt it on a solo level, too. He says that he's "in the process" of renegotiating his contract with Def Jam (while working on a new album) and the veneration he receives as "Mr. Verzuz" is helping him gain leverage in those talks. 
"My numbers went up for hostings and walkthroughs, for shows, and TV cameos. Just in general my numbers went up," Kiss says. "It also showed Def Jam that they got to do the right thing [and] restructure my contract. It really showed the world my true worth, what I can do."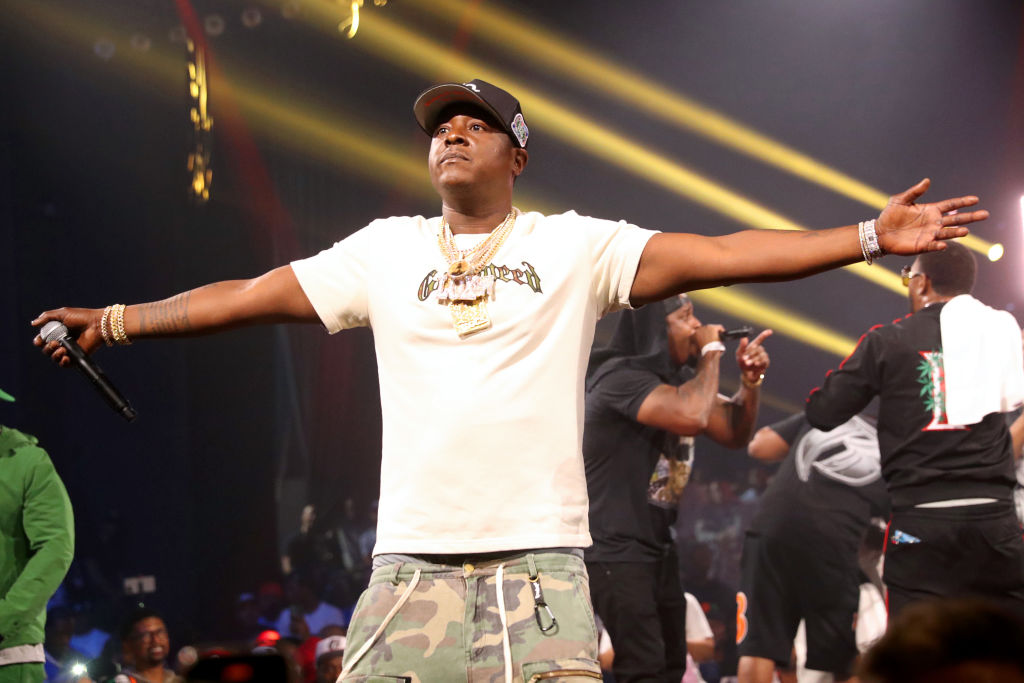 If you were to boil down the difference between The Lox and Dipset that night to one word, it would be preparation. While Dipset often seemed like three different entities who weren't on the same page, The Lox were in harmony throughout the battle. Both Kiss and Technician say that their two-hour masterclass was a result of prior strategizing and rehearsing for all the possibilities of the night. 
"[Our rehearsals were about] process of elimination, trying shit, preparing shit," Kiss says. "With me already doing Verzuz against Fab, I already had a little bit of tactics, and a little preparation. I knew you want to have more than one playlist ready. We were prepared for the girl thing when [Juelz] said that. We had a whole segment of those lined up. The freestyles. Just how we wanted to attack. Actually, one way we did it, we played all of their hits, and tried to get the right thing to counteract. We really put it like a boxing match. They're going to come with these missiles, so we've got to have missiles to launch back."
Kiss credits Technician for being a vital voice during their pre-Verzuz strategic talks, helping the team figure out the ideal setlist. "Tech was the quiet MVP. He's just very instrumental," Kiss says. "He's not that DJ that just sits around and does what we tell him to do. He gives his part, what he thinks will work." 
Technician says he helped The Lox figure out their initial 20-song setlist, as well as an extra reserve of tracks. "I knew Dipset's catalog is huge and they've got a lot of songs, but I didn't even care," he reflects. "I was only concerned with 'We Fly High,' 'Oh Boy,' and 'I Really Mean It.' I had counters for those three. Anything else, I'd go with whatever. The Lox catalog is huge, so we just lined up 20 we wanted to use. Then I had an extra 30, because I was like, after the cameras go off, we're in New York City. Let's do something for the whole town. After the cameras go off, I've got to challenge Dipset like, 'I got more left in the clip. Let's go. Until somebody taps out.'"
Technician called the extra 30 songs the "napalm set," which he culled from throughout the night. Most Verzuz battles are song-for-song matches, but as Technician recalls, "We threw the traditional format out the window" that night. He says that "at one point Cam said, 'No, we got two minutes,'" which fueled both teams to play multiple songs a round. The night's unique format came into play most memorably during a six-song run where Technician played tracks like Mariah Carey's "Honey" Bad Boy remix, The Lox's "Ride Or Die, Chick," and Jadakiss' "Knock Yourself Out" to counter Juelz' trash talk that The Lox didn't have songs that appealed to women. 
As impressive as The Lox's performance was, it was only possible with the quick-thinking of Technician, who provided the score. Kiss says, "Tech was just as hyped as we were. He wanted to take [Dipset] DJ's head off, in a figure of speech way. He was amped and ready. So it's always good to have a DJ that's nice on the ones and twos."
The DJ, who has played at four Verzuz matches (Lox-Dipset, Raekwon-Ghostface Killah, Kiss-Fabolous, and Fat Joe-Ja Rule), says he was intent on outdoing Dipset's DJ Moe Sticky that night. Technician got to play the opening set to warm the crowd up, which he says showed "a broader amount of people what I could do finally." Reading the crowd helped him prepare for the unpredictable nature of the night. "I always go up there trying to be the best at the moment," he explains. "I'm spontaneous with a lot of things. I'll do things based off what's going on and what I see. Like, 'alright, I'mma switch this. I'mma play this as a counter to whatever that DJ's doing.'" He adds, "And for whatever reason, [Dipset's DJ] wasn't as aggressive," echoing cultural sentiment that Dipset left a lot of bangers on the table that night. 



"We threw the traditional format out the window." – Technician the DJ
Technician's knack for thinking on the fly, developed through decades of DJing for artists like The Lox, Rakim, Ghostface Killah and Raekwon, made him perfect for the live showcase, especially with the less-than-ideal conditions he faced that night. "When we actually got to the Garden, I saw that I was set up across the street," he says, explaining that the DJ booth was far away from the boxing ring where the artists were gathered. "I'm like, 'How am I going to communicate?' So they left it on me: 'Do what you feel you need to play at any point.' So I was like, 'All right, say no more.'"
Dozens of people entered the ring over the course of the match, so Technician couldn't even see The Lox to visually communicate with them. "People were tapping me like, 'Kiss [is] trying to get your attention.' And I'm like, 'Where is he?'" the DJ recalls. For most of the night, he was working blind, playing tracks based on the shit-talk he heard. He says that although The Lox went first (with the tone-setting "Fuck You"), he eventually found himself countering what Dipset played in the previous round. And when Kiss infamously declared, "Yo Tech, let's make something happen," he instantly knew what to deliver: the "Who Shot Ya" freestyle.
"That freestyle wasn't in the original list of 20," Technician recalls. "Since I couldn't communicate with them because they were so far away, it was a 'use your discretion, and play what you think' moment."
His discretion was on 100 that night, and it enshrined him in rap history. Def Jam released a live version of the freestyle to DSPs, complete with Kiss' infamous call-to-arms at the beginning. And Technician says that similar to Kiss, he's had "more work" and notoriety since the battle. "My phone went off the entire day," he says of the immediate aftermath. "That night I fell asleep [and] I woke up with my phone on my chest because I fell asleep, trying to respond to everything."