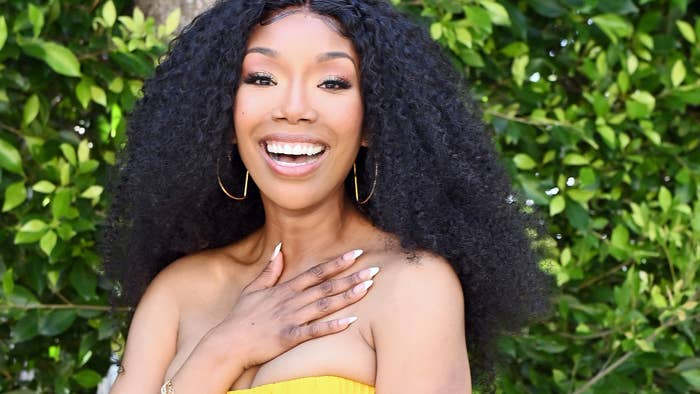 UPDATED 5/18, 10:40 a.m.: In the aftermath of Brandy's retort, Harlow took to his Instagram Stories to post a picture of her and Ray J—set to Kanye's Late Registration track "Bring Me Down."
The snippet was timed exactly to Brandy's memorable vocals, specifically a part that Jack could be using in response to the criticism he received: "I always knew that one day, they'd try to bring me down."
See original story below.
Brandy delighted fans early Tuesday with her response to a recently-made-viral clip of Jack Harlow finding out in real time that she and Ray J are related.
As previously reported, Harlow learned the two are siblings during a recent appearance on Hot 97's Ebro in the Morning, with the hosts playing a portion of Brandy's Never Say Never track "Angel in Disguise." Initially, Harlow guessed the song was by Aaliyah. He was then offered a hint from Laura Stylez, who noted that Brandy "starred in a TV show." This didn't spur an answer, so Peter Rosenberg chimed in with a hint of his own.
"Her brother is the reason why a lot of people are famous, you could argue," Rosenberg said, with Ebro Darden adding that "her brother had an amazing sex tape." After a few more seconds, Harlow presented the hosts with a question.
"Who's Ray J's sister?" Harlow, 24, said.  Once informed the song playing was indeed a Brandy track, Harlow expressed surprise.
"Brandy and Ray J are siblings? Nobody's ever told me that in my life," he said before closing out with a joke about the hosts having landed "a good clip" due to the segment.
Tuesday, Brandy herself responded to a clip of the moment shared by the Brandy Legion fan account.
"I will murk this dude in rap at 43 on his own beats and then sing is ass to sleep," she said in a tweet, as seen below.
Brandy made sure to point out that she was just having "fun," and it's "all love."
She also pointed out that she was joking, and that she didn't know Harlow "rapped."
The purpose of recent Harlow's Hot 97 appearance was the release of his sophomore album Come Home the Kids Miss You. For a deep-dive on how the album—which opened at No. 3 on the Billboard 200 chart—came together, revisit our recent piece featuring insight from co-executive producers Rogét Chahayed and Angel Lopez.