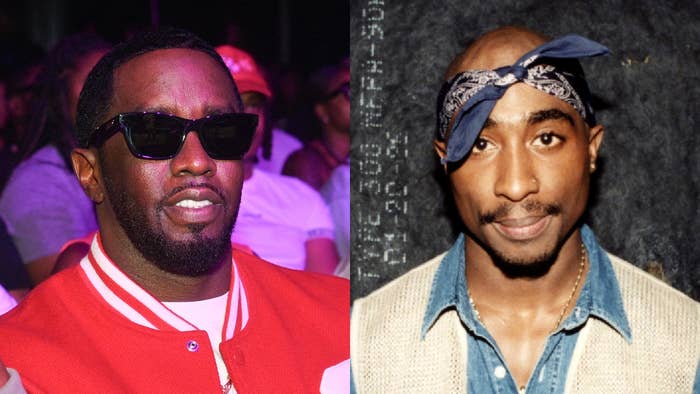 Diddy's name has been brought up a lot lately since Duane "Keffe D" Davis was arrested last month in connection to 2Pac's 1996 murder, but why is that?
The Bad Boy mogul's name has been tied to 2Pac's death ever since law enforcement began investigating the murder. Diddy's Bad Boy Records was embroiled in a beef with Suge Knight's Death Row Records, and 2Pac was signed to the latter during the bitter East Coast/West Coast rivalry in the mid-90s. Pac's friend-turned-rival, The Notorious B.I.G., was signed to Bad Boy. Their stories became forever intertwined when they were shot and killed six months apart in similar drive-by shootings.
Both murders remained unsolved for nearly 30 years, however, 2Pac's case might reach a conclusion after Las Vegas police arrested Keefe D last month. The arrest happened after Keffe D's home was raided, and police confiscated several items, including hard drives, photos, books, and more.
Keffe D, a former Southside Compton Crip, has done various interviews over the years where he shared details about the night Pac was shot in Las Vegas, Nevada. He even wrote in his 2019 memoir, Compton Street Legend, in which he claimed he was inside the Cadillac while the gunman fired bullets that fatally struck 2Pac.
He has also mentioned Diddy's alleged involvement in the murder several times. This past July, in a conversation with The Art of Dialogue, Keffe D blamed the 53-year-old for getting him "involved in this bullshit," referencing Pac's murder.
"If I wouldn't have ever met him, I wouldn't have ever been involved in this bullshit," he stated. "Me and Suge, we played on the same pop warner team and everything. My home boys helped put Suge in the game."
That's not the only time Diddy's name has come up. In 2011, former Los Angeles Police Department Detective Greg Kading released the book Murder Rap which highlights the Los Angeles Police Department's archives of extensive tapes and documents containing confessions from key figures in Pac and Biggie's death. That same year, LA Weekly reported that in those confessions, Keffe D told investigators three years prior that Diddy offered him $1 million to kill 2Pac and Suge.
"[Combs] took me downstairs and he's like, 'Man, I want to get rid of them dudes.'… I was like, 'We'll wipe their ass out, quick. It's nothing.'… We wanted a million," Keffe D said in a taped confession recorded by investigators and obtained by LA Weekly.
In response, Diddy sent a statement to the outlet that read: "This story is pure fiction and completely ridiculous," but that didn't stop the accusations from building up, especially within hip-hop.
In 2016, during a visit to The Breakfast Club, Diddy curved Charlamagne Tha God's question about a documentary based on Kading's book that mentioned his alleged involvement.
"Check this out we don't talk about things that are nonsense," said Diddy. "We don't entertain nonsense my brother. We not even going to go there with all due respect but I appreciate you as a journalist asking me that."
Even before the recent Keffe D news, some figures in hip-hop were pointing fingers. Eminem once rapped about Diddy's alleged involvement in his 2018 diss song "Kill Shot," which was aimed at Bad Boy Records artist Machine Gun Kelly. On the song, Eminem rapped, "Killshot, I will not fail, I'm the Doc still/But this idiot's boss pops pills and tells him he's got skills/But kells, the day you put out a hit's the day Diddy admits/That he put the hit out that got Pac killed."
A year after that line, in a 2019 interview with VladTV, Keffe D claimed Diddy called him and asked "Was that us?" after news of 2Pac's shooting began circulating.
With Keffe D's name in the news, former Bad Boy Records artist Mase recently made a reference about recognizing Keffe D's name on an episode of his and Cam'ron's sports show, It Is What It Is.
While Mase was coy, 50 Cent has been front and center making jokes at Diddy's expense. 50 often pokes fun at Diddy for some of his antics, but earlier this week, he shared an Instagram post suggesting that Diddy was connected to the 1996 shooting. "Damn so pac got lined by brother love," 50 wrote in his tweet, referencing Diddy's Brother Love moniker. "LOL Time to Lawyer up, shit might get sticky."
50 took another jab on Monday night at the stop in Latvia of his Final Lap tour and once again said Diddy had Pac taken out. According to 50, he had to do better because he continues to say "some crazy shit."
"I got to stop doing that shit," 50 said. "I've been talking to a therapist who trying to help me with the shit I'm saying. It's some crazy shit that comes out of my mouth for no reason. For no fucking reason. Maybe I said that shit about Puffy because he got 2Pac killed. I thought it was for a real reason, and then I just thought of that. I wanted to post the shit I seen online."
Despite all the rumors about Diddy's alleged involvement, it's unlikely much will ever come of it. Rolling Stone caught up with former detective Kading, who said the chances Diddy is charged with the murder of 2Pac is very unlikely.
"They're going to need very credible substantiating witnesses," he told Rolling Stone. "They would have to say, 'I was there when I heard him make the solicitation,' or 'I was there when the money got paid, and it was very clear that that money was designated for this purpose,' or 'I delivered the money.' Whether those people exist or not, I don't know."
He continued, "I've always given a caveat to the whole 'Puffy' Combs connection… Puffy's not built like Suge Knight, and I don't think Puffy was truly intentionally trying to get either 2Pac or Suge killed. I don't like Puffy. I don't think he's a murderer."
It's important to note that despite all the trolling and comments from rappers like 50 Cent, Mase, Eminem, and more, rumors of Diddy allegedly being involved in the shooting of 2Pac are just that, rumors.