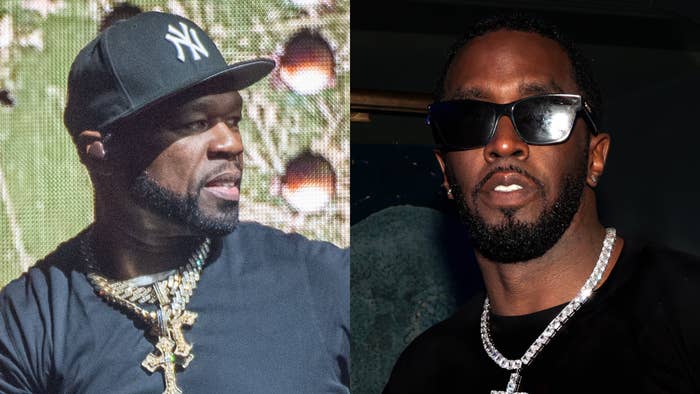 50 Cent isn't letting up on his criticisms over Diddy allegedly having something to do with 2Pac's 1996 murder.
On the Riga, Latvia, stop on his Final Lap tour Monday night, 50 took a second to drag Diddy as he's done throughout the years, but this time, he made a pretty wild statement regarding Diddy and 2Pac. In various interviews, Duane "Keefe D" Davis has claimed the Bad Boy Records founder hired him to murder Pac, and since his arrest last month, those rumors have resurfaced.
In the middle of his set, 50 told the crowd he "hates" when people make him talk because he always "says the wrong thing" and brought up how he spoke about Diddy's rumored involvement in Pac's murder on Instagram earlier this week. According to 50, he needs to be better.
"I got to stop doing that shit," 50 said. "I've been talking to a therapist who trying to help me with the shit I'm saying. It's some crazy shit that comes out of my mouth for no reason. For no fucking reason. Maybe I said that shit about Puffy because he got 2Pac killed. I thought it was for a real reason, and then I just thought of that. I wanted to post the shit I seen online."
50's latest comments arrive after he shared an Instagram post early Monday morning featuring the iconic picture Pac took before he was gunned down in Las Vegas. In the caption, 50 joked that Diddy killed the former Death Row Records rapper.
"Damn so pac got lined by brother love," 50 wrote in his tweet, referencing Diddy's Brother Love moniker. "LOL Time to Lawyer up, shit might get sticky."
Amid the ensuing coverage of Keefe D's arrest in connection to Pac's murder, Diddy's name has been brought up multiple times, specifically in connection with Davis having previously alleged that he ordered a hit on 2Pac and Suge Knight.