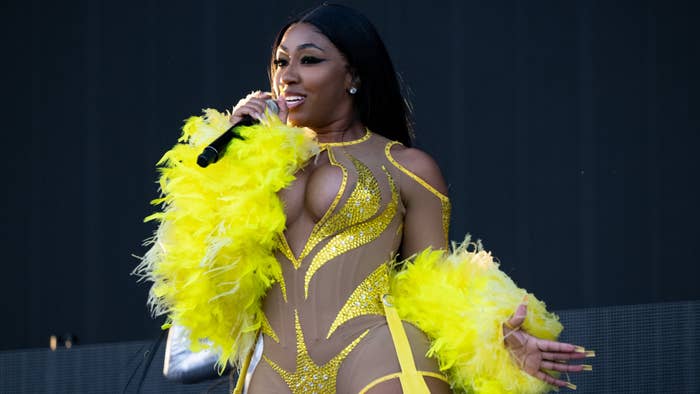 Yung Miami is done sharing.
After her Rolling Loud performance over the weekend, Miami tweeted that she wanted her "man," likely referring to Diddy, who she's been dating for the past year.
"It's been a long week I just want my man," she wrote. "I'm not sharing my next n***a! I'm tipsy I gotta go."
On Tuesday evening, Billboard shared a new City Girls interview clip where Miami was asked if she and JT had "done a double date yet."
"I'm single—S-I-N-G-L-E, baby," Miami immediately replied.
She then retweeted a post where Caresha Please guest Saucy Santana quoted her answer.
Despite having previously teased that she and Diddy might potentially get married one day, Yung Miami shut down those rumors in a recent Instagram Live session.
"No I don't want to get married," she said. "I don't want to get married because I feel like men are not faithful and if I get married, that mean I'm giving my life away to you. So that mean, like, I wanna be wiht you for the rest of my life."
Diddy and Yung Miami have previously admitted they're in an open relationship.
"We are dating. We single, but we're dating," Miami clarified on her REVOLT talk show Caresha Please. "People don't know what dating means. He's single, I'm single, but we're dating. That's what I mean when I say we go together. When we're together, we're together. We're having the time of our lives, but we're still single."
She added: "He see other people outside of me and I see people outside of him. I'm young. I'm dating. I'm, you know, having fun. I'm doing me. He's doing the same thing. I can't speak for exactly what he doing or who he seeing, but we single and we dating."