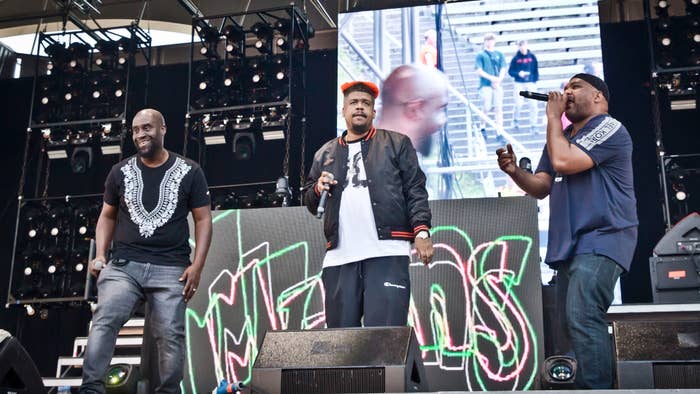 UPDATED 1/13, 10:40 a.m. ET: The long-awaited rollout for De La Soul's streaming debut has officially begun with the arrival of "The Magic Number," a single from the group's debut album.
The song originally dropped back in 1989, and was one of the many beloved singles from De La Soul's iconic 3 Feet High and Rising. When Spider-Man: No Way Home made a splash at the end of 2021, "The Magic Number" memorably soundtracked the end credits, leading viewers young and old to wish the De La cut was streaming.
Listen to the track here:
See original post below.
De La Soul has announced that after years of legal battles, the group will finally make its entire catalog available on streaming services.
The announcement comes after the New York trio finally resolved their decades-long legal battle with Tommy Boy Records in 2021, with the group officially winning back the rights to all of their master recordings including 1989's 3 Feet High & Rising, and 1991's De La Soul Is Dead.
De La Soul's catalog was acquired by Reservoir Media as part of its acquisition of the Tommy Boy Records catalog, with a statement from the former confirming they'll be distributing the group's first six albums on March 3. 
"The Reservoir and Chrysalis teams have worked with De La Soul, and their record label, AOI, to bring their music to digital streaming services," the statement reads, per Variety. "Reservoir is pleased to share that De La Soul's first six albums, '3 Feet High and Rising' (1989), 'De La Soul Is Dead' (1991), 'Buhloone Mindstate' (1993), 'Stakes Is High' (1996), 'Art Official Intelligence: Mosaic Thump' (2000), and 'AOI: Bionix' (2001), will be available to fans everywhere March 3rd , 2023, on the 34th anniversary of the release of their debut album, '3 Feet High and Rising.'"
De La Soul will kick things off with the re-release of "The Magic Number" on Jan. 13, which is the opening track of 3 Feet High and Rising.
"We can't believe this day is finally here, and we are excited to be able to share our music with fans, old and new," De La Soul said in a statement. "Golnar, Rell, Faith and the Reservoir team have been great partners in this entire process. We're grateful that our relationship with them all has enabled this to happen."
Reservoir's Executive Vice President of A&R and Catalog Development Faith Newman added that the company called up the group almost immediately after acquiring Tommy Boy Records.
"When Reservoir acquired Tommy Boy, the first call we made was to De La Soul," Newman added. "We vowed to bring their music to streaming, and it means the world to our team to make good on that promise and expose a whole new generation of listeners to one of the most important catalogs in hip-hop history."
De La Soul most recently dropped And The Anonymous Nobody… in 2016, which featured Talking Heads' David Byrne, Little Dragon, 2 Chainz, Snoop Dogg, Gorillaz frontman Damon Albarn, Estelle, Usher and more. The album peaked at No. 12 on the Billboard 200 and was nominated for a Grammy Award in the Best Rap Album category at the 2017 ceremony.
But new music might soon be on the horizon, as Prince Paul recently reunited with the group in the studio for the first time in 30 years. The esteemed producer took to Instagram to commemorate the occasion.
"This might have been one of the most eventful years I've had in quite some time," he wrote. "An unsuspected highlight was the opportunity to revisit and work on De La Soul once again. I really want to thank them for believing in me once more to get the job done…I want to thank everyone who was involved in helping us make this project a reality. Everybody who I called on to participate or get advice from."