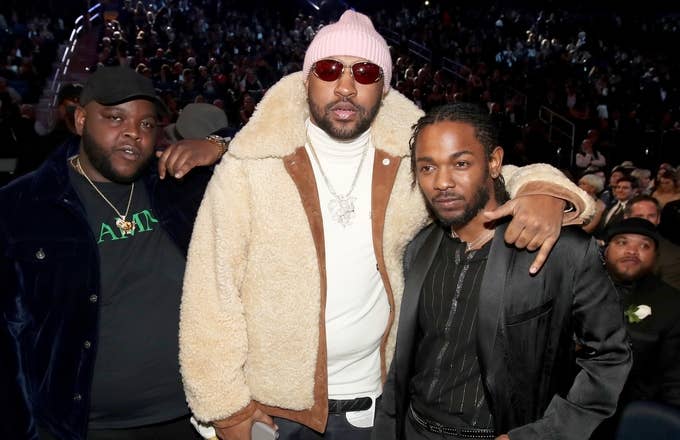 Earlier in October, it was reported that Mike Will Made-It will serve as the curator/executive producer for the soundtrack to the Michael B. Jordan-starring Creed II, which releases Nov. 21, 2018.
In an interview with Variety, Mike Will spoke of the importance of showing "the new generation that soundtracks can be just as exciting as traditional albums." Recently, he began utilizing his social media accounts to reveal (and hint at) a number of reputable acts he recruited to craft the compilation. With an impressive roster amassed thus far, it is safe to say that the heavyweight producer is looking to reinforce his claim. With the release of the movie soundtrack right around the corner, let's take a look at the features that are slated to make an appearance.
Nas
Mike Will decided to tap the wordsmith from Queens to offer his lyrical prowess to the soundtrack. The inclusion of Nas makes sense, as he appeared on the previous Creed compilation. Mike stated during his Nas session that he was "talking concepts" with one of his favorite lyricists, so expect some heat.
Lil Wayne
Mike took to his Instagram to reveal a conversation he shared with Young Money president Mack Maine. The exchange, though brief, confirmed the delivery of vocals from Lil Wayne, whose Carter V just dropped at the end of September. The caption simply reads "DWAYNE CARTER VOCALS ARE IN , AND ARE CURRENTLY BEING MIXED & MASTERED."
Kendrick Lamar
In a series of retweets,Kendrick Lamar's name came up as a possible feature. Earlier this year, Lamar spearheaded Black Panther: The Album, a move which exemplifies Mike Will's intention of bringing movie soundtracks back to the conversation. The addition of Lamar would add to the overall prestige.
Kodak Black
With the No. 2 song in the country, Kodak Black has embarked on a massive run. If his name alone didn't build enough anticipation for his offering to the project, Mike's claim that the Florida rapper "unlocked a new flow" definitely left fans eager to hear it.
Nicki Minaj
Nicki Minaj was also hinted at as a possible guest via several retweets on Mike's feed. Nicki has frequently collaborated with Mike Will Made-It over the years, and he's got a credit on Queen's "Good Form."
Swae Lee
In response to a fan's inquiry about Swae Lee's inclusion on the soundtrack, Mike tweeted "Swae Lee definitely singing." Given the success of Rae Sremmurd's SR3MM, as well as Lee's recent Spider-Man: Into the Spider-Versetrack, it's a no-brainer. Swae was also pictured in the studio with the Ear Drummer boss working on the soundtrack.
Eearz
In addition to Swae Lee, Mike Will decided to feature fellow Ear Drummer artist Eearz on the soundtrack. Mike Will's enthusiasm is serious, saying "EEARZ IS LOSING HIS PHUCKING MIND ON THE CREED II SOUNDTRACK."
Slim Jxmmi
Given Swae Lee's recent EP announcement, fans were left wondering if there was any new music from the other half of Rae Sremmurd. Mike Will retweeted a fan's simple question, "are we hearing slim jxmmi on #CREEDIISOUNDTRACK."
Eminem
Mike retweeted "I need Eminem ft. Swae Lee," hinting at an Em appearance. Marshall has seen his fair share of movie soundtracks, as many regard the 8 Mile soundtrack to be a hip-hop staple. Recently, he offered his pen to the Venom soundtrack.
Travis Scott
The question "we got Travis on it" was enough for Mike Will to retweet, causing speculation on whether or not the Houston rapper would make an appearance. As Travis was featured on the Mike Will-produced single "Close" earlier this year, the possibility is high.
All in all, the Creed II soundtrack is shaping up to be one of the year's most star-studded projects. With the musical genius of Mike Will Made-It leading the charge, the compilation is certain to be full of powerful tracks that amplify the experience of the film.