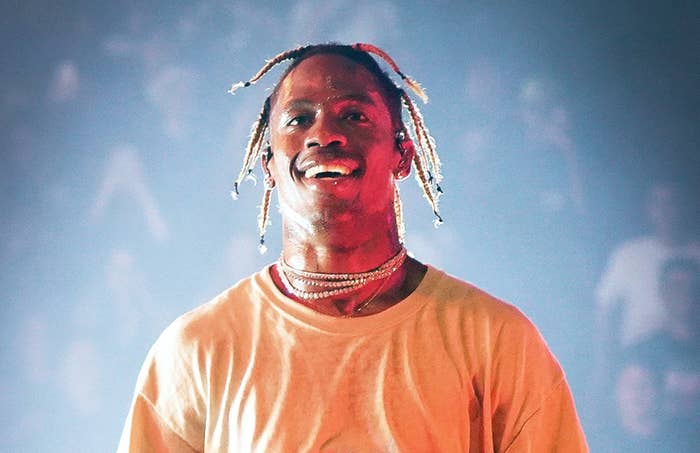 On Monday, Travis Scott finally scored his first No. 1 single on the Billboard Hot 100, with "Sicko Mode" featuring Drake (plus a hint of Swae Lee and the late Houston rapper, Big Hawk).
"The whole idea when we made the song was to go 'sicko mode'... and what's more sicko mode than going No. 1?!" Travis told Billboard about his accomplishment. The timing couldn't have been more perfect: ASTROWORLD has also bounced back to the top spot of the Billboard Top 200 chart. The likelihood of Travis hitting No. 1 on both charts, this late in the game, seemed far-fetched. But when you take a closer look at all the moves he's made, it's clear Travis has been playing the long game this whole time, and we're just now catching up.
It didn't look like Travis would be able to get a No. 1 after Ariana Grande's massive single "thank u, next" debuted at the top of the charts three weeks ago, causing "Sicko Mode" to max out at No. 2. (With the recent release of Ariana's nostalgia-heavy music video for "thank u, next," there's a chance Travis' reign may not last long. But that's a story for a different day.)
Back in August, ASTROWORLDdebuted at No. 1 on the Billboard 200, where it stayed for two weeks. Travis' launch back up to No. 1 can be attributed to a new way of gaming the system—or, to put it more delicately, playing along with the industry in a way that nets more wins than losses. One way of doing that was by selling highly coveted merch, which came bundled with copies of the album. Travis did so with his initial album release in August, and then again last week. According to Billboard, ASTROWORLD, which has been in the Top 10 for the entirety of its 17 weeks on the chart, shot back up to the top spot because of a Cyber Monday merch deal made available through Travis' website: "Each of the items—including a keychain, hats, T-shirts, hoodies and so forth—came bundled with a digital copy of the ASTROWORLD album."
This method of selling albums with merch had been called into question by Nicki Minaj, who complained live on Queen Radio in late August that Travis wasn't playing fair. "What we not gon' do is have this Auto-Tune man coming up here selling fucking sweaters and telling y'all he sold a half-a-million fucking albums, 'cause he didn't," she said. Instead of countering Minaj, though, Travis kept his head down and kept it pushing, right into the biggest year of his career (despite the fact that he's only been actively selling and promoting material related to ASTROWORLD for a little over four months).
Travis sold over 50K of these. With no requirement of redeeming the album! With no dates for a tour, etc. I spoke to him. He knows he doesn't have the #1 album this week. I love my fans for the #1 album in AMERICA! I'll explain on

#QueenRadio

4 albums in, #1 in 86 countries ♥️

pic.twitter.com/CiYEuczgm3

Travis knows that the foundation of his career rests on the shoulders of his fans, and he does everything in his power to give them an unforgettable experience. His ASTROWORLD tour kicked off in Baltimore on November 8. Shortly before the tour, he spoke with Complex about what he was most looking forward to executing. "I'm finally able to fit all the ideas in my brain into one room," he said. "There's going to be intensity from the kids in the building, and enough space for the fans to just rage."
When I attended the first night of Travis' stop at Madison Square Garden—the initial date sold out so fast that he had to set another date for the next night—he made it a point to close out the show with "Sicko Mode," and told fans that he was earnestly pursuing his first No. 1. The very next day, he officially released a remix version of the song with Skrillex, which Billboard reports boosted the streaming numbers and digital sales of the track.
Travis, for all of his reckless abandon, moves in a calculated fashion. His tweets might seem erratic, and his onstage speeches random, yet impassioned. But it all fits together like a puzzle. His career has been full of careful choices.
One of the most bold things Travis did with ASTROWORLD was center it on his hometown of Houston. UGK's Bun B, arguably the most respected living rapper to come out of Texas, attended and performed at Travis' first-ever Astroworld Festival in Houston in mid-November. When we spoke on site, Bun said he had only met Travis a little over a year prior. "He did a performance here at Toyota Center," he said. "That would probably be the first time I got to actually sit and talk to him. Real humble kid. You could just really see where his career was getting ready to take off to."
Slim Thug, who came barreling into the industry in the early 2000s, alongside Mike Jones, Paul Wall, and Chamillionaire, also performed at Astroworld Festival. He acknowledged that Travis' strengths as a collaborator had made a substantial difference in his career. "The thing is, a lot of us [in Houston] are built out for independence, so we probably don't get the worldwide notoriety for whatever we did," he explained. "At the same time, whenever we come to Houston and we all together, people understand the movement. I love when Houston moves as a movement."
Both the festival and ASTROWORLD, the album, put Houston back in the limelight, more than a decade after it first made it there, and a few decades after UGK propped the door open for everyone coming after them. Throughout the album, Travis builds in references to figures like the late legends Fat Pat, Big Hawk, Big Moe, and the instrumental Screwed Up Click founder, DJ Screw, himself. For many fans of Travis, this album is an introduction to these acts, who shaped who Travis is today.
Bun B minced no words when he spoke about Travis' standing as a Houston artist. "Travis is the heart of the city right now—DJ Screw is the soul of the city—and he's keeping this town on the map," he said.
If you've been watching Travis Scott all 2018 and thought he couldn't soar any higher, check again—he just reached the stratosphere.