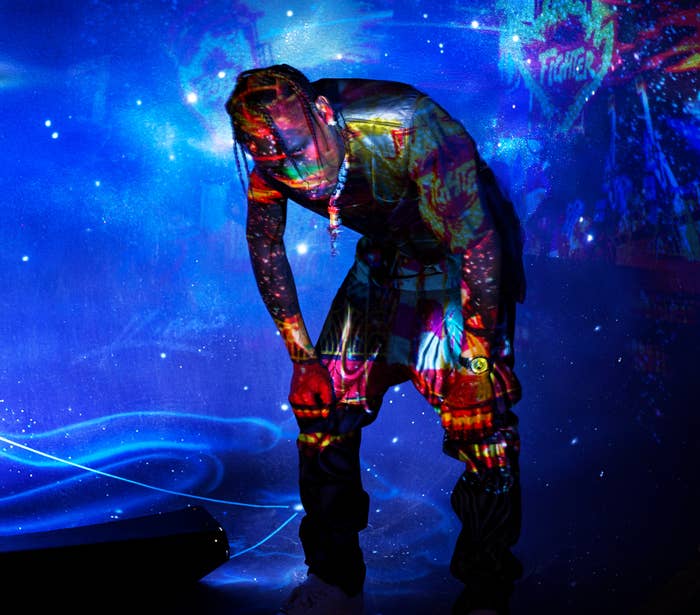 Travis Scott has had a hell of a year.
Six months after becoming a father, he dropped ASTROWORLD this summer and was rewarded with one of the biggest opening weeks of 2018. Debuting at No. 1 on the Billboard 200, Scott's third studio album went platinum within a month. Now, the 26-year-old artist is turning his attention to something he's been dreaming about for years: a headlining arena tour.
"I'm finally able to have the room to do the production I want, because it's my first arena tour," he tells Complex, hinting at his most ambitious performances yet. "I'm finally able to fit all the ideas in my brain into one room. There's going to be intensity from the kids in the building, and enough space for the fans to just rage."
During a recent appearance on Saturday Night Live, Scott brought ASTROWORLD to life with an elaborate rotating stage and a larger-than-life backdrop. But on tour, he's going even bigger. "The tour is more magnified," Scott says. "It's way more realistic. It's more tangible. Man, it's just my ideas on top of ideas, you know? I'm just trying to create free will."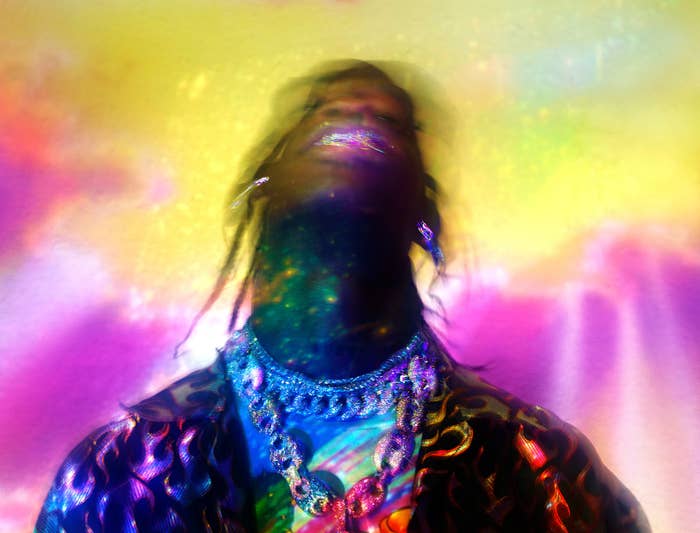 Beyond music, Scott has spent the past year experiencing everything that comes with his rising status as a celebrity. In March, his participation in Ninja's Fortnite session with Drake helped break streaming records and sparked an unlikely friendship with the popular Twitch streamer. Scott says he still regularly plays with Ninja, and the pair recently starred in Samsung's "Level Up" campaign together.
Today, the winner of their Ninja Galaxy Squad contest was revealed: Hector Diaz will get to join a Fortnite squad with Ninja, Scott, and actress Nora "Awkwafina" Lum on October 30, as they debut a new Galaxy skin during the live streamed event. "Congrats," Scott says to Diaz. "I'm trying to get some dubs."
Scott admits he hasn't had much time for games in the last few months, though: "I try to get on as often as I can, but I've been in work mode." On top of planning his upcoming ASTROWORLD: Wish You Were Here Tour, he has also been plotting a return to the original location of Houston's AstroWorld amusement park, where his inaugural Astroworld Festival will take place on November 17.
"It's a part of my imagination that was taken away when I was younger, and just reupholstered back on the city," he says, previewing the festival for fans.
"I'm just trying to magnify my ideas," he adds. "It's like my DreamWorks of festivals."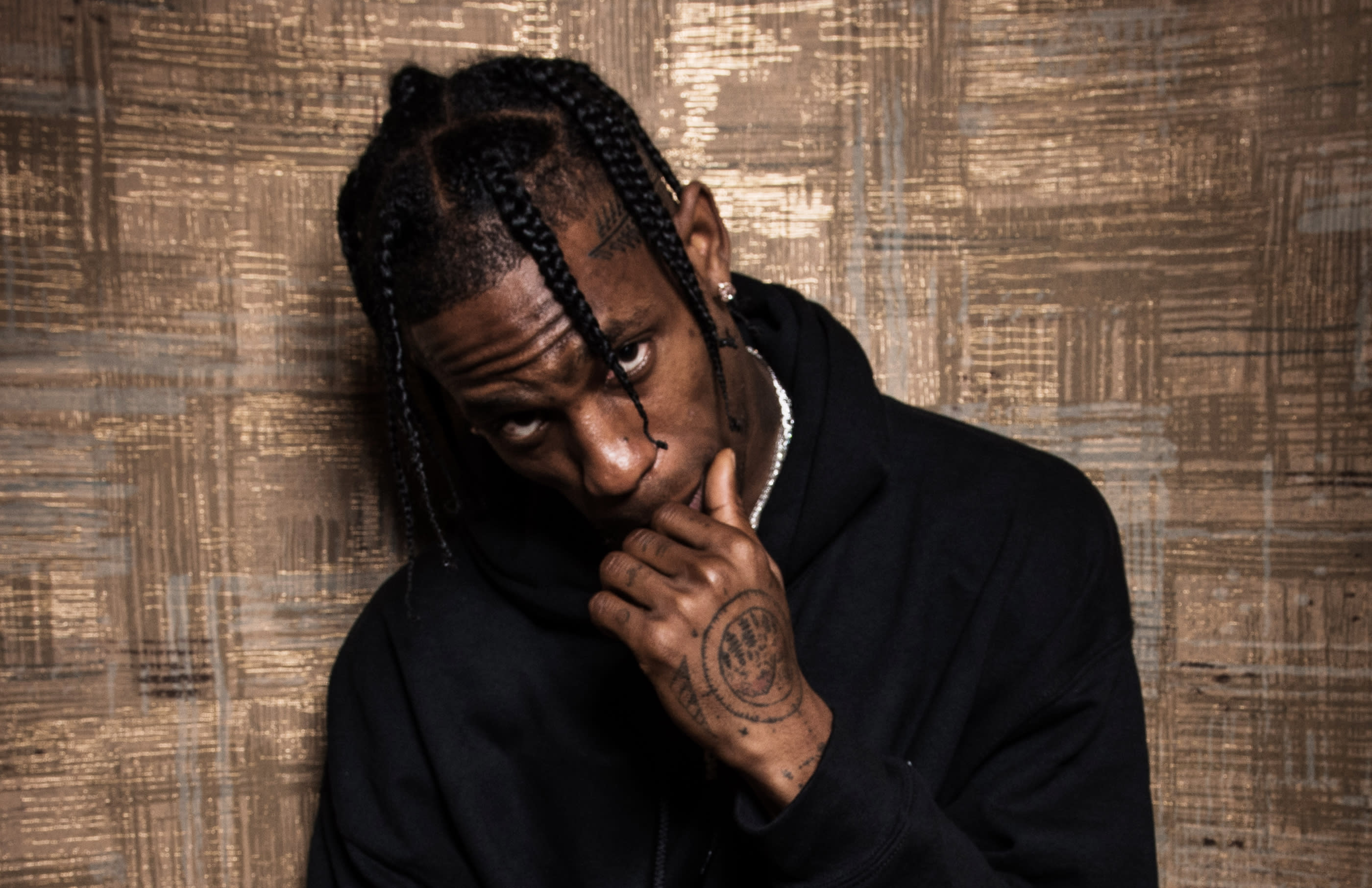 See full dates for the ASTROWORLD: Wish You Were Here Tour below and get tickets here.
NOV 8: BALTIMORE, MD AT ROYAL FARMS
NOV 9: RALEIGH, NC AT PNC ARENA
NOV 11: MIAMI, FL AT AMERICAN AIRLINES ARENA
NOV 12: TAMPA, FL AT AMALIE ARENA
NOV 13: ATLANTA, GA AT PHILIPS ARENA
NOV 15: DALLAS, TX AT AMERICAN AIRLINES CENTER
NOV 17: HOUSTON, TX AT ASTROWORLD FESTIVAL
NOV 19: LOUISVILLE, KY AT KFC YUM! CENTER
NOV 21: TORONTO, ON AT SCOTIA BANK ARENA
NOV 24: NEWARK, NJ AT PRUDENTIAL CENTER
NOV 25: PITTSBURGH, PA AT PPG PAINTS ARENA
NOV 27: NEW YORK, NY AT MADISON SQUARE GARDEN
NOV 28: NEW YORK, NY AT MADISON SQUARE GARDEN
NOV 29: WASHINGTON, DC AT CAPITAL ONE ARENA
NOV 30: HARTFORD, CT AT XL CENTER
DEC 1: PHILADELPHIA, PA AT WELLS FARGO CENTER
DEC 2: BOSTON, MA AT TD GARDEN
DEC 4: CLEVELAND, OH AT QUICKEN LOANS ARENA
DEC 5: DETROIT, MI AT LITTLE CAESARS ARENA
DEC 6: CHICAGO, IL AT UNITED CENTER
DEC 8: MINNEAPOLIS, MN AT TARGET CENTER
DEC 9: MILWAUKEE, WI AT FISERV FORUM
DEC 10: OMAHA, NE AT CHI HEALTH CENTER
DEC 12: DENVER, CO AT PEPSI CENTER
DEC 15: SACRAMENTO, CA AT GOLDEN 1 CENTER
DEC 16: OAKLAND, CA AT ORACLE ARENA
DEC 18: PHOENIX, AZ AT TALKING STICK RESORT ARENA
DEC 19: LOS ANGELES, CA AT THE FORUM
DEC 20: LOS ANGELES, CA AT THE FORUM
DEC 22: PORTLAND, OR AT MODA CENTER