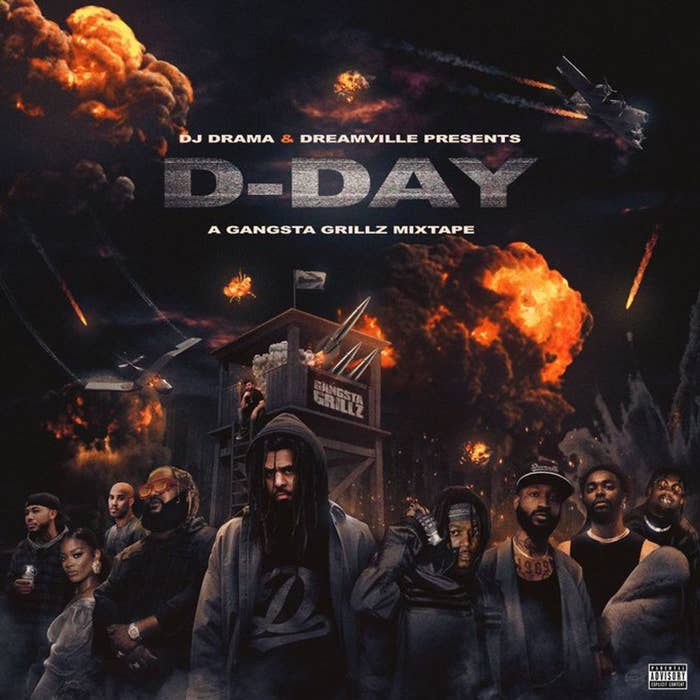 It's always special when Dreamville gets together to release a project, even more so when they bring some friends along for the ride, so it's exciting that J. Cole and company have joined forces with DJ Drama to deliver their own Gangsta Grillz mixtape, appropriately titled D-Day.
With the second annual Dreamville Festival set to begin on Saturday and continue through Sunday, the 'Ville announced on social media that they would have DJ Drama host another collaborative tape for the label, featuring its roster of artists.
Sheck Wes, ASAP Ferg, 2 Chainz, Young Nudy, and more are also featured on the new tape.
The entire Dreamville Fest will also be streaming exclusively on Amazon Music's Hip-Hop and R&B station Rotation. Tim Hinshaw, head of hip-hop and R&B for Amazon Music, spoke on how excited he is to see this partnership come to fruition.
"In just a few short years, J. Cole has made Dreamville Festival into one of the preeminent hip-hop moments of the year, hosting performances from the hottest up-and-coming artists and established talents," he said. "We at Rotation have worked to make Amazon Music the home for these kinds of activations and I can't wait to bring Dreamville Festival into the homes of hip-hop and R&B fans around the globe."
Dreamville as a label has a type of chemistry that few other collectives can create, and through three Revenge of the Dreamers collab tapes, they have proven just how well they all make music together. D-Day is just the latest entry in an already impressive catalog from the group.
Listen to Dreamville's Gangsta Grillz mixtape D-Day down below.