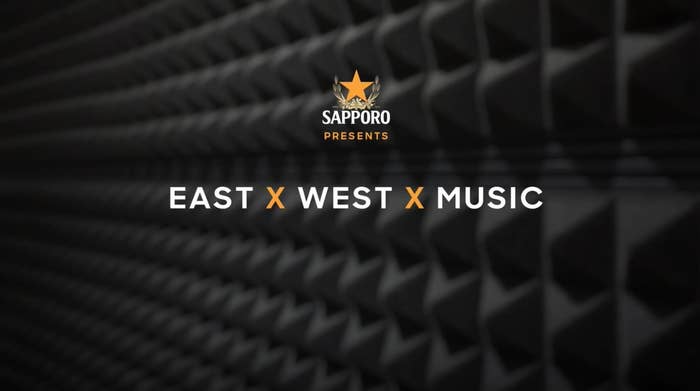 Transatlantic travel isn't exactly feasible right now—what with that whole global pandemic and all—but that's not stopping artists on opposite ends of the earth from linking up. For their new campaign Sapporo Duos, the beer company connected musicians from Japan and Canada, and issued them a challenge: create something great together, from afar. The result, despite language barriers and a 12-hour time difference, is a three-track EP that's totally unpredictable and legitimately cool.
In order to select talent to work with, Sapporo recruited Toronto-based audio production house Eggplant to scour Canada and Japan for the right musical artists. Their criteria? That the artists all be as disparate as possible. After all, Sapporo's origins are rooted in a mash-up of Eastern and Western cultures—in 1876, Seibi Nagawa, who cut his beer-making teeth in Bavaria, became the company's first brewmaster. So, to carry on that fusion-based tradition, and produce the most unexpected of outcomes, the Duos project brought together talent from a wide range of genres, each with their own singular style. Now that's our kind of culture clash.
Memorecks x Punipunidenki
The first collab for the project was between Toronto hip-hop beatmaker Memorecks and Punipunidenki, a Tokyo J-Pop artist with a penchant for social justice issues and jazzy, near-bossa nova sounds. The two came together for "Summer Rains," an ultra-chilled-out tune that sees Punipunidenki croon gently in English and Japanese over a subdued, raindrop-flecked, keyboard-driven beat tailor-made for your next night in.
NOVEMBER x Frasco
The next link-up saw NOVEMBER, a Montreal-based threatrical New Wave artist, pair with Frasco, a Tokyo electronic duo whose M.O. is to make "unrelatable pop music." The result of their mash-up is "Shooting Star," a lounge-y, samba-inspired track on which Frasco's earworm hook gives way to NOVEMBER's Morrissey-esque baritone and spoken-word sweet nothings.
TOVI x starRo
The final pairing was between TOVI, a synth-rock-meets-trip-hop multi-instrumentalist from Red Deer, Alberta and starRo, a Grammy-nominated R&B producer from Tokyo. The two birthed "Ceiling," a whimsical electro-pop track driven by cascading synths, a dancefloor-ready bassline, and TOVI's breathy, lovelorn vocals. Entirely out-of-the-box and extremely in the groove, it's the sound of globalization done right.
Stream the whole Sapporo Duos EP below.