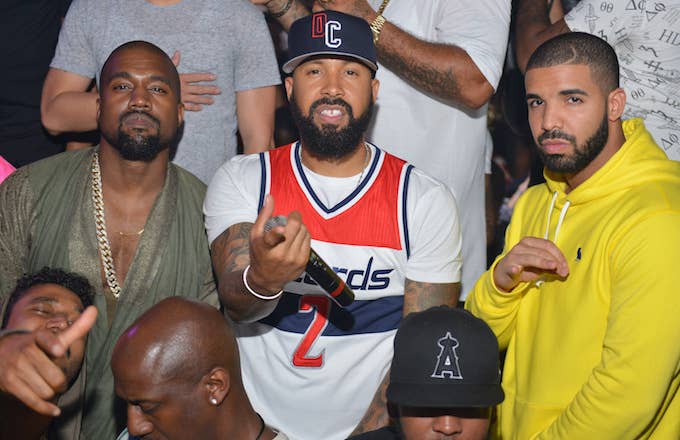 An extended version of Kanye's previously unheard verse from the DAYTONA cut "What Would Meek Do?" has surfaced, where 'Ye praises Yeezy and Adidas, while questioning Drake's commitment to Nike.
"Drizzy wearing Yeezys on the low though/Only reppin' Nike for promo," 'Ye raps.
While it sounds like he could be taking shots at Drake, the newly uncovered verse couldn't be in response to the infamous Drake and Pusha-T beef since "What Would Meek Do?" came out before the feud escalated.
In this case, Kanye says even Drake thinks Yeezys and Adidas are better than Nike. At this moment, 'Ye was also likely more upset about how his relationship ended with Nike. In a May 2018 interview with Charlamagne tha God, 'Ye touched on the dissolution of his relationship with the brand.
"I love Nike. I loved Nike," he told Charlamagne. "When I was young, I used to sketch the Swoosh, everything. It was heartbreaking for me to have to leave Nike, but they refused to allow me to get royalties on my shoe. And I knew I had the hottest shoe in the world. I knew Yeezy was the hottest brand in the world. But I couldn't get royalties."
'Ye continued, "They wouldn't let me build anything. And just put out more amazing ideas to the world. My friend expressed to me that he received a royalty, because he's a store, and I'm Yeezy? That was the final straw."
During the same conversation, Kanye again apologized to Nike CEO Mark Parker for his past attacks. "I've just got to speak out as a parent and apologize to [Parker] for ever speaking ill on his name and his company. He gave me that shot when we did the original Yeezy at Nike," explained 'Ye. "I always wanted to express that as a father—when my karma comes, I'll accept it in real time," he laughed. "I've got some karma waiting on me."
A short snippet of Kanye's unheard verse materialized in May, where 'Ye referenced J. Cole: "You heard Cole on that song/He was tryna hate."
While there's no reason to think Kanye and Cole have any issues now, the mention is likely a nod to Cole's 2016 single "False Prophets." Cole famously included an extended passage seemingly about 'Ye, though he's never directly named in the lyrics. In one line, Cole speaks of someone "cryin' out for help while the world's eggin' him on."