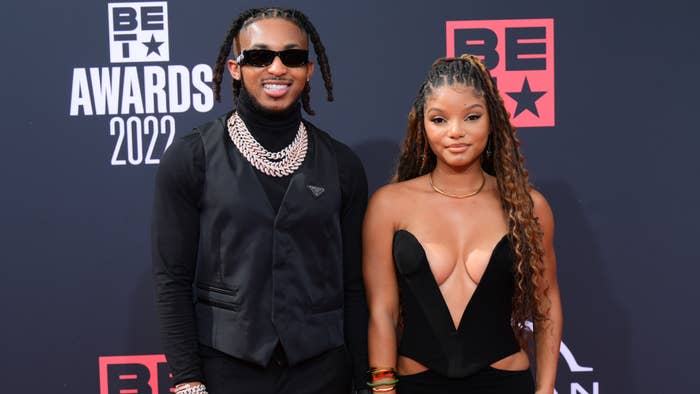 DDG has a message for his haters.
The rapper took to TikTok where he posted a video and wrote, "All that hating on DDG, just for you to be ALONE today." He added, "No one loves u."
The post came on Valentine's Day, which seemed to turn out well for him and his girlfriend Halle Bailey, even with his recent internet beef with ex Rubi Rose and rumors of him and Bailey breaking up.
"Best vday ever," Bailey wrote on Wednesday morning.
DDG and Rose were feuding online this past weekend after Rose tweeted a subliminal at DDG, apparently for letting Bailey wear Rose's old t-shirt. Rose then doubled down by writing, in a since-deleted tweet, "I like Halle, Ddg a weirdo tho fasho."
Rose then posted a screenshot of her Twitter DMs with DDG, where he asked if she was in L.A. After he alleged that the screenshot wasn't real, the situation escalated from there, with them trading shots on Twitter. At one point, DDG called Rose "a wannabe Ice Spice" and Bailey even reportedly chimed in, writing in a now-deleted tweet, "[The] devil is working. lol please don't feed into the lies, especially from a third party. stay blessed everyone."