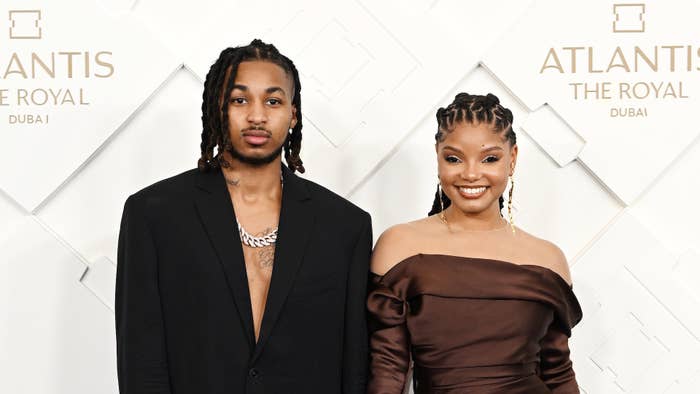 It appears DDG has responded to the breakup speculation.
Earlier this week, fans began speculating that the 25-year-old and his girlfriend, Halle Bailey, had officially called it quits. The whispers began circulating when followers noticed that DDG had unfollowed Bailey on Instagram, deleted all her photos from his account, and shared a cryptic tweet that read, "all these girls the same … ain't no wayy." 
All signs indicated that there was trouble in paradise; however, DDG seemingly shot down the rumors in a Wednesday afternoon tweet that simply read: "The internet is so gullible."
Though the post was vague, many assumed DDG was mocking everyone who were easily deceived by the breakup reports, which have not been confirmed by any involved parties. Bailey's sister, Ski, also addressed the drama in an Instagram video on Tuesday, slamming DDG for insinuating Bailey had done something wrong.
"DDG, like, bro, what's wrong with you? Halle's not like the ones that you've been with," Ski said in the video. "You will not treat her the way you've treated these others. I don't give a freak if y'all had issues going on. That's what you won't do. Please understand that."
She continued: "You're not gonna do her the way that you did everybody else. You're not gonna come to social media and try to put her on blast and insinuate or put something out that make it seem like she was doing something that she wasn't doing. You need to pipe down and get yourself together. If y'all broke up, then you need to just unfollow and just keep it pushin'. You don't have to put nothin' out there like that. Talkin' about, 'All these girls is the same.' Are you dumb? Are you stupid?"
Ski posted an apology shortly after, claiming she had communicated with Bailey and was told there was "nothing going on."
"Let me go back to drinking my water and minding the business that pays me," she wrote. 
It's also worth noting it was just last week when Halle tweeted, "I love my man ngl," ti which DDG replied, "I love you more ..."
Bailey and DDG reportedly began dating in early 2022, but didn't go Instagram official until March of that year. The It's Not Me It's You rapper spoke about his relationship during a Breakfast Club appearance back in November, explaining the impact Bailey has had on his life.
"I've never been with nobody that's like really motivated me like [Bailey] do," he said. "I'm seeing different shit. I ain't really been around this type of shit before, so it's like, she's bringing me around shit that I ain't really—you know what I'm saying? 'Oh, this is crazy. This is dope.' You know what I mean? This is somebody that's really like … I was my own person before her, but in a way, put me on to different shit. That's dope because I'm usually the one putting motherfuckers on."