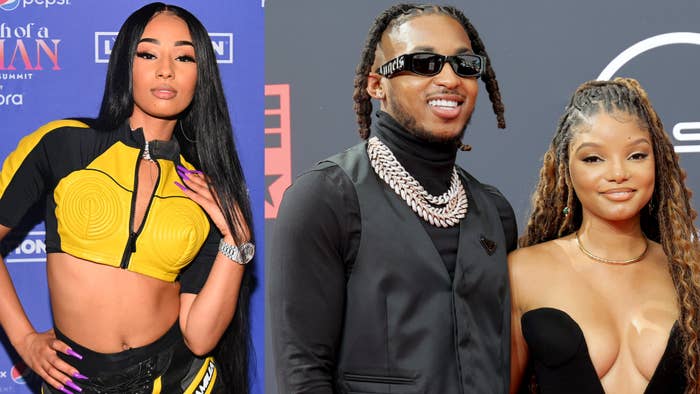 Rubi Rose and DDG have been engaging in a heated back-and-forth online.
It started on Saturday, when Rose called out her ex, DDG for letting his girlfriend Halle Bailey wear Rose's old t-shirt. Rose apparently saw Bailey post a video of her wearing the shirt on Instagram Story. Rose then tweeted, "Having ur bitch where my clothes is crazy lol."
In a follow-up tweet, Rose wrote, "I like Halle, Ddg a weirdo tho fasho."
The situation worsened on Sunday when Rose posted alleged Twitter DMs from DDG following speculation that he and Bailey had parted ways. In the screenshot, DDG asks Rose if she's still in Los Angeles and what she's doing.
"U hitting me the day y'all argue is so u lol," she wrote, to which he responded, "lol u right. lemme go heal first."
Rose also tweeted, "He mad i wouldn't go home with him after caresha party," which was on Feb. 5.
Once DDG came upon Rose's tweets, the two began exchanging unpleasantries online, 
"Don't believe nun she say. She been stuck on me for 2 years. She hurt," he wrote in a since-deleted tweet. "Superrr [cap] N***as is not pressed over you."
In the comments of The Shade Room's post, he also alleged that the Twitter DMs screenshot was "CGI," per XXL.
DDG continued to call Rose "weird" and said she was "clout chasing" in response to a follower.
He also called Rose "a wannabe Ice Spice."
According to XXL, Bailey apparently jumped in at some point, writing, in a now-deleted tweet, "[The] devil is working. lol please don't feed into the lies, especially from a third party. stay blessed everyone."
Even DDG's older sister, @ms_tawanna on Instagram added to the conversation and said she owes Rose "an ass whooping" for how the artist treated DDG's family.