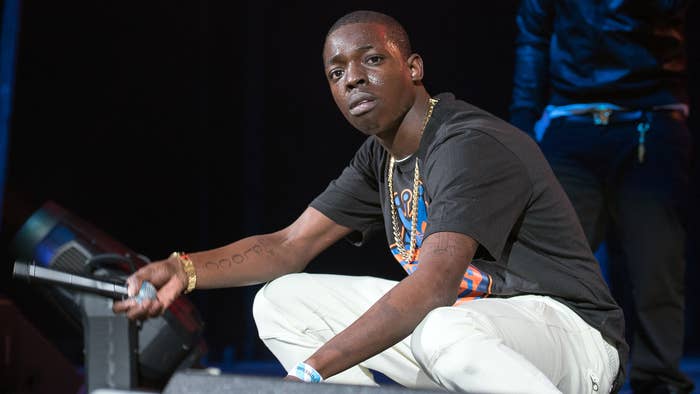 Bobby Shmurda has inked a new management deal with Roc Nation as he continues to work on new music and his debut album.
According to The New York Times, the Brooklyn rapper also has a number of collaborations in the vault with artists like Swae Lee, DaBaby, and Migos, with the shared factor being "rhythm and movement," the paper writes.
"We're going to be dancing 24/7," Shmurda said. "When I dance, it's to show you that I came through the struggle, but I overcame it and we're still overcoming it."
Speculation about Roc Nation's involvement in Bobby's music career surfaced back in June after the rapper shared a video that showed him at the company's office. The rapper was also spotted at a Fourth of July party that was hosted by Philadelphia 76ers partner Michael Rubin. Jay-Z also attended the event.
Shmurda's "freshened-up record deal," as NYT described it, includes the same management team that worked with Meek Mill following his release from prison. 
Distribution platforms are also interested in telling Shmurda's story through a documentary or feature film—offers that Roc Nation are handling.
"He'll ask questions and not just ask but actually comprehend," Mike Brinkley, a senior vice president of artist management at Roc Nation, said. "Meeting him for the first time, you can't even fathom what he went through because he doesn't wear it. He's like, 'I'm here to work, what do you need me to do?'"
Though the rapper hasn't released any of his own music yet, he's featured on Eladio Carrion, J Balvin, and Daddy Yanke's remix for Carrion's track, "TATA," and is set to perform at Summer Jam in New York and Made in America Festival in Philadelphia.
Shmurda also made his first appearance at a music festival in July, at Miami's Rolling Loud. Though he only performed for around 20 minutes, he delivered hits like "Computers" and "Hot N*gga," and also played some unreleased material.
Stay tuned for more from Bobby Shmurda.