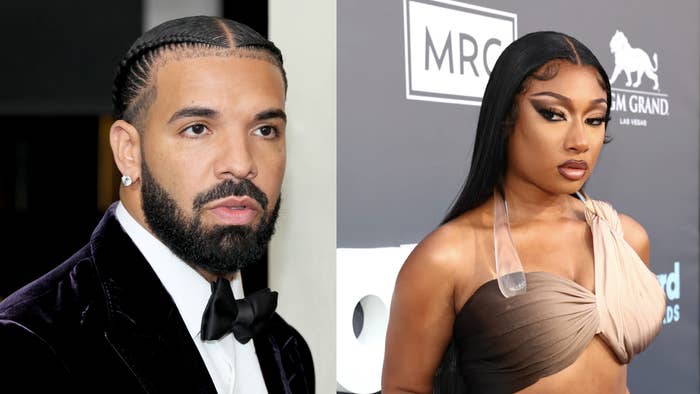 Following a cycle of fake promotional stunts, Drake and 21 Savage gifted fans with their much-anticipated joint album, Her Loss. As with previous Drake efforts, this project immediately caused a stir on social media, but not necessarily for the right reasons. 
Since the album's release on Friday, Drake has faced mounting backlash over "Circo Loco," a Boi-1da- and Tay Keith- produced cut that has been called confusing, petty, and down right misogynistic. The controversy stems from the track's opening verse, in which Drake appears to reference Megan Thee Stallion and her 2020 shooting incident involving Tory Lanez. 
The lyrics have ignited a debate about Drake's intentions, and have prompted responses from fans and entertainment figures, including Megan. For those who aren't update to date on the drama—or simply want a refresher—we've provided a thorough rundown of all the "Circo Loco" controversy below.
In the first verse of "Circo Loco," Drake boasts about his sex life before referencing a dishonest woman.
"I been fuckin' on a French bitch, c'est la vie," he raps. "I just put 'em on a jet, now they all Italian/Way I'm dressin' 'til I been to a thousand islands/This bitch lie 'bout gettin' shots, but she still a stallion/She don't even get the joke, but she still smilin'."
The last two lines are what sparked the controversy, as many believe Drake was accusing Megan of lying about the aforementioned shooting. The incident reportedly took place in the Hollywood Hills in summer 2020, after Megan and Lanez got into a verbal dispute at a Kylie Jenner house party. The situation escalated shortly after the two left the event in a chauffeur-driven SUV, when Lanez allegedly pulled a gun on Megan and shot her in the feet after she exited the car. 
Lanez was arrested in connection to the shooting, and has pleaded not guilty to assault charges.
Megan addressed the incident in her Good News track aptly titled "Shots Fired."
"Imagine n***as lyin' 'bout shootin' a real bitch/Just to save face for rapper n***as you chill with," she rapped. "…And if it weren't for me, same week, you would have been indicted (Should've let them lock your ass up)."
While some were convinced Drake was subbing Megan, others believe he was simply alluding to a woman who was lying about her butt injections; however, some believe there were other lines in the track that suggested Drake was targeting the H-Town rapper.
"Shorty say she graduated, she ain't learn enough," he rapped. "Play your album, track onе, OK, I heard enough."
Many listeners have speculated Drake was referencing Megan's higher education pursuits, and her 2021 graduation from Texas Southern University.
Some fans questioned why Drake would take aim at Megan, as they didn't appear to have any prior beef. Though it was reported that Drake had unfollowed Megan on Instagram this year, the two have not spoken ill of each other—at least not publicly. 
In fact, Megan attempted to downplay the "Circo Loco" drama in a Friday tweet, when she reminded fans that Drake never mentioned her name.
But as the drama unfolded, Megan became more defensive, and understandably so. She proceeded to slam rappers who were making light of the shooting, and demanded they stop using the incident to gain clout.
Drake's relationship with Lanez is somewhat complicated. Though they're considered the biggest rappers to come out of Canada, the two have never teamed up on a record, which, of course, has fueled speculation of competition.
Drizzy appeared to take a shot at Lanez in his 2016 track, "Summer Sixteen," rapping: "All you boys in the new Toronto want to be me a little/All your exes know I like my O's with a V in the middle." Fans suspected the lines were taking aim at Lanez, as they seemingly referenced his 2015 mixtape The New Toronto.
Lanez appeared to fire back at Drake in the 2016 remix of Madeintyo's "Uber Everywhere."
"Pussy boy, smack that smile clean off your face," he rapped. "You don't know no trap n***as, you don't be around this way/You some actor n***a boy, I used to see you on the screen." 
Listeners theorized the lines were directed at Drake, who worked as a TV actor before entering the rap game. The perceived jab was somewhat surprising, as Lanez previously told Revolt he would never diss Drake.
"I don't know what that man has against me," he told the outlet when he was questioned about "Summer Sixteen." "I'm getting money over here. I'm good. I'm young. I'm finally in a position to feed my family. Please don't try to take that away from me. All I want to do is rap. I'm a fucking Drake fan."
He continued, "Drake could diss me 20,000 times, and I'll never diss him. I'm a fan." 
2017 saw the two artists photographed together with both of them posting the images to their respective Instagram accounts. "The city needs more of this and less of that," Drizzy wrote at the time. Earlier in the year, many assumed that Drizzy dissed Lanez on his More Life track "Do Not Disturb," in which he rapped, "You overnight celebrity you one day star." Some believe that the lyric was a play on the rapper's real name, Daystar.
In 2019, the Canadian rappers embarked on a brief European tour together, further suggesting they had buried the hatchet; however, months after the Megan shooting incident, Lanez claimed he'd been trying to collaborate with Drake for years, but his efforts were unsuccessful.
It's also hard to imagine that Drake would risk public scrutiny by dismissing Megan's assault allegations. The lyric has led to public criticism from his fan base, particularly Black women, who make up a sizable segment of his supporters, and who Drake has celebrated, for example, in the music video for "Nice for What."
The move could also cause friction with other artists who have ties to both Drake and Megan such as Jay-Z and Beyoncé. Megan signed a management deal with Jay's Roc Nation in 2019 and she previously collaborated with Beyoncé on the remix to her hit song "Savage." 
"In the first five minutes of the conversation, I felt like I've been knowing her all my life," Megan previously said of the singer in an interview with Variety. "She treated me like family, and now I feel like I am family. We talk all the time."
"I just want to quickly give my love to Megan," Bey said while she and Megan accepted the Grammy for Best Rap Song for their collaboration back in 2021. " I have so much respect for you and I'm honored that you asked me to be a part of the song. I want to say, Houston, we love you! Thank you, Grammys!"
Drake is no stranger to diss records. Throughout his career, he has seemingly taken aim at some of hip-hop's biggest acts, including everyone from Common and Chance the Rapper to Kanye West and Tyga; however, his most talked-about beefs involved Pusha-T and Meek Mill. Those feuds resulted in scathing tracks like "Duppy Freestyle," "Two Birds, One Stone," "4 PM in Calabasas," as well as the 2015 hit record "Back to Back."
Though the OVO boss has squashed at least a few of those beefs, he's still apparently churning out lyrical disses. In Her Loss, Drake appears to take swings at Kanye; DRAM; Ice Spice; Serena Williams' husband, Alexis Ohanian; and, of course, Megan. The targets have since responded to the perceived disses in very different ways. Kanye refused to take the bait, and claimed he had nothing but love for Drake; Ice Spice laughed it off; Ohanian kept it classy and proudly embraced the "groupie" label; and DRAM referred to Drake as a "bitch" before challenging Drake to a one-on-one. Check out the reactions below.
As fans debated the "Circo Loco" drama, others noticed that Megan was credited on Her Loss. The Houston rapper was listed as a cowriter on the album's opener, "Rich Flex," along with Drake, 21, Vinylz, Tay Keith, and more.
Though Megan's vocals weren't featured on the track, it included an interpolation of her 2020 hit "Savage."
"I'm a savage," 21 raps on the track. "Smack her booty in Magic/I'll slap a pussy n***a with a ratchet."
Though Megan's contribution appears to be unrelated to the "Circo Loco" controversy, it adds an interesting twist to the drama.
As fans debated the "Circo Loco" controversy, Instagram account Onsite! offered another theory: Drake's "stallion" line was referencing Elke Madler, a social media star who also goes by "Elke the Stallion."
The account points out that "Circoloco" is an EDM dance party held at Ibiza's DC10 nightclub as well as other venues in countries like France and Italy, both of which are mentioned in the track's opening verse.
"In the song, Drake is mentioning countries in Europe," Onsite! wrote. "The song's title speaks for itself. The lyrics [are] all about word play."
The account argues that the song's "European theme" supports the Elke theory, as the model was born in East Germany. Onsite! also shared a number of news articles about Elke's body transformation, and how she has consistently denied butt injection claims.
The theory is admittedly far-fetched, as it's unclear if Drake has any connection to Elke.
Lil Yachty came to Drake's defense.
The Georgia-born rapper was a major contributor to Her Loss, as he received writing credits on tracks like "Major Distribution," "Pussy & Millions," "Jumbotron Shit Poppin," "Backoutsideboyz," and "Circo Loco." Yachty took to Instagram on Friday to address the drama surrounding the latter track. 
"I was addressing this line, 'cause I know [Drake's] not gonna address it, 'cause I just know Drake," said Yachty, who also selected the Her Loss cover art. "It's not about Megan, it's about women lying about their butt shots, you know? Saying it's real when it's fake."
Drake has yet to publicly address the "Circo Loco" bars and probably never will.
The rapper rarely clarifies his controversial lyrics, which explains why Yachty took it upon himself to set the record straight. But considering all the controversy surrounding the track and the connection to an ongoing legal case, maybe Drake will feel compelled to speak up. It wouldn't be the first time that he's expressed remorse over his lyrics.
Back in 2013 Drake apologized to Vanessa Bryant for his "bitch you wasn't with me shooting in the gym" line on Rick Ross' "Stay Schemin'" track. 
Vanessa took issue with the lyric and addressed them in a post made to Instagram. "I love when immature kids quote a rapper that has never been friends with Kobe and knows nothing about our relationship," she wrote. "Just shows how gullible they are. I don't need to be in the gym. I'm raising our daughters, signing checks and taking care of everything else that pertains to our home life."
She continued, "Since my husband... isn't friends with Drake, we received a text of an apology forwarded from his manager. It's done and over with and it's now time for people to THINK before speaking."
Complex has reached out to Drake's camp for comment.