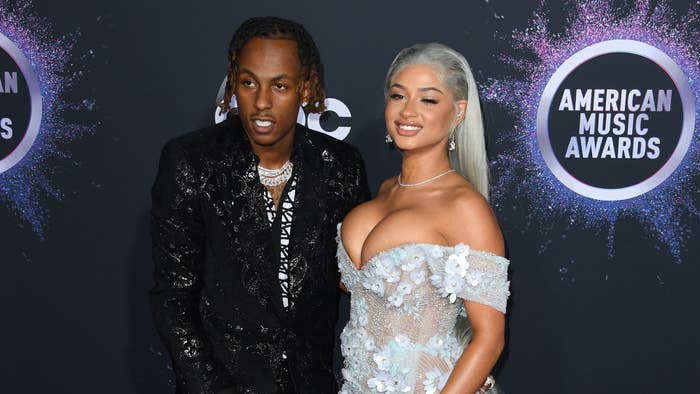 Weeks after he was accused of paying a woman he allegedly impregnated to keep his infidelity secret, rapper Rich the Kid has publicly apologized to his fiancée Tori Brixx.
"I'd like to make a public apology to my best friend, my lover and fiancée, for any disrespect, disloyalty or allegations of anything," Rich wrote in an Instagram post alongside a series of photos of the couple together. "I'm a grown man I've done wrong and I'm owning up and asking for forgiveness from a beautiful strong woman that has taken care of not only me but our family for years... I'm not like these other... I know I've been wrong and will fix it love you @toribrixx I am so sorry."
Rich the Kid and Brixx started dating in 2018, and they welcomed their first child together in April 2019. His apology post comes just weeks after he was accused in a lawsuit of paying a woman $35,000 to keep her pregnancy a secret from Brixx.
Filed by a woman under the anonymous name Jane Doe in a Massachusetts court, the lawsuit accuses the rapper of engaging in "unprotected sexual relations" with her at a private Boston event in January 2023. She also accused him of assaulting her, acting "aggressively" and touching her without permission when she attempted to leave the hotel where the event took place. He allegedly followed her and got in her Uber ride, and when they got to her home they engaged in unprotected sex.
Doe said that she got pregnant following the encounter. She wanted to keep the baby but got an abortion after speaking with the rapper. They made a settlement together last year to keep the situation under wraps. She agreed not to speak about their sexual encounters in exchange for the money, which he allegedly still owes her $25,000 of, hence the lawsuit.