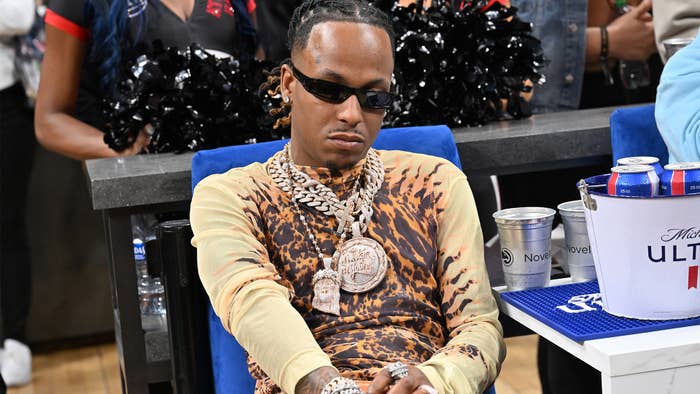 Rich the Kid has been accused of agreeing to pay a woman he allegedly impregnated $35,000 to keep his cheating a secret from his fiancée, Tori Brixx.
According to court documents obtained by Radar Online, a woman taking the alias Jane Doe filed a lawsuit against the "Plug Talk" rapper in a Massachusetts court. The lawsuit stated Rich the Kid had a concert in Boston in January 2023 and later held a private event at a nearby hotel.
The woman claimed to have attended the private event and while there, "engaged in unprotected sexual relations at the request" of Rich the Kid. The lawsuit also stated, "on Jan. 28 and Jan. 29, Rich the Kid assaulted Doe, aggressively and without permission, touched Doe and attempted to prevent Doe from leaving the Boston, Massachusetts hotel."
Rich the Kid was further accused of having "violently grabbed Doe and removed her coat to prevent her from leaving the hotel" and that the rapper committed battery against Doe.
The woman left the hotel and was allegedly followed by Rich the Kid, who entered Doe's Uber. Doe let Rich the Kid stay in the Uber. They rode to the woman's place and engaged in unprotected sexual intercourse, which resulted in Doe getting pregnant.
Jane Doe wanted to keep the baby but ultimately aborted it after conversing with Rich the Kid. According to Doe, the two entered a settlement last March where the rapper agreed to keep their sexual escapade under wraps from Brixx, and in return, Jane Doe wouldn't bring up claims over the alleged assault.
"Desperate to keep his sexual encounters with Doe a secret from Brixx, in addition to having Doe (1) forgo a claim for assault and battery and to (2) forgo Doe's contemplation of taking her pregnancy to full term, RTK and Doe entered into a Settlement Agreement ('Agreement') executed on March 29-30, 2023, which provided for financial payments to Doe by RTK," the lawsuit stated.
Rich the Kid reportedly signed off on the deal but only made two payments and still owes Doe $25,000. Jane Doe's lawsuit accused the rapper of violating the terms of their deal and demanded he pay the rest of the money.
Rich the Kid has yet to respond to the lawsuit as of press time. Jane Doe's attorney, Christopher Brown, stated "no comment" regarding their client's case.