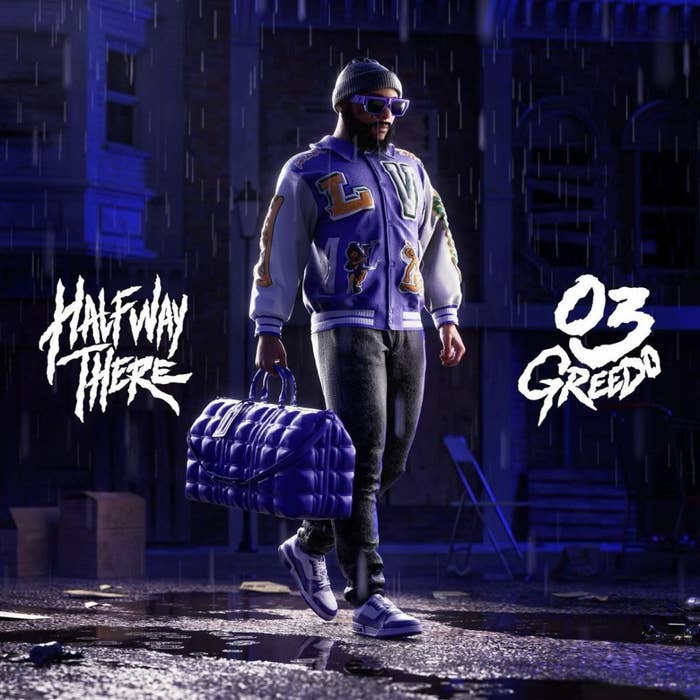 03 Greedo has released the new mixtape Halfway There, his first release since getting out of prison.
The tape features appearances from Rich the Kid, Babyface Ray, Maxo Kream, Ty Dolla Sign, and others, and serves as the follow-up to Greedo's Free 03 project from January. Halfway There is the California rapper's comeback after being freed from the Texas prison where he'd been incarcerated since 2018, having agreed to a plea deal for gun and drug charges.
The 35-year-old faced a possible 300-year sentence due to first-degree possession of a controlled substance and third-degree unlawful possession of a firearm by a felon. He was paroled nearly 15 years before the end of his maximum sentence.
His arrest stemmed from an incident in 2016 when he was pulled over by Potter County Sheriff's deputies after being stopped on a highway in Texas. Police discovered four pounds of methamphetamine and two stolen pistols in his car after conducting a search.
The new 33-track mixtape was initially announced by Greedo on Instagram on Monday. It fittingly opens with his single "Bacc Like I Never Left," which hit last week.
"First full length Project since my release from prison last week," Greedo wrote, tagging a few of the producers who contributed, including Harry Fraud, Bankroll Got It, and Sledgren.
Following his release, 03 Greedo issued a statement on Instagram, thanking his fans for their continued support but reminding them he isn't "completely out."
"Yes, I am free from prison but I am still not completely out," he wrote. "For anyone confused I am in a halfway house for up to 6 months with a five minute phone call a week. Where I am I just want to see my daughter and record music. I wish I could have released alot more music while I was away. So, I have this chip on my shoulder to just go record n drop at least 12 tapes before my major album and I honestly just don't want to talk to alot of people yet. I got a lot I want to clear in my head first. So, if I'm not recording with you or laying with you."
Greedo added, "I'm not inna rush to talk after damn near 5 years. Just being honest! Salute to the GeeHive and all my supporters, I love you. Thank u for keeping me alive while I was incarcerated. Yours Truly, Cheeto."
Listen to Halfway There below.