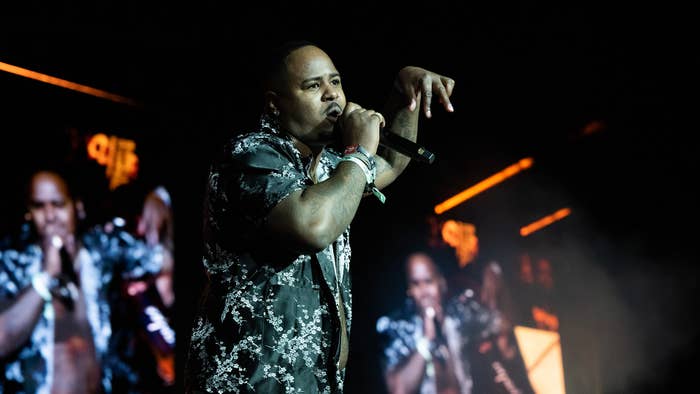 UPDATED 2/4 11:50 a.m. ET: A wrongful death lawsuit was filed on behalf of Drakeo's son, Caiden Caldwell. According to a rep, Drakeo's mother Darrylene Corniel and brother Devante Caldwell are not involved in any "legal proceedings of their own at this time" and are not represented by James Bryant. 
See original story below.
The family of late rapper Drakeo the Ruler is filing a $20 million lawsuit against the promoters of the Once Upon a Time in LA festival, where he was fatally stabbed backstage.
As the Los Angeles Times reports, the rapper's family announced plans to file the wrongful death lawsuit next week. The festival was organized by Live Nation, Bobby Dee Presents, and C3 Presents. Drakeo's family have accused the promoters of failing to provide adequate security for performers. "This would have happened if those promoters had had the proper security protocol," said family attorney James Bryant. "This was a preventable death."
The family also released a video that showed Drakeo swarmed by a crowd of men, who repeatedly struck him. During that altercation, Drakeo was stabbed in the neck and later pronounced dead at a nearby hospital. "Mr. Caldwell was essentially lynched by over 40 to 60 people, and as you also saw, Mr. Caldwell had no security," said Bryant. "That video ran for a full minute and you didn't see one security officer there. The video you saw was one of the last few moments of Darrell Caldwell's life." 
Bryant added that Drakeo typically only allowed a small entourage, of around eight or so people, backstage. However, a fight broke out when dozens of men, all dressed in red, broke into the backstage area. "It should have never have happened," Bryant said. "The concert Once Upon a Time in Los Angeles had 50 of the most iconic music artists in the industry, but … you also knew there could be an element of danger. You had Bloods. You had Crips and affiliations amongst them. We all know those groups don't go together."
The event was brought to an abrupt end following the stabbing. "Once Upon a Time in L.A. joins Drakeo's family, friends, and fans in grieving his loss," said the festival organizers in a statement. "The festival is continuing to support local authorities in their investigation as they pursue the facts."