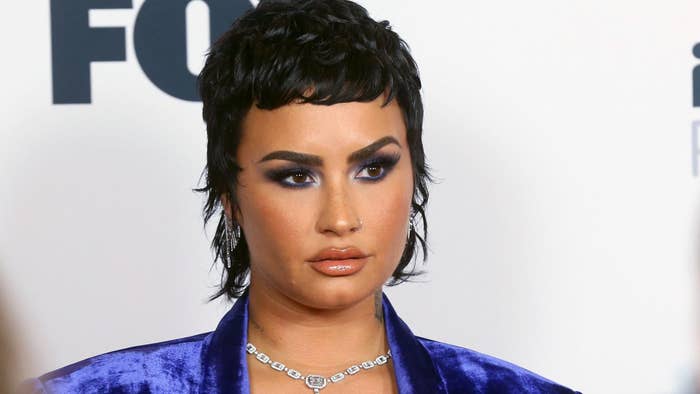 Demi Lovato is encouraging people to drop the word "aliens" when referring to extraterrestrials.
The Grammy-nominated pop singer-turned-UFO enthusiast caught up with Pedestrian TV to discuss their new Unidentified with Demi Lovato series and explain why the word should be axed. 
"I think that we have to stop calling them aliens because aliens is a derogatory term for anything," Lovato explained. "That's why I like to call them ETs!" 
Lovato's September-dropped Peacock series follows the artist, sister Dallas, and friend Matthew Scott Montgomery as they attempt to uncover information on extraterrestrial life and UFOs/UAPs alongside experts. 
"Well, I have been a believer my whole life too," Lovato shared. "And I just thought, you know, I'm in a position in my career right now where I'm dipping my toes into a lot of different waters. And this was just kind of a natural next step. I wanted to film everything that goes down when I go and search for these UFOs so that my fans can come along for the ride."
As Demi explained, they saw something interesting in "every city" they visited on the program, and although it wasn't all full of UFO sightings, there were "paranormal things that happened."
"I think that [ETs] are looking for nothing but peaceful encounters and interactions because like I said, if they wanted us gone, we would have been gone a long time ago," Lovato said.
In May, Lovato used Twitter to come out as non-binary and share that they will use they/them pronouns. They also discussed their gender journey more in August during an interview with The 19th Represents Summit.
"There might be a time where I identify as trans. I don't know what this looks like for me," Lovato said at the time. "There might be a time where I identify as non-binary and gender nonconforming my entire life. Or maybe there's a period of time when I get older that I identify as a woman, I don't know what that looks like, but for me, in this moment right now, this is how I identify."
Sign up for Peacock
to stream NBCU shows