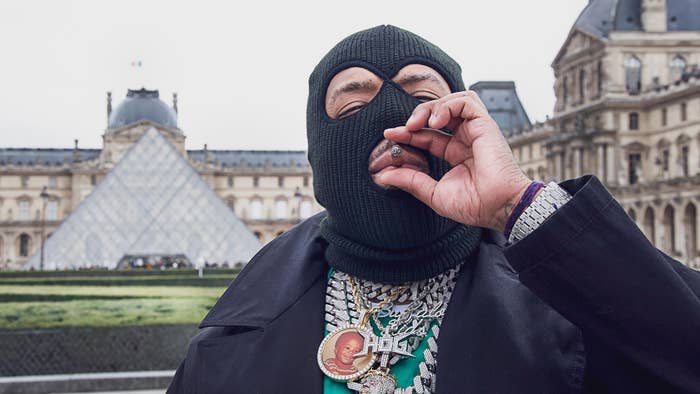 The tracklist for Westside Gunn's Pray For Paris started floating around a few weeks back, and people assumed it was either an April Fool's joke or that Gunn was going to sacrifice some of his sound in order to cross over to a mainstream audience. With names like Tyler, the Creator and Wale as guest features, and Jay Versace (yes, that Jay Versace) with a production credit, I can't really blame anybody. I was guilty as well, until I listened to the project myself while preparing for this interview. I couldn't have been more wrong. 
Pray for Paris is what we've come to expect from the Griselda leader, as he brings his eclectic array of guest features and producers into his own world. We get Tyler and Joey Badass on the same track, over Camoflauge Monk production. Wale was tapped to help get Gunn some radio play and some love from the ladies. Maybe someday we'll get a full tape from them and call it the Hart Foundation. Radio hits and wrestling references galore. Hardcore fans of this sound also get Freddie Gibbs, Roc Marciano, and Westside on a track together, over an Alchemist beat. There's also a Preemo beat, and an album cover put together by Virgil Abloh. 
This is Westside Gunn's crossover album. But it's not a crossover album in the sense of bubble-gum, TikTok-ready bullshit. It's a crossover album in an organic way. It's a crossover album without having to play a game or switch a style up. Westside Gunn and Grisleda have remained true in their quest for rap dominance, and it's worked wonders for them so far. Get used to seeing Gunn at fashion shows and collaborating with artists you'd never expect to see him working with. He's always looking to expand the Griselda footprint and turn it into an empire. Oh, and he's doing some of his best rapping on this tape, so it doesn't seem like he'll be hanging up the mic anytime soon. 
A week before dropping Pray for Paris, which is one of his best efforts yet, Westside Gunn sat down and talked with Complex about how it all came together. He didn't bring up having the coronavirus, and we never once touched on retirement. Westside and Griselda are here to stay and they're only going to grow stronger.
When I first saw the tracklist, I thought it was fake. Talk about how this all came together.
I just like getting bigger and bigger. Taking it to another level, even as far as features and production. When I did FLYGOD back in '16, even at that time, I had Action Bronson, Danny Brown, Alchemist, and Droog after everyone thought he was Nas. I got to always go bigger. I just feel like right now, if I'm going to drop something, I need to come hard. I gotta have those stellar features. I started this in Paris and it was an EP at first, which I did in two sessions. Two, three hours sessions. But once I came back to the states, I'm like, you know what? Let me just add a few more and make it an album. I just started hitting everybody up, and people I felt that I never really worked with.
Talk about that Gibbs and Marci track that everybody's been hyped for.
I felt the Hitler Wears Hermes 7 project was the best project of '19, and there used to be arguments if it was mine or if it was Bandana. Gibbs was the homie and Benny was on tour with him, and it just made sense. And Roc and I been making songs forever. Alchemist played that beat and I heard Gibbs instantly. Me and him already said we was going to work—we just really never did. So I reached out to him and like a real G, he did that for me. And then once I heard Gibbs, I'm like, I hear Roc, too. I didn't even tell him Gibbs was on it because I just wanted Roc to do Roc. I never overthink, bro. That's why all my projects I do in two days. I never overthink. I just did a joint last night for the homie IDK. He sent it. I did that shit in 15 minutes, bro.
"The features might change. Even the producer names might change, but I go for a certain sound. I bring people to my world. I never go to people's world."
Jay Versace has one of the best beats on here. How did you guys even link up?
Yeah, that shit crazy. [Laughs.] He just DM'd me and I'm like, "Man, what the fuck Jay Versace want?" That's the first thing I thought. "What the fuck Jay Versace want, man?" And he was just like, "Yo, man. I make beats, man. I want to send you some beats." I'm thinking like, "Yo, this shit got to be a joke, man." [Laughs.]
He's a funny kid. You thought you were gonna be in one of his skits and shit.
Yeah, you know what I'm saying? Out of all people, Jay Versace talking about, "I want to send you beats." I'm like, "Either he just playing and shit—some joke shit because this is what he do—or this shit about to be trash." [Laughs.] He's just trying his shot, you know what I mean? But man, that was the first beat he even sent me. As soon as I heard it, I recorded it and sent it back to him. Right now, there's no lie. I got at least 30 Jay Versace beats.
All the beats are good, but that might be my favorite one. Is there gonna be a Jay Versace x Gunn tape on the way?
Listen, man. I might as well tell you. It's coming. He just sent me something crazy the other day. Don't worry about it. Because for real, for real, I already had a sit-down session and picked out beats. I already have enough for a project with him that would fucking sound insane. I think ahead. I already put the beats already to the side. I done paid a painter to paint the cover. All of that shit. The cover is halfway done, being painted. That's how I think. I just think steps ahead. So, it's like, that's some exclusive shit that people don't know about, but some Jay Versace shit on the way.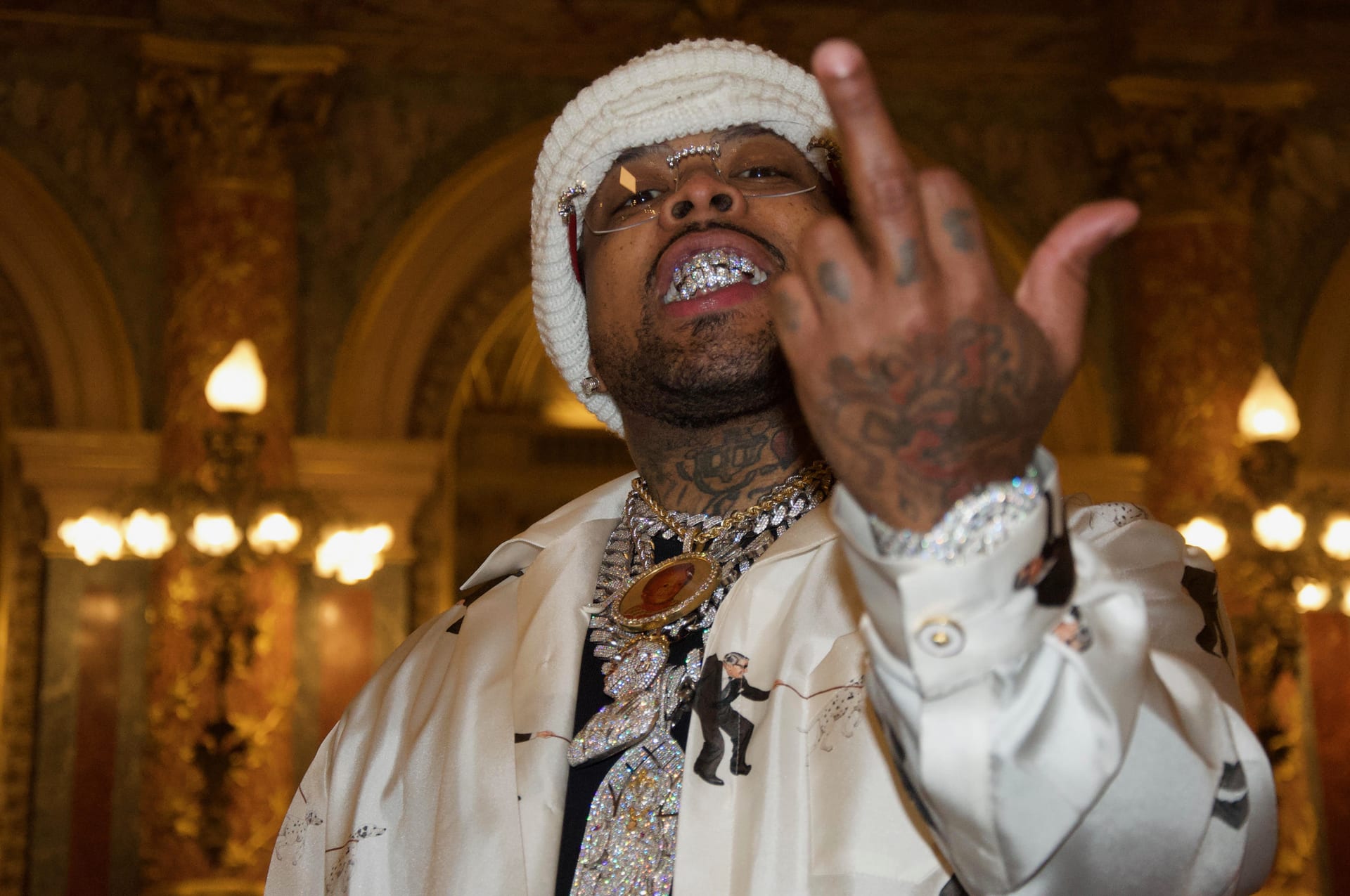 How did you and Tyler link up?
It was about timing. I knew he was tapped into me. Once Chase [Infinite] became my manager, I told him to link us, because I knew they were cool. You know how it be sometimes: everybody bosses, and they got their own lane going on, they got their own crew, they got their own businesses. And sometimes, you just don't link with people. But you still want to let them know, "It's all love." He had posted one of my songs before on his page, so I already knew we was tapped in, but we had never met. And then when he won the Grammy, I hit him to congratulate him, and he's like, "Yo, it's crazy you hit me because I'm in the studio making you some beats." I was already in L.A., so he came over to Alchemist's house, and he heard "327" with Joey on it, and he wanted to get on it. He just started freestyling, and writing shit, and leaving voice notes in his phone. Then he played his shit for me and that's why he's on it twice. When I did that record, all I heard was Joey, so I hit him first.
I feel like you and Tyler could relate because both of you are workaholics.
Yeah, 100 percent. I love what he's doing. I got my crew, he got his crew. He does his fashion, I do my fashion. It's just like we do the same shit, but we're from two different walks of life. I come from Eastside Buffalo and prison cells. That's the beauty about hip-hop. It just brings everybody together.
You used Tyler's beat for "Party Wit Pop Smoke." Why was it important for you to dedicate a song to Pop Smoke, may he rest in peace?
My song titles are always left-field or mean a lot to me. And when I was going through that process, I thought about the first time we really met. I was with a different kind of crew, different kind of people, when I was out in Paris for fashion week. It was wild love. I sat next to the Migos at the Off-White shows. I was linking with a lot of people out there. And this was around the time I was saying that I was the new King of New York, and Pop was saying that, too. So it was funny because we never met each other. We linked up in Paris. We was both saying the same shit at the same time. When we got up, man, it was all love. I never knew how old Pop Smoke was. That's the thing. I fucked with his music, and I knew the shit he be saying: the controversy with Casanova, because Casanova my man, and they squashed that. And when we linked, it was love, and I had on all my jewelry—I'm never going to forget—he came up to me, and picked up my jewelry on my neck. Because I guess he thought it was some light shit...
[Laughs]He thought it was hollow...
Yeah, he thought it was some hollow bullshit. [Laughs.] And he just picked up the one chain and was like, "Oh, shit. This shit heavy as hell." I'm like, yeah what you thought it was? We in the middle of the club partying and shit. That was just crazy because it was just like you could see the kid in him. I didn't know how old he was. When he seen the jewels up close and held it, it was like the kid came out. He was excited and shit. We just kicked it. I was basically party-hopping, linking with him, you know what I'm saying? I ain't never going to forget that, man. Kickin' it with him out there was dope, man. Even on my page, you could still see when he performed and all that shit out there. I was right next to him. So, it was just feeling love for the homie. The album was inspired by my trip to Paris, so it was only right that I show him love on my Paris album.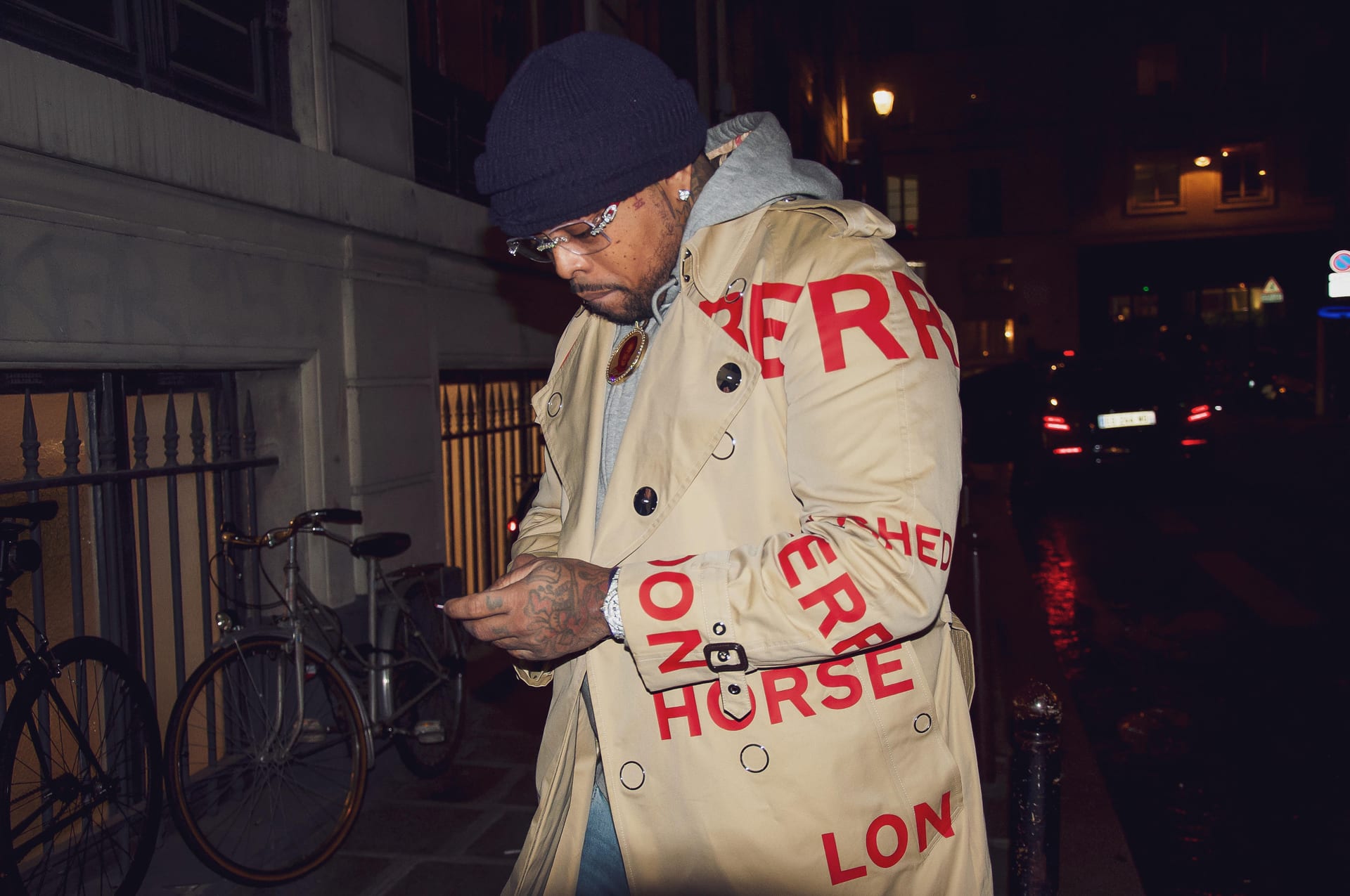 You and Virgil have been cultivating a relationship over the years. You've been shouting out Off-White in your songs before you met him, and he wrote "brick" on your brick. How did he get involved in designing the cover?
Me and him, like you said, we've been going back a couple years. I always shouted him out. He was retweeting the music, and he was tapped in. It was one of those situations again, fucking with Chase. Once me and Chase started working—I know he's close to certain people and I already have that certain respect for certain people. It's like, "Yo, let's connect the dots. This is the culture." That's what the culture's about. Even though I wasn't reaching out, it's always kindness to everybody. But we all doing the same thing, and that's pushing culture forward.  And [Chase] linked it. Me and Virgil been tight ever since. I been talking to Virgil every day. If it wasn't for Virgil, I wouldn't have even went to fashion. I didn't even get my passport until two days before I went to Paris. He wanted me to come out there. I was just so inspired by everything that happened, you know what I'm saying? I told him that I was going to do a project inspired by Paris and he said he'll do the cover and he came through on his word. It's a genuine relationship.
What was the science behind the imagery? What does it mean to you?
I wanted it to just look like Paris. Some crazy art, grimy but fly shit. And put your twist on it. He took it back to the Pyrex 23 days. That's kind of really what it was, because that's another thing about me and his relationship, too. When he first did the Pyrex 23 brand, I was the only motherfucker in the hood with some then. So, I'm showing him pictures: "Yo, bro. I was rocking your first shit that you ever dropped. Here go pictures of me in it. I been supporting you before Off-White." So, once he see that, he like, "Oh, he really tapped in. This ain't no bull shit. He been with me since 2013." A lot of these new dudes, they been rocking with him since Off-White, two years ago type shit. But, just imagine if you do a shirt today, the in 2027, motherfucker be like, "Yo, you know I bought that shirt, right?" You're going to be like, "Oh, shit."
"I like seeing my billboard in Times Square, but my whole sh*t is grimy and boom bap."
You definitely were the only motherfucker in the whole western New York wearing Pyrex.
I know that for a fact. It's not even boys. It's me. You know what I'm saying? I was. You know, he just took it back to the Pyrex style for the cover. He was like, "Yo, man. Send me pictures of your chains." So, I went and took the pictures of the chains. We were going back and forth and shit. Next thing you know, he sent that shit, I said, "This is it." He sent me three different covers, but that was the one I liked the best. He even did one of an old picture of me in the Pyrex 23, but with my chains on. But I wanted to with David and Goliath. It looks like something you would see in Paris.
You guys are still the underdogs. Even when you guys first popped off, nobody thought Griselda would be taking it this far, signing to Shady and Roc Nation, and being at Paris Fashion Week. They thought you were just going to stay "underground."
Yeah. But see, that's what I'm saying. I'm not a rapper, I'm an artist, bro. So, it's totally different: the way I approach shit, the way I think. Big up to everybody in the underground scene, because I'm still tapped in, that's my sound. I'm proud to kind of be a leader of that time; a champion. I like to go around with that. I like seeing my billboard in Times Square, but my whole shit is grimy and boom bap. I like to show people that we have to have a balance. I love doing that the most. Every project, people be dying for me to be like, "Okay, you about to cross over. You about to cross over. Don't do nothing shady, you about to cross over."
One thing that I was afraid might happen was you sacrificing some of your sound based on the features. How were you able to avoid that?
That's the thing, bro. It's all organic. I could argue with anybody walking on this earth right now, that I got the best ear for beats. And we take it back from Hitler Wears Hermes 1 and all the way to Pray for Paris. These last seven and a half years, my ear has been impeccable. Deadass. Name another motherf*cker in these past eight years that got better beats… You can't. I promise. You know how they doing these IG Live battles and shit right now? I'll wipe niggas out. I always got my sound. I never switched up for nothing. Two years from now, it'll still sound the same way, man. I only could be me. The features might change. Even the producer names might change, but I go for a certain sound. I bring people to my world. I never go to people's world. So, it's like, Tyler, you rapping on my shit or Wale, you rapping on my type of shit, and we even still talking about a girl.
Word. Is Heart Throb Gunn going to be a thing? What made you want to put Wale on that?
The ladies love me, man. The ladies love me. [Laughs]. Wale, that's my homie. That's my wrestling partner. It was finally time to do something with him. Everybody I do music with be homies. It's just always about trying yourself. I could still do five more of those. That's the homie. You know what's crazy? We just came off a tour, and I'm noticing the crowd, and there's a lot more females coming out. Before we were so raw, grimy, shoot 'em up, bang, bang... It was all dudes. But now, you're starting to see females coming, and showing love, and making the IG stories, and all of that. A lot more females are starting to catch on to the team. I need something more radio-friendly and Wale is on the radio 365.
"Name another motherf*cker in these past eight years that got better beats… You can't. I promise."
Is Boldy James Griselda? Or are you just executive producing his next project?
Right now man, he's waving that Griselda flag all day. That's my guy. I literally just talked to him before I talked to you. This corona shit got a lot of shit on pause. I already have this coming out, but Benny is working on a joint, Boldy is working, Conway... We probably got to go chill on an island somewhere and just restart that shit. Sitting in the house shit is nuts.
You guys have been on a rampage the last two years.
It's good, though. I can kind of relax and finally just kick it with my family, my kids. Because we've been moving so much. I had just got off tour, and it's great. That's the best part of all of this, bro, is me being able to spend time with my kids. I got a seven-month old, so his whole life, I've been moving and shit. Just to be around him every day is a blessing. But the good thing about it is, I did record Pray for Paris, so even while I'm in the house, I'm still working.
Is there a Drake and Benny track floating around?
I would've heard it. I ain't hear it yet. They already have respect for each other, and they already spoke on it. It's not like it's just tucked somewhere 'cause I'm me, I would've heard it. You know what I'm saying? It could happen next week. That shit could happen tonight.