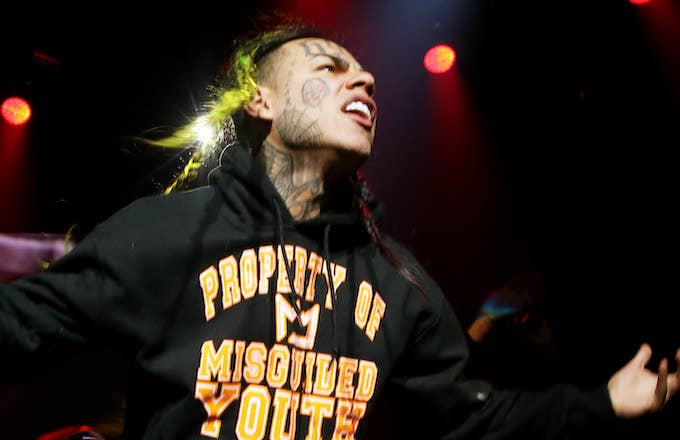 There's been another guilty plea in the case involving 6ix9ine.
Jamel "Mel Murda" Jones, the former associate of 6ix9ine who used to rap under the name Mel Matrix, has taken a plea deal, New York Daily News reported Wednesday.  
Jones is now the fourth person to plead guilty in the racketeering case involving Brooklyn rapper 6ix9ine. Jensel "Ish" Butler, Kifano "Shotti" Jordan, and 6ix9ine have all previously pleaded guilty. 
Jones made the plea in Manhattan federal court on Wednesday and admitted to twice helping to move "heroin and fentanyl." Jones is specifically charged with one count of racketeering conspiracy and one count of participating in a narcotics distribution conspiracy. His sentencing is scheduled for July 17.
Jones will also be required to make restitution, with the amount to be court-determined at a later date. Furthermore, the agreement stipulates that he is giving up his right to withdrawal and his right to appeal either directly or collaterally.
"Today, Jamel Jones admitted in open court to his involvement in Nine Trey and distributing drugs for the gang," U.S. Attorney Geoffrey S. Berman said. "We will continue to work with our law enforcement partners to keep our communities safe and vigorously investigate and prosecute those who bring violence and drugs into our communities."
Jones previously made headlines after he was reportedly caught saying that 6ix9ine should be "super violated" while being wiretapped. "Yeah, super violated. Super duper. Ain't no much he could really do unless he run around with 100 armed securities all day," Mel Murda said. The comments came after 6ix9ine fired his entire team and began to distance himself from the Nine Trey Gangsta Bloods. "[6ix9ine] is trying to dry snitch at the same time, homie," Murda said, per a transcript from TMZ. "But he keep saying, f*ck Tr3way, f*ck that n***a, Tr3yway. Ain't no n***a, Tr3way. F*ck Treway."