Shotti Pleads Guilty, Lazzaro Comes Back: A Wild Day in the 6ix9ine Case
March 28 proved to be an eventful day for Tekashi 6ix9ine and one other defendant in his racketeering case.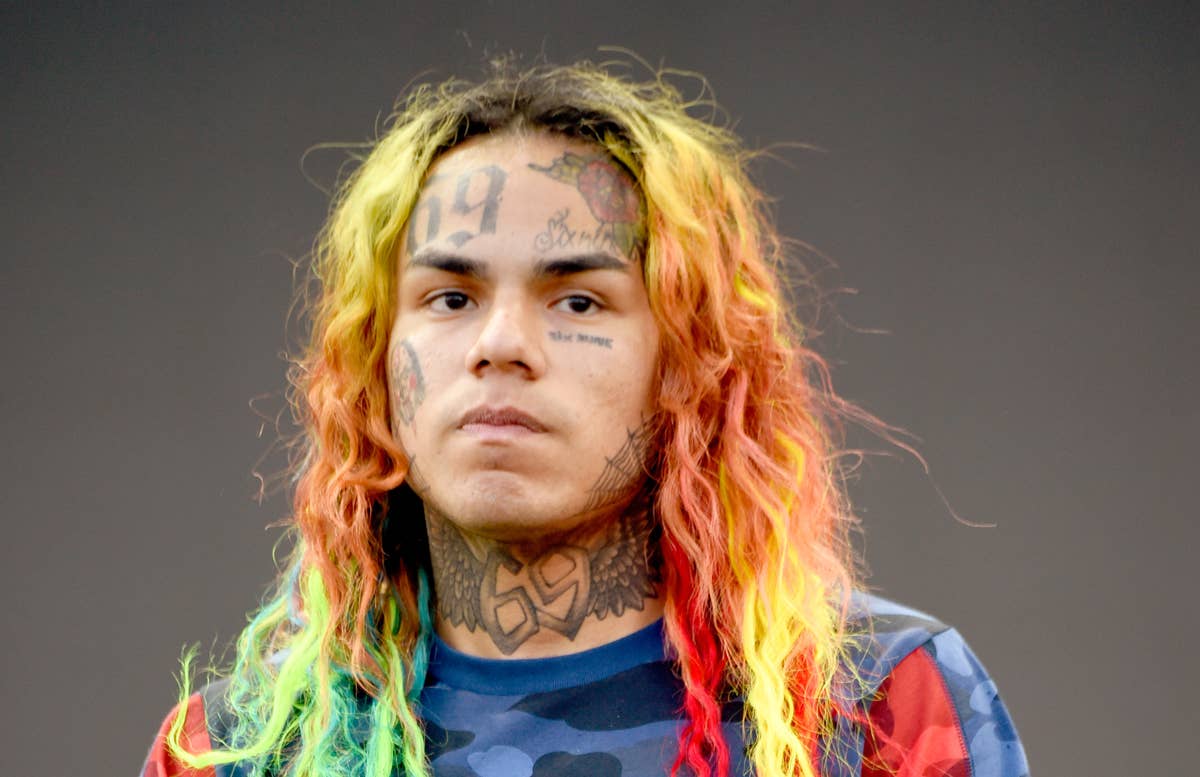 Getty
Image via Getty/Kevin Mazur
Thursday, March 28, proved an eventful day for people following the legal case involving Daniel "6ix9ine" Hernandez. In the morning, 6ix9ine's former manager Kifano "Shotti" Jordan pleaded guilty to two firearms offenses. The plea in the high-profile case was announced by the Department of Justice in a press release.
Just hours later, 6ix9ine showed up to the Thurgood Marshall Courthouse in Manhattan to take the final steps toward bringing attorney Lance Lazzaro back onto his defense team. Lazzaro, one of the rapper's two attorneys alongside Dawn Florio, had been thrown off the case by Judge Paul Engelmayer back in January, when it came to light that Lazzaro had represented two other defendants in the case (Shotti and Faheem "Crippy" Walter) in various cases dating back over 15 years.  Lazzaro's reinstatement was all but certain after Judge Engelmayer gave his OK last week; 6ix9ine only had to demonstrate to the judge that he understood the potential for conflicts of interest given his lawyer's past history with Shotti and Walter.
Shotti's guilty plea centered around two incidents: an April 3 robbery in Manhattan and an April 21 shooting in Brooklyn. While the plea itself does not give specific details, those dates and locations correspond to events that people who have followed 6ix9ine's career closely will remember.
The April 3 robbery, as specified in the case's original indictment, took place around West 40th Street and 8th Avenue in Manhattan. 6ix9ine's former friend Scum Lord D!zzy, the founder of Scumgang, was robbed of his backpack by a group allegedly including Shotti, Walter, 6ix9ine, and additional defendants Jamel "Mel Murda" Jones and Jensel "Ish" Butler, according to the indictment. So far, two people on that list (6ix9ine and now Shotti) have pleaded guilty to being involved. Proceeds from the robbery, including D!zzy's "Scum" backpack, were found at an apartment 6ix9ine was renting during a raid by authorities back in September 2018.
Speaking with Complex earlier this year about the robbery, D!zzy remembered how he chose not to respond violently. "I took the Christ way, you know what I mean?" he said. "The last thing I wanted to do was show any violence, even if violence was shown towards me." The count Shotti pleaded guilty to in connection with the April 3 incident was "using and possessing a firearm in furtherance of a crime of violence" and carries a mandatory minimum sentence of five years in prison (though, the plea makes clear, any final sentence will be determined later by the judge).
The second incident Shotti pleaded guilty to involved, per the original indictment, an April 21 shooting inside the Barclays Center in Brooklyn during an Adrien Broner fight, reportedly during a skirmish with Casanova and his crew. It is unclear whether Shotti actually fired the gun—codefendant Fuguan "Fu Banga" Lovick was the one charged for the incident in the original indictment—but the nature of racketeering cases is such that people can be charged for crimes they ordered people to commit or helped them commit, since they were done to advance a criminal conspiracy (in this case, the Nine Trey Gangsta Bloods). That plea carries a minimum sentence of 10 years, to be served consecutively to any other sentence. 
Overall, Shotti faces a minimum sentence of 15 years and a maximum of life. While those numbers are not necessarily set in stone (the judge will make the final decision), the plea agreement explicitly says that "neither party will seek any departure or adjustment" to the sentencing guidelines and that "neither a downward nor an upward departure" from those guidelines "is warranted." The plea also makes clear that Shotti will not be charged in connection with a few incidents he was tied to in an earlier indictment, including the Chief Keef shooting.
Around 3 p.m. on Thursday, only about 15 minutes after his attorneys were informed of Shotti's guilty plea, 6ix9ine made an appearance in Engelmayer's courtroom to give his final OK on Lazzaro's reinstatement. The rapper's famous rainbow-colored hair was visible, though it was tied into four long braids. He was wearing a blue jumpsuit, and his arms and legs were shackled, though his handcuffs were later taken off for the duration of the hearing. He wore pristine white Nike sneakers, smiled widely at Lazzaro, and proceeded to answer questions from the judge, who called the rapper "very attentive." 6ix9ine showed a stunning recall of dates, pinpointing the exact day (April 10, 2018) he received his GED and remembering minute details about his relationship with Lazzaro. 
Finally, Judge Engelmayer agreed that 6ix9ine had knowingly waved his right to conflict-free representation, and Lazzaro was reinstated. The lawyer told reporters afterwards, "I understand why the judge did what he did," with regards to his temporary removal, but said he was happy to be back on board. "We have a good relationship," Lazzaro said of himself and 6ix9ine.
Florio said that her famous client is "holding up very well" while he is behind bars awaiting sentencing. He will be testifying, she clarified, when (or if) other defendants will go to trial this fall. Both lawyers said that they would advocate for 6ix9ine to be sentenced only to time served, meaning he would serve no additional prison time. As of now, he is scheduled to be sentenced on January 24, 2020.