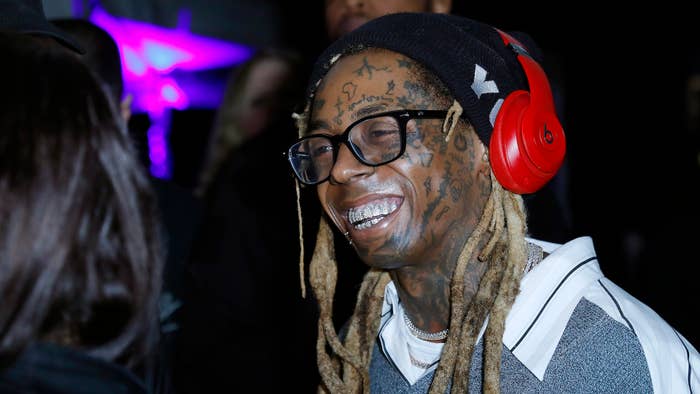 As was expected, Donald Trump has decided to grant a full pardon to Dwayne Michael Carter Jr., aka Lil Wayne, according to a statement from the White House. The Trump administration released the statement, which outlines pardons to 73 people and commutations of sentences to another 70, early on Wednesday morning, just hours before the reality television star's term as president ends.
Wayne pleaded guilty to a 2019 gun charge in December of 2020 and was facing significant prison time. News of Wayne getting off the hook comes on the heels of the rapper posting a picture he took with Trump back in late October. 
"A pardon for Mr. Carter is consistent with the views of many jurists—including Supreme Court Justice Amy Coney Barrett—that prosecuting a non-violent citizen for merely possessing a firearm violates the Second Amendment to the U. S. Constitution," Wayne's attorney Howard Srebnick said in a statement to Complex regarding the pardon. "The gold-plated firearm, which Mr. Carter never operated, is a collector's piece, given to him as a Father's Day gift."
Bill K. Kapri aka Kodak Black and former Detroit mayor Kwame Kilpatrick, who was convicted of multiple federal felony counts and sentenced to 28 years, were granted commutations by the outgoing president. Kodak is currently in prison on a 46 month sentence for falsifying federal forms to buy firearms. The Florida rapper's criminal sexual conduct case is still pending.
Breaking News: President Trump pardoned Steve Bannon, the former White House chief strategist who was charged with defrauding people. The pardon was described as a pre-emptive move that would effectively wipe away the charges if Bannon was convicted.

https://t.co/vWfv8AcYEw
Trump's former White House chief strategist Stephen Bannon was also pardoned by Trump. Bannon, along with three other people, were charged with defrauding donors in a scheme in which they claimed money was being raised for Trump's border wall. 
Joe Exotic, the subject of Netflix's popular Tiger King docuseries, was not granted a pardon or commutation by Trump despitelobbying for one.
Prior to news of Kodak Black getting his sentence commuted and Lil Wayne receiving a pardon was announced, it was reported that Death Row Records co-founder Michael "Harry-O" Harris' sentence was commuted by Trump. Harris was in prison for over three decades on drug trafficking and murder charges. Snoop Dogg had pushed for Trump to pardon Harris, and hearing the news he said, "That's great work for the president and his team on the way out. They did some great work while they was in there and they did some great work on their way out."
As previously mentioned, Donald Trump's wave of commutations and pardons arrive as he is preparing to officially leave office in just a few hours. Joe Biden will become the 46th president of the United States at noon EST after defeating Trump at the polls by over 7 million more popular votes in the 2020 election.
Head here to read the full list of Trump's pardons and commutations. Also included is Roc Nation CEO Desiree Perez, who was given a full pardon in connection with her involvement in a conspiracy to distribute narcotics. In Tuesday night's press release, the administration said Perez has "taken full accountability for her actions and has turned her life around" in the years since. Last summer, 6ix9ine mocked Meek Mill for working with Perez by calling her "a rat."
"I'm grateful to have received a pardon and to have formally closed that chapter of my life in the eyes of the law," Perez said in a statement. "I have taken full accountability for my mistakes from 25 years ago, but I also take tremendous pride in my personal growth, perseverance and accomplishments since then. This pardon reinforces my lifelong commitment to advocate for criminal justice reform and social justice initiatives."