Sunday, Feb. 9 will mark two weeks since the untimely passing of NBA legend Kobe Bryant, his daughter Gianna, and seven others in a helicopter accident in Calabasas, California. The passing left the sports world, and millions of others from all walks of life, stunned. Social media tributes have been endless. The Los Angeles Lakers held an emotional tribute of their own at the Staples Center last Friday during their first game since the tragedy complete with commemorative T-shirts and a heart wrenching speech from LeBron James. 
Countless players across the NBA have been lacing up various sneakers from his Adidas and Nike signature lines during games. Bouquets of flowers have been left in front of the Staples Center and his alma mater, Lower Merion High School in Pennsylvania. Murals have been painted in cities across America. At the Nike 2020 Future Sports Forum Runway Show, young girls hit the runway rocking oversized Los Angeles Lakers jerseys. A memorial service is fittingly being held on Feb. 24 (2 and 24 were Gianna and Kobe's jersey numbers) to celebrate them. There have been countless ways people have chosen to mourn and honor Kobe, but one of the most popular ways has been through style. 
It seems like a no brainer. Ask most basketball fans and they had a Kobe jersey at some point. Others might point to Kobe celebrating some of his championship victories early in his career draped in leather jackets from Jeff Hamilton as fond memories of him. Other fans took more creative approaches. While there is no way to highlight all of the tributes, we rounded up some of our favorite looks that have paid tribute to the life of Kobe Bryant. –Mike DeStefano
Derrick Henry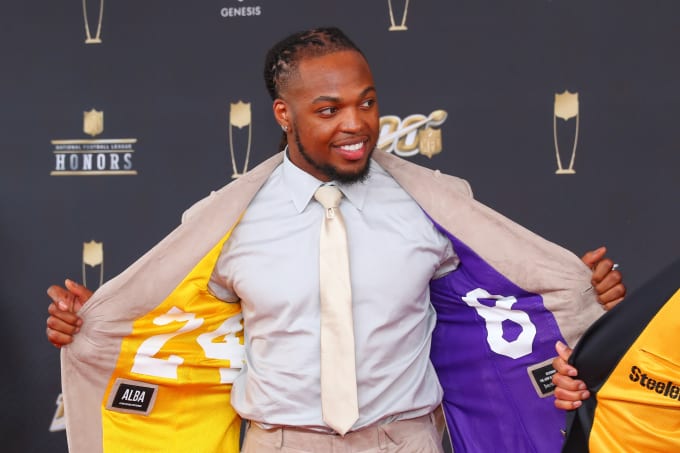 The tragic passing of Kobe Bryant saw a ton of celebrities breaking out his jerseys, but one of the more unique instances came courtesy of Tennessee Titans running back Derrick Henry. The star NFL player arrived to the annual NFL Honors ceremony in a simple enough outfit. However, when he opened the tan jacket, he revealed a liner that was customized to feature a purple "8" on the left side and yellow "24" on the right as a proper homage to the two jersey numbers worn by the legendary Los Angeles Lakers across his career.–Mike DeStefano
Meek Mill, JAY-Z, and Yo Gotti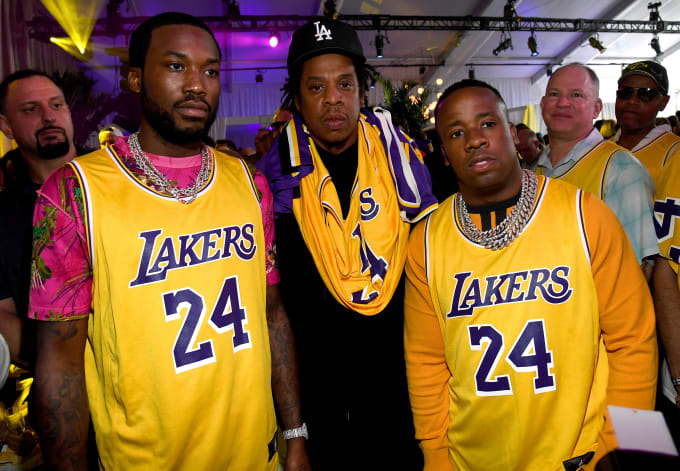 Meek Mill, JAY-Z and Yo Gotti arrived to an Super Bowl LIV party wearing Kobe jerseys. JAY-Z recently shared his last moments with Kobe Bryant at an Q&A session. 
"So, Kobe was a guy that looked up to me, and we've hung out multiple times. He was last at my house on New Year's, and he was just in the greatest space that I had [ever] seen him in," JAY-Zsaid. "One of the last things he said to me was, 'You gotta see Gianna play basketball.' ... He was just so proud of what he said. So, that's really a tough one, and my wife and I are taking that really tough. That's all I'll say on that. [Bryant was] just a great human being, was in a great space in his life."–Lei Takanashi
Saquon Barkley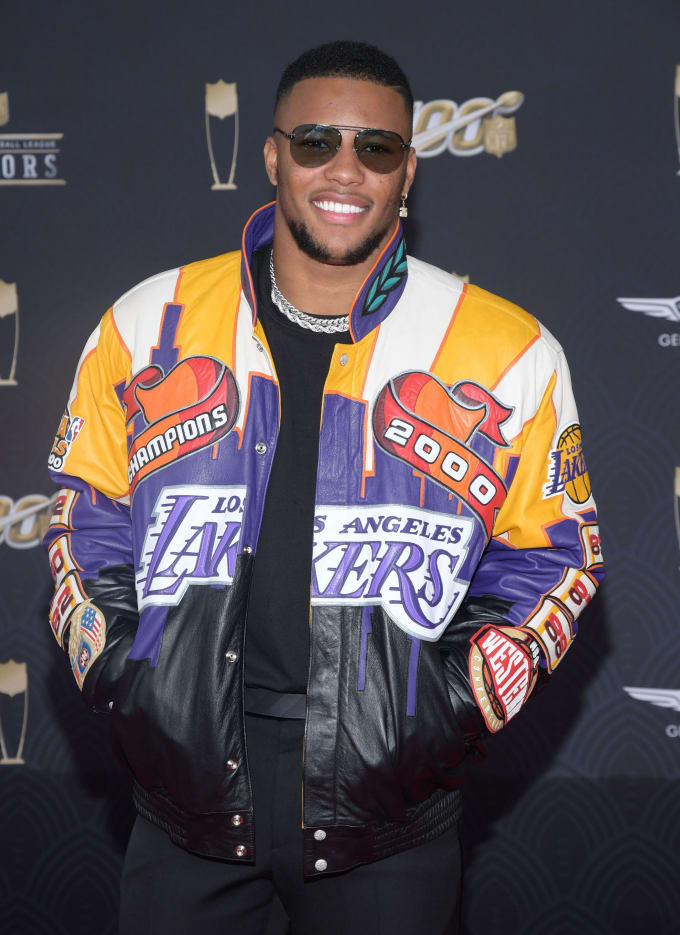 Jeff Hamilton leather jackets certainly had a moment back in the early 2000s. Some of the most iconic instances of them being worn came courtesy of Kobe following his initial 3-peat with the Lakers back from 1999-2002. This particular style was first seen on Kobe as he posed with the Larry O'Brien trophy following his first victory, the 2000 Finals. Sine then, the incredibly detailed jacket has become a collector's item for vintage and Kobe fans alike. New York Giants running back Saquon Barkley decided to break out the early aughts jacket at the NFL Honors red carpet, another fitting tribute to the legacy of the Black Mamba.–Mike DeStefano
Richard Sherman
Perhaps channeling the Mamba Mentality that became Kobe's calling card throughout his career, San Francisco 49ers cornerback Richard Sherman arrived to Super Bowl LIV in Miami rocking Kobe's Western Conference jersey from the 2004 NBA All-Star Game under his suit. Bonus points for wearing it backwards, early 2000s style. 
"I just know he wouldn't have wanted me to be sad and mourn and to not take advantage of this opp," Sherman told Bay Area news outlet KRON4 when speaking on Kobe's tragic passing. "When you have conversations like we did, you really get a feel for what he values and who he is. He was a great man, a great father, a great player."–Mike DeStefano
Melody Ehsani and Flea 
Los Angeles designer Melody Ehsani arrived with her husband Flea to a Laker's game last week wearing airbrushed "Rest In Peace" T-shirts featuring images of Kobe and his daughter. Kobe was a big fan of Flea and asked the famed Red Hot Chili Peppers bass player to play the National Anthem at Kobe's last game in 2016. 
"I remember Kobe Bryant as a person evolving—a person always evolving. And as such an iconic fixture of the L.A. landscape, he was someone we all loved," Flea, a lifelong Laker's fan who first met Kobe when he was a 17-year old rookie, told ESPN. "Then he retires and we watch him evolve even more. He's a storyteller, he's putting out kids' books, he's coaching a girls basketball team, and to see him go like this is just devastating."–Lei Takanashi
Montrezl Harrell
Los Angeles Clippers forward Montrezl Harrell has been lacing up a ton of Kobe's signature sneakers on the court to honor him like the Undefeated x Nike Kobe I Protro and more recently two pairs donning custom artwork as a tribute to Kobe and his daughter Gianna. This past Thursday, he showed up to the Staples Center in a throwback blue Lakers alternate worn by the team during the 1996-97 season, Bryant's rookie year.–Mike DeStefano
Wiz Khalifa
Wiz Khalifa and Charlie Puth came together to sing "See You Again" as a tribute to Kobe Bryant during halftime at the first Lakers home game following Kobe's death. Khalifa wore a leather 2002 Lakers jacket designed by Jeff Hamilton. That exact jacket was worn by Kobe after the Lakers defeated the New Jersey Nets for the NBA Championship title.–Lei Takanashi
Roddy Ricch 

The day after Roddy Ricch won a Grammy for Best Rap Performance from "Racks In The Middle"– a song made in collaboration with the llate Nipsey Hussle–the Compton, Los Angeles rapper made his debut on Late Night With Jimmy Fallon to perform "The Box." Just one day after Kobe's death, Roddy appeared on stage wearing an Eric Emanuel Kobe jersey. –Lei Takanashi
Shai Gilgeous-Alexander  
Shai Gilgeous-Alexander paying tribute to Kobe Bryant was inevitable. The young Oklahoma City Thunder point guard is notorious for playing in Nike Kobe sneakers every game, and the #WholeLottaKobes hashtag he frequently uses on Instagram to show love to a player he clearly idolized. In the tunnel before a Jan. 27 matchup with the Dallas Mavericks, SGA could be seen rocking the iconic gold "8" Kobe jersey worn by the Black Mamba in the first half of his playing career before switching to "24."
"I just wanted to pay homage," said Gilgeous-Alexander. "He's a guy I looked up to growing up; a lot of guys in this league look up to him. He's done wonderful things for this game."–Mike DeStefano