 Fashion and hip-hop have always been synonymous. Over the years, rappers have started and influenced style trends, made millions of dollars for brands they endorsed (officially or unofficially), and inspired the way people have dressed. Think Kanye West, Pharrell, Slick Rick, Run-DMC, ASAP Rocky, and more. Today, the younger generation is looking to a new fashion icon: Travis Scott.
Since bursting onto the scene back in 2013 with his first mixtape Owl Pharaoh, the 25-year-old has become one of biggest names in hip-hop. His second album, Birds in the Trap Sing McKnight, is considered by some as one of the best albums of 2016. His live performances are unparalleled. At times, they get a little out of hand—fans have jumped off balconies—but that's part of the draw; the energy at Travis Scott shows is electric.
But, much like his mentor West, his fans don't just look to him for new music or live performances. If you've ever been to any of his shows or appearances, chances are you've seen Travis Scott fans dressed just like Travis Scott—the vintage tees, Supreme box logo T-shirts, Bape, ripped jeans, flannel, and occasional leather pants. "I feel like the young generation looks to him as a style icon because of his rock-star aura," says 22-year-old Jaelen Peacock, who's a longtime Scott fan.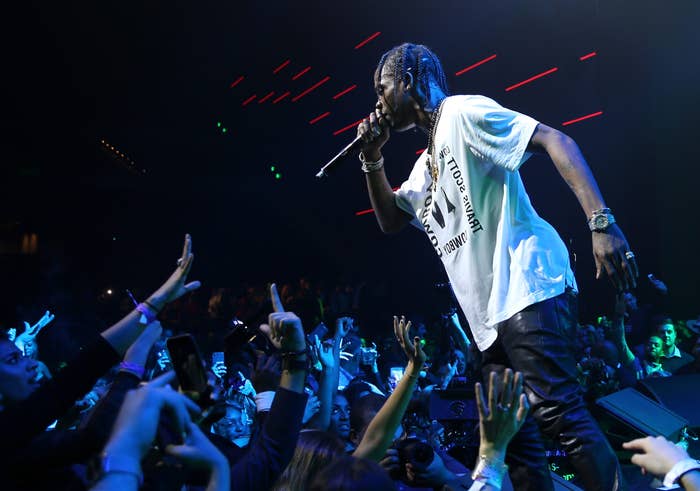 Scott has always been interested in fashion. Back in the day, he kept a blog, called 12340art, which resembled West's legendary KanyeUniverseCity site. He posted photos of collections and pieces he liked from brands like Margiela, Louis Vuitton, Billionaire Boys Club, Chanel, and more.
Part of the appeal of his style is that it's relatively accessible. Fans can buy the same Supreme Kermit T-shirt (at Grailed, eBay, or stores like Round Two), Stone Island jacket, and Jordan 4s Scott rocks. Even if they can't cop the exact same pieces, his rockstar look can be easily recreated.
Brands are taking notice of Scott's influence. In 2013, the Houston rapper collaborated with Been Trill. Since then, La Flame has also worked with Maharishi and Helmut Lang on capsule collections. "I've been a fan of Helmut Lang for 15 years," he told W magazine about the collaboration. "Everything was just always fresh. I remember my mom bought me one of their shirts for Easter so that I could wear Helmut Lang for Easter. That was my first piece. And she had a ton of Helmut Lang, so I'd always see it. I just knew that I liked it." Most recently, he's been teasing a new collaboration with Australian brand Ksubi, scheduled to drop this coming October.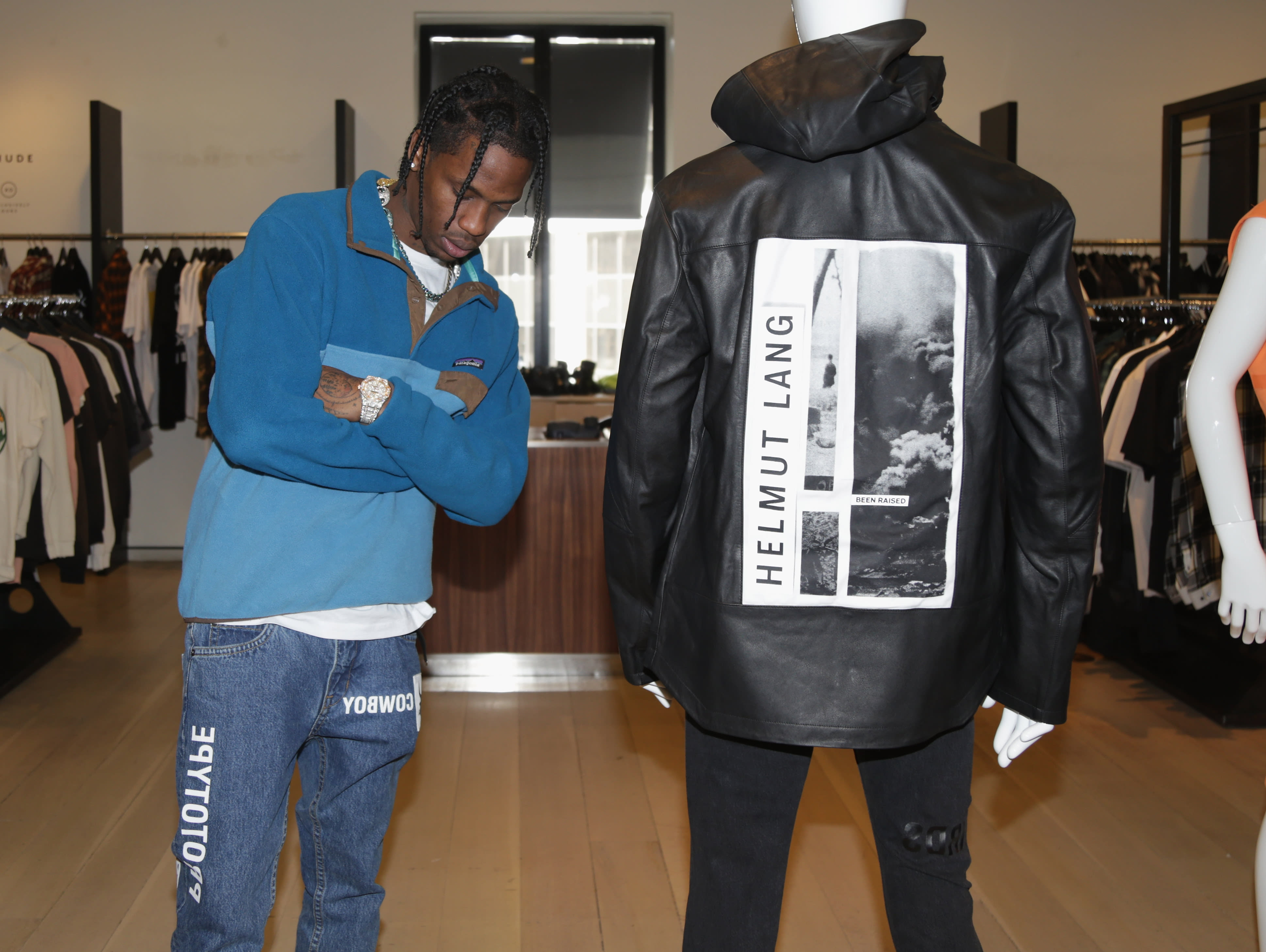 "Travis Scott commands the attention of a generation interested in personal 'likes'—[and ]two transfixing their attention are music and fashion," says Jay Bell, men's designer senior vice president at Barneys, where Scott's Helmut Lang collaboration was sold.
Beyond collaborations, Scott's star status and rockstar style has also helped him appear in campaigns for Nike's Riccardo Tisci collections, Fenty by Puma, Bape, Alexander Wang, Saint Laurent, and more. He even walked in Mark McNairy's Spring/Summer 2015 runway show during New York Fashion Week. Recently, he made noise when he became one of the first people to rock the ultra-hyped, yet-to-be-released Supreme x Louis Vuitton collaboration, which the high-fashion house previewed during a Paris Fashion Week runway show Scott attended.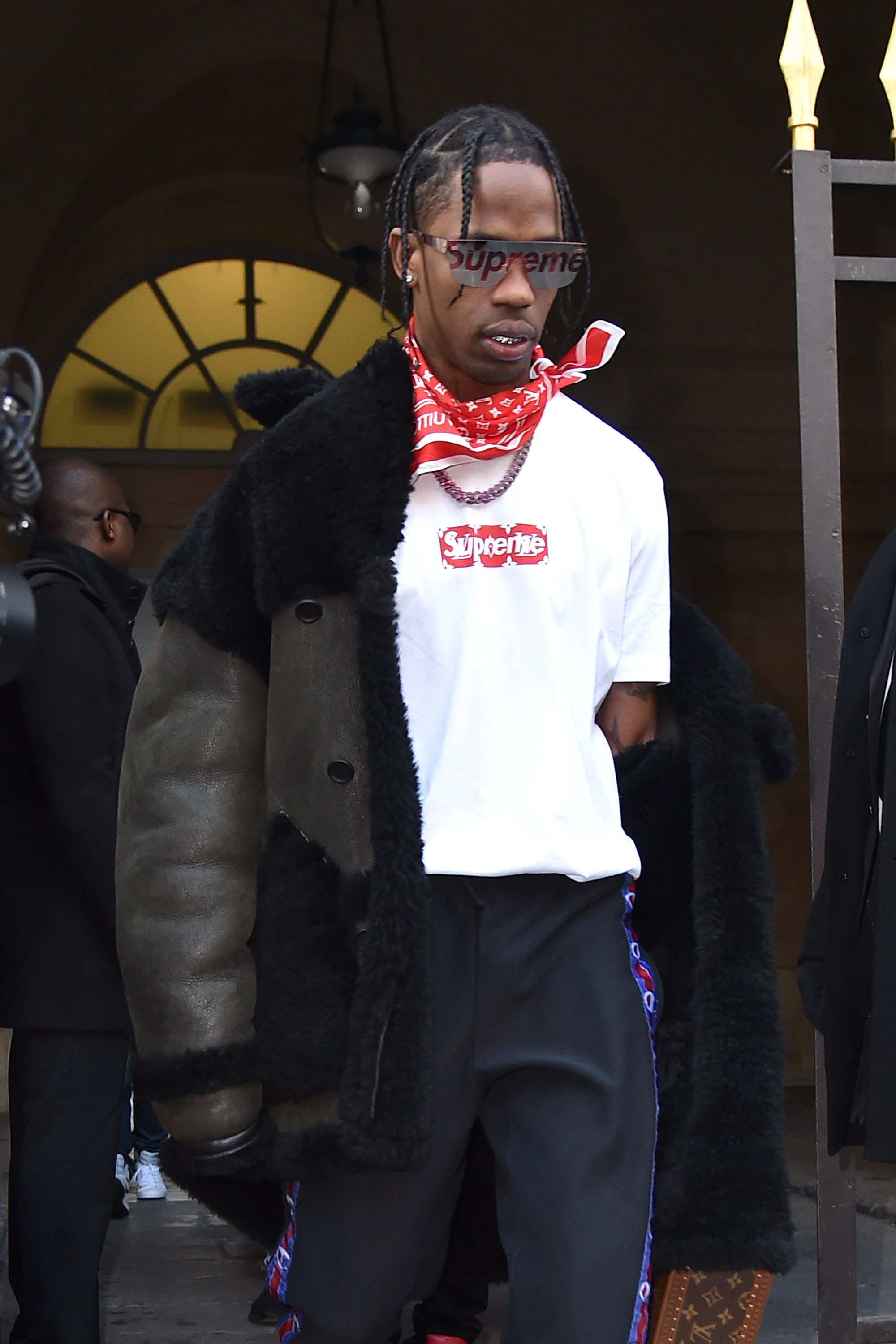 "Travis cuts through because he's authentic," says Ksubi CEO Craig King. "He has a true street style and his followers clearly relate to him."
Whether or not you're a fan of his music, there's no denying that Scott is one of the leaders of the new generation when it comes to style. "[Fashion] is something that is part of me," Scott told online magazine MANINTOWN. "It's in me."